Our dedicated
Board of Directors
, members and allies are committed to guaranteeing the future of our economically-precious treasures that are in critical danger here in the Keys. Please
join us as a member
, renew your membership or
volunteer
with us.

First-Ever Leatherback Sea Turtle Nest Found in the Keys
Bahia Honda State Park
is making history! The first
leatherback sea turtle
nest ever recorded in the Florida Keys was discovered there on July 14. Park Ranger Elaine Mason found the circular depression in the sand that is indicative of a hatched nest. Upon investigating, she was surprised to find a live leatherback hatchling emerging from the nest. The hatchling was healthy and active and ready to swim!
x
Sea turtles must return to land to lay their eggs, so when the time comes, momma turtle laboriously pulls herself up onto the beach to dig a nest in the sand. This leaves behind two characteristic traces. The first is the "crawl," a wide drag-track left by the turtle's body. The second is a circular dip in the sand where the eggs are buried. Bahia Honda State Park gets its fair share of sea turtles, including green, loggerhead and, less commonly, Kemp's ridley and hawksbill. Right away this new nest looked different from the rest because of the amount of sand that was disturbed.
x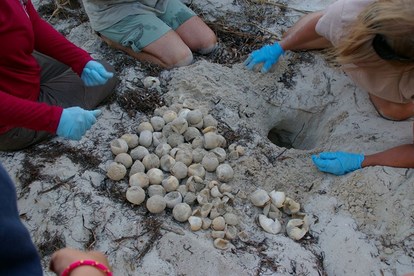 Leatherback sea turtles are the largest turtles in the world. They can grow more than 6.5 feet long and weigh well over 1,100 pounds. They are also the deepest-diving and widest-ranging turtles in the ocean. More than a decade ago, leatherback turtle nests were discovered in Dry Tortugas National Park, but they've never been found nesting in the Keys themselves.
x
The nest was left alone and observed for three days, during which time tracks in the sand showed that more hatchlings had emerged. On the fourth day, park staff, along with representatives from
Save-A-Turtle
and the
FWC
, dug into the nest to investigate. They found more than 60 eggs, of which seven had hatched, along with one more surprise: the latest hatchling to emerge was still among the clutch!
x
Like all sea turtles, leatherbacks are highly threatened by human activity. Most significantly, they suffer due to a long history of their eggs being harvested and due to a continual loss of beach and reef habitats. They are also known to become fatally entangled in fishing nets, and will sometimes swallow plastic bags after mistaking them for their favorite food: jellyfish. The bags can block the turtles' digestive tracts, ultimately suffocating them.
x
Leatherback mothers generally lay eggs every two to three years, so the turtle-enthusiasts in the park are interested to see if this turtle makes a return appearance in the future. And since sea turtles often nest on the same beach they were born, it might be that some of these hatchlings will return as well in a decade or so to lay their own eggs. Who knows? Maybe this is the beginning of a brand new family nesting site. In the meantime, all of us can help by keeping our beaches and shorelines clean, providing our sea turtles with a healthy place to nest.
---
Summer Lionfish Derby Series Recap
REEF's 2016 Summer Lionfish Derby Series
was a huge success with 2,426 lionfish removed in all! There were four derbies this year, one more than in past years with the addition of Sarasota, Fla. Additionally, REEF hosted its first Lionfish Culinary Competition in conjunction with the Palm Beach County Lionfish Derby. The Sarasota and Palm Beach County derbies were full weekend events, rather than single day removals, which gave competitors more time to get to sites that aren't fished as often and to maximize the amount of lionfish removed. The Fort Lauderdale Derby got the prize for most lionfish removed with an astounding 1,250 lionfish in a single day!
x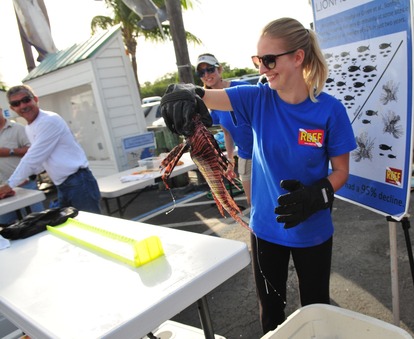 2016 Summer Series Derby Stats
Total Lionfish Removed: 2,426

Sarasota (July 9-10): 429

Fort Lauderdale (July 16): 1,250

Palm Beach County (August 13-14): 337

Upper Keys (September 10): 323

Largest Lionfish Caught: 427 mm (~16.8 inches)

Smallest Lionfish Caught:24 mm (~.94 inches)
Since 2009, a total of 18,560 lionfish have been removed in REEF Lionfish Derbies. Way to go teams!
---
Meet the Florida Keys Buoy Team!
Every year, thousands of boaters enjoy visiting the Florida Keys to fish and dive.
Mooring buoys
installed and maintained by
FKNMS
make it possible to do this without damaging the reef. Boaters attach to the buoys instead of dropping anchor in our fragile ecosystems, which can break and damage the coral reef. Buoys are also used to mark areas that have specific regulations, to assist with navigation and to provide information.
x
Mooring buoys, which are 18" in diameter with a blue stripe, have been used in the Keys since 1981. There are nearly 500 available for use within the sanctuary on a first-come, first-served basis at no cost to the boater.
But who maintains the sanctuary's vast collection of buoys? NOAA's Office of National Marine Sanctuaries created this video for their series "Stories from the Blue." Meet the Florida Keys buoy team!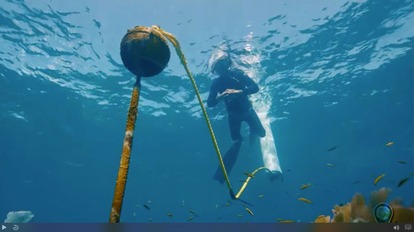 If you notice a damaged or missing line, or to report a missing or a found buoy, please call the appropriate sanctuary office. From Key Largo to Marathon, call 305-852-7717. For Marathon through Key West and the Tortugas, call 305-809-4700.
---
NewsMakers
Upcoming Fishinars
These short, free webinars will teach you the finer points of identifying fish and invertebrates underwater. It's fishie fun in the comfort of your own home! Anyone wanting to know more about ocean life - including divers, snorkelers, and devout landlubbers -- is welcome to join in. Great for first-time
REEF surveyors
or those wanting a review. Don't miss these great
"fishinars"
this fall!
Wednesday, November 2: "Digging Into Data: How to Use REEF's Database" with REEF staff

Monday, November 14: "Hawaii: Life in the Sand" with Christy Pattengill-Semmens

Thursday, December 15: "Don't Forget the Chubs and Porgies!" with Carlos and Allison Estape
You don't need any special equipment (other than your computer or mobile device) to log on and join in. All sessions are recorded for later viewing and the archives are free for REEF members. Visit www.REEF.org/fishinars for more information and to register.
---
---
Sanctuary Friends Foundation of the Florida Keys
is a non-profit, 501(c)(3), tax-exempt organization
(Tax ID# 59-2443959).
We take your privacy seriously. Your email address will never be sold, rented or given away. All our emails include an easy opt-out feature. If you have activated spam filters in your email application, please add the following email to your address book:
Sanctuary_Friends_Foundation_of_@mail.vresp.com
In This Issue:
Leatherback Sea Turtle Nest
Summer Lionfish Derbies Recap
Meet the Mooring Buoy Team!
---
---
Please add your upcoming events to our online Florida Keys Environmental Calendar. This community-wide resource allows any organization or group to set up an account and post environmentally-related events.
xxxxxxxxxxxxxxxxxxxxxxxxxxxxxxxxxxx
Sanctuary Advisory Council (SAC) Meeting
Oct. 18, 9:30 am-3:20 pm, Ocean Reef Cultural Center, 200 Anchor Drive, Key Largo
SAC
meetings are normally held on the third Tuesday of every other month. Meetings are open to the public and you are invited to attend and provide comments. This month's public comment period is at 2:45 for items not on the agenda. Public comment is also taken before any advisory council decision or action.
Download the draft agenda here.
Boating Skills & Seamanship Course
Oct. 31–Nov. 16 (three week course on Mondays & Wednesdays), 7-9:30 pm, Big Pine Methodist Church, 280 Key Deer Blvd., Big Pine Key
Sponsored by the
Coast Guard Auxiliary Flotilla 13-3
. Topics include: which boat is for you, required boat equipment, operator responsibilities, rules of the road, handling your boat, highway signs, orientation to nautical charts, weather, a look at the Coast Guard Auxiliary, navigational tools & techniques, navigation exercise, trailering, boating safety, your boat's radio, Florida law, hands-on knot tying and a guest speaker from
FKNMS
. $55 per person or $80 per couple with shared materials. To sign up, contact
Diane Adam
at 305-872-4071 or
Bob Eichholtz
at 305-872-7505.
---
September / October 2016
Welcome! Thank you for your support!
New & Returning Members
($30-$199)
Nancy Gold
---
SPONSORS
Please support the companies that support the FKNMS and Sanctuary Friends.
Platinum:
Waste Management
Marathon Garbage Service
Keys Sanitary
Sunbelt Rentals
Cressi International
Gold:
Island Home Builders
Marathon Jet Center
Centennial Bank
First State Bank
Little Palm Island Resort
The Weekly Newspapers
Conch Color
Papa's Pilar Rum
Ocean Reef Club
Ocean Reef Community Foundation
Diver's Direct
Silver:
Marathon Boat Yard
Grader Mike Construction
Marathon Chamber of Commerce
A Deep Blue Dive Center
Paver Dave
Keys Contracting Services
Florida Keys Contractor's Association
Key West Butterfly & Nature Conservatory
Hard Rock Cafe
Hyatt Key West Resort & Spa
SHOR Restaurant
Westin's Bistro 245
Key West Express
FURY Water Adventures
Dunkin' Donuts
JSA Promotions
Budweiser
---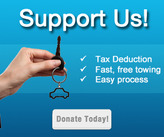 ---
Our Mission
Sanctuary Friends Foundation of the Florida Keys supports the Florida Keys and the Florida Keys National Marine Sanctuary (FKNMS) in the preservation, restoration, and sustainable use of our coral reef ecosystem, from the uplands to the deep sea. We focus on development of community support and advancement of public awareness, education, outreach and scientific research.