The
FKNMS
has not had a new management plan in more than twenty years. A lot has changed in those years. We have seen a tremendous decline not only in our own reefs, but also in reefs worldwide. The way in which we use the waters has also changed dramatically. Sandbar parties have grown; the number of divers, snorkelers and fishermen has greatly increased; there are more jet skis, high-speed powerboat competitions and now jet packs.
x
x
x
x
After rampant destruction of local fish habitats in Jamaica over decades, marine life is gradually rebounding in Bluefields Bay now that every minnow and mullet, each sea urchin and snapper is protected from spear guns and nets. This 6½-mile long stretch of water is the biggest and most robustly enforced of the island's 14 fish sanctuaries.
x
It is one of a growing number of no-fishing zones in the Caribbean, where most coastal reefs have been severely damaged by overfishing, pollution and, more recently, global warming. Across the Caribbean, governments and fishing communities are beginning to use "no-take" zones to help rebuild severely depleted fish stocks and make coastal ecosystems more resilient to a warming planet and acidifying oceans. No-take areas that expand on less-restrictive marine protected areas have become a growing trend, with nations across the world barring fishing boats from areas that sometimes cover well over 100,000 square miles.
x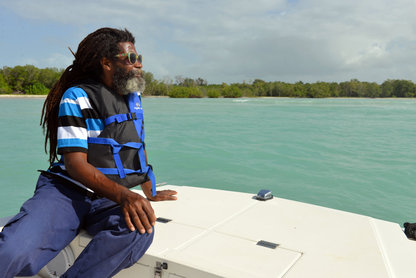 In the tourism-dependent Caribbean, conservationists say about 17 million acres (just over 2 percent) of marine and near-shore resources such as mangroves are protected in some way. And no-take reserves with the highest level of protection are starting to catch on. The Bahamas boasts the region's largest fishery reserve with the 176-square mile Exuma Cays Land & Sea Park. No-take reserves are also found in places such as the U.S. Virgin Islands, Belize and the Cayman Islands. But many protected areas now amount to little more than "lines on a map" without adequate resources to enforce various restrictions.
x
While most of the Caribbean reserves are relatively tiny, there's evidence that even small reserves can help recover a number of important species, including grouper, which can help with biodiversity and keeping reefs healthier inside the reserves. Studies show that coral cover grows significantly faster inside a reserve than outside. That's a big deal in the Caribbean, where live coral coverage on reefs is down to an average of just 8 percent, from 50 percent in the 1970s. Such protected, intact coral reef systems have been shown to be more resistant to ocean warming and other effects of climate change because they have more and more varied living creatures.
x
Research also indicates that fishermen eventually haul in bigger catches when a marine reserve nearby provides a safe haven for fish to grow. Bigger fish mean more fish since large fish lay more eggs. A 2010 study of no-take reserves in Australia's Great Barrier Reef showed the amount of fish doubling within reserves, as well as a significant increase in marine species in nearby zones. In St. Lucia, local fishermen strongly resisted when the government closed 35 percent of coral reef fishing grounds in the mid-1990s. For two years, the total catch was severely reduced. But within five years, the catch had soared, increasing by as much as 90 percent in some areas.
x
Conservationists say they hope the growing evidence that reserves boost fisheries and protect tourism attractions will lead to more reserves across the Caribbean.
How do you measure the success of a lionfish tournament? How about with the 163 lionfish divers brought out of the
FKNMS
the last weekend in July during the 2nd Annual Marathon Lionfish Tournament hosted by
Sanctuary Friends
. The invasive lionfish, caught in waters anywhere from 6- to 200-foot depths, were counted, then cooked for dinner at Castaway Waterfront Restaurant. The largest lionfish was 17 inches long, and the smallest was barely 3 inches. The biggest actually left his lunch of two reef fish at our feet, showing how devastating just one lionfish can be to our precious reef.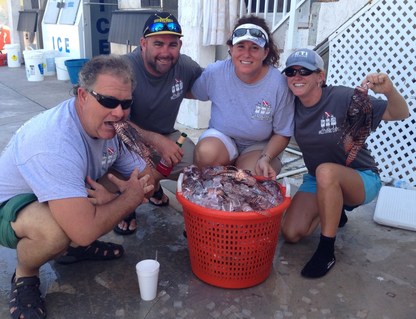 Winners are: Team Raw Deal out of Castaway Waterfront Restaurant brought in 131 lionfish for the two-day tournament. Most of their lionfish were caught in 200 feet of water. Carmen Powers of L.M.T. (Last Minute Team) brought in two of the biggest fish, including the largest, a 17-inch lionfish.
For the past two years,
REEF
staff and a computer programmers have been busy developing the
REEF Survey Data Entry Program software package
, which launched last month! The program allows you to enter
REEF surveys
without an Internet connection. When you have Internet access, the entered surveys are uploaded to the REEF online entry portal. Users then logon to the portal, complete error checking and submit the surveys to REEF. The program operates on both Mac and PC computers and is available for all of REEF's survey regions. Our beta-testers agree it's a great program, and many of them prefer the offline data entry program to traditional online data entry. The program is
free to download
. Give it a try next time you survey! Feel free to send feedback to
data@REEF.org
.