Our dedicated
Board of Directors
, members and allies are committed to guaranteeing the future of our economically-precious treasures that are in critical danger here in the Keys. Please
join us as a member
, renew your membership or
volunteer
with us in the new year.

Sea Turtle Nesting Season Awareness
Sea turtle nesting season in Florida runs from March 1 to October 31 (Atlantic) or May 1 to October 31 (Gulf); however, sea turtles aren't expected to nest in the Keys until mid-April. Five species of sea turtle are found in the waters of south Florida: loggerhead, green turtle, leatherback, Kemp's ridley, and hawksbill. All five of these species were once more abundant; however, they are all now listed as either threatened or endangered under the
Endangered Species Act of 1973
.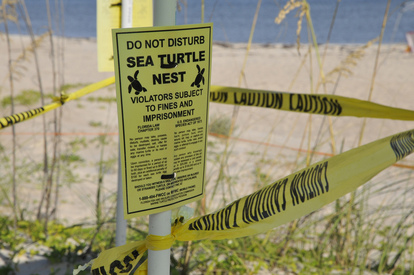 Please remember that it is Illegal to disturb sea turtles and nests! This includes harassing, harming, pursuing, hunting, shooting, wounding, killing, trapping, capturing, collecting or attempting any of these.
FWC
interprets the disorientation of sea turtles due to artificial lighting as a violation of the Act. In addition, many dive outfitters even consider harassment to include a diver causing a turtle to alter its course when swimming.
x
Sea turtle mothers and hatchlings become disoriented by lights on the beach and canals with open water views from homes, condos and businesses. The hatchlings go toward light, onto roads, fall into drains or become dehydrated and use their small energy reserves wandering or swimming in circles.
x
What Can You Do to Help?
Oceanfront homes, businesses, condos and canal homes near the open water can turn off or shield lights, close drapes/blinds.

Turn off dock lights.

Use LED red lights for outside light colors - they last longer and conserve energy.

Pick up beach furniture at dusk to help prevent any impediments blocking sea turtle nests.

Replace any bulbs that cannot be removed with yellow so-called bug lights.

Keep pets away from the beach. Dogs, cats, and even ferrets can disrupt turtle nests.

If you walk, jog or bike along the beach, bring along a flashlight for your own safety.
If you encounter a nesting sea turtle on the beach, stay clear. Do not shine lights or take flash photographs. When frightened, the nesting turtle will return to the water where she will drop her eggs. If you see an injured, nesting or dead sea turtle, call the Florida Marine Patrol at 1-800-DIAL FMP or FWC at 1-888-404-FWCC.
---
Help Identify Juvenile Tarpon Habitats for Mapping Project
Calling all juvenile tarpon anglers!
Bonefish & Tarpon Trust (BTT)
needs your help to identify juvenile tarpon habitats in your area for a mapping project.
x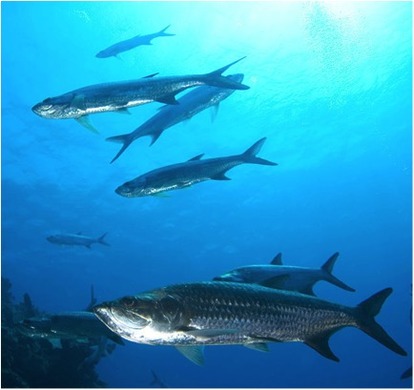 BTT has already begun mapping juvenile tarpon habitats to determine characteristics of the best habitats, to protect those healthy habitats and to identify areas for habitat restoration. BTT has been involved in three juvenile habitat restoration projects, and this new data will be used to expand the effort.
x
Loss and degradation of juvenile habitat is the single biggest threat to tarpon populations worldwide. Tarpon have been classified as
"Vulnerable"
by the
International Union for Conservation of Nature
, meaning a 30 percent or larger decrease in the population has occurred in the recent past. Protecting and restoring critical juvenile habitat is the best way to preserve tarpon populations for the future.
x
We appreciate your assistance in protecting the future of the tarpon fishery. If you are aware of any locations that hold juvenile tarpon 12 inches long or fewer, please contact
JoEllen Wilson
. You will be asked for an exact location to better assess the habitat characteristics for that spot. Don't worry, all information is strictly confidential and WILL NOT be disseminated to the public in any way. If you would like to donate to the project,
please click here
.
---
Sanctuary Friends Supports Mooring Buoy Program
Mooring buoys
are designed to protect the coral reef! The unique environmental-embedment system used to place these buoys is designed to protect coral from anchor damage when boaters stop to enjoy the marine environment.
x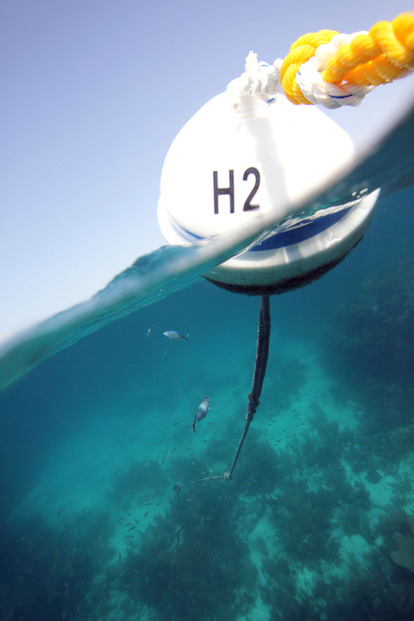 Mooring buoys have been used in the
FKNMS
since 1981, when John Halas, working with the
U.S. Geological Survey
, installed six experimental embedded anchor mooring systems at
French Reef
. Halas and his team completed the anchor installation using a hydraulic core drill and cement, drawing on coral core sampling techniques. A four-inch-diameter hole was drilled into the ancient limestone substrate and an 18-inch stainless steel eye pin was cemented into the hole, creating a permanent attachment point. From the anchor pins, six different mooring arrays were attached, using a variety of materials. The buoys were observed for a year, and the best of the six systems was selected for wider use.
x
Over the next few years, with a few modifications, more than 80 additional buoys were placed in the Sanctuary. Subsequently, several non-profit foundations established buoys off Key West, Marathon and Islamorada. Use of these environmentally-sensitive moorings as a means of reducing or eliminating anchor damage has now become a widely-accepted tool for managing the coral reef environment. At present, more than 400 buoys are available for safe anchorage in the
FKNMS
.
View a map of the locations.
x
In 2005, the Florida Keys experienced Hurricane Katrina on August 26, Hurricane Rita on September 12 and Hurricane Wilma on October 23. Some of the mooring buoys safeguarding our tropical coral reef were damaged or lost during these storms.
Sanctuary Friends
assisted the
FKNMS
in replacing damaged buoys and re-installing lost buoys that have broken away from their embedment. We are proud to announce that our contributions to date amount to $12,430! We are pleased to be able to assist this project that inspires people to become better stewards of our marine environment.
---
NewsMakers
Find a Boating Skills Class Near You
The
United States Coast Guard Auxiliary
offers public education classes nationwide all year long. It's easy to find a course taught by a local flotilla near you. To find a class near your home, office, boat, weekend home or other convenient location, just enter your zip code, select "Distance In Miles" appropriate to your travel goals, and press the
SUBMIT
button. Courses meeting your criteria will be returned. Identify the course of interest and click on "Flyer" for detailed information. You may also reach a contact person via the email address and/or telephone number shown. Now it's easier than ever to learn the boating and seamanship skills you need to be a safe and informed boater.
Try it now.
---
We want your input!
If you have stories of note or just want to comment on our newsletter,
In This Issue:
Sea Turtle Nesting Awareness
Juvenile Tarpon Habitat Mapping
Support for Mooring Buoy Program
---
---
Please add your upcoming events to our online Florida Keys Environmental Calendar. This community-wide resource allows any organization or group to set up an account and post environmentally-related events.
xxxxxxxxxxxxxxxxxxxxxxxxxxxxxxxxxxx
Outdoor Fest
March 17-20, Big Pine & Key Largo
A four-day family-friendly festival designed to spotlight the diversity and richness of the Keys ecosystem, featuring the four National Wildlife Refuges in the Keys:
Crocodile Lake
,
Great White Heron
,
Key West
and the
National Key Deer Refuge
. Through a series of mostly free outdoor events, attendees will have the opportunity to discover unique habitats, rare plants and wildlife species including the miniature Key deer found only in the Lower Florida Keys. Events on Big Pine and Key Largo with excursions into the backcountry and Key West, including guided birding and nature walks, art and photography workshops, kayak excursions, programs for young people and
Run with Deer 5K race
. Find out more at:
www.favorfloridakeys.org/outdoor-fest
Florida Keys Ocean Festival
April 2, 10 am–6 pm, Eco-Discovery Center, Key West
Bring the family and friends to celebrate our treasured Keys waters and environment! Free admission, free parking, food and drinks, kids activities, exhibits, silent auction, live music all day and lots of shopping with great local marine artists and vendors. Free kids fishing seminar at 11:30 am and 2pm (must sign up in advance). Donations and proceeds benefit
Mote Marine Laboratory
's Coral Reef Restoration and Research Programs.
More information.
---
February/March 2016
Welcome! Thank you for your support!
New & Returning Members ($30-$199)
Nancy Gold
Benefactors
($200+)
Mike Klayman
Shirley Shumway
Ocean Reef Foundation
Charles Woldenberg
Anonymous
Robert Eichholtz, Jr.
---
SPONSORS
Please support the companies that support the FKNMS and Sanctuary Friends.
Platinum:
Waste Management
Marathon Garbage Service
Keys Sanitary
Sunbelt Rentals
Cressi International
Gold:
Island Home Builders
Marathon Jet Center
Centennial Bank
First State Bank
Little Palm Island Resort
The Weekly Newspapers
Conch Color
Papa's Pilar Rum
Ocean Reef Club
Ocean Reef Community Foundation
Diver's Direct
Silver:
Marathon Boat Yard
Grader Mike Construction
Marathon Chamber of Commerce
A Deep Blue Dive Center
Paver Dave
Keys Contracting Services
Florida Keys Contractor's Association
Key West Butterfly & Nature Conservatory
Hard Rock Cafe
Hyatt Key West Resort & Spa
SHOR Restaurant
Westin's Bistro 245
Key West Express
FURY Water Adventures
Dunkin' Donuts
JSA Promotions
Budweiser
---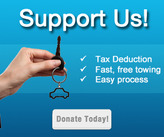 ---
Our Mission
Sanctuary Friends Foundation of the Florida Keys supports the Florida Keys and the Florida Keys National Marine Sanctuary (FKNMS) in the preservation, restoration, and sustainable use of our coral reef ecosystem, from the uplands to the deep sea. We focus on development of community support and advancement of public awareness, education, outreach and scientific research.
---
Sanctuary Friends Foundation of the Florida Keys
is a non-profit, 501(c)(3), tax-exempt organization
We take your privacy seriously. Your email address will never be sold, rented or given away. All our emails include an easy opt-out feature. If you have activated spam filters in your email application, please add the following email to your address book:
Sanctuary_Friends_Foundation_of_@mail.vresp.com