Lessons in Teen Photography:
An Interview with Annie Levy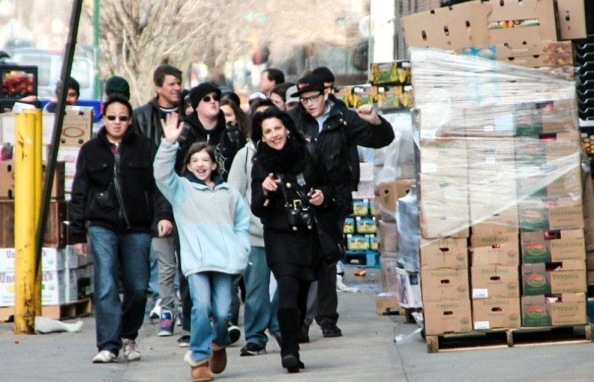 Teen photography class with Annie Levy on their way to Mora Glass Art in Brooklyn
CBTF is proud to be working with professional photographer, Annie Levy, in our first venture in teen photography. Thanks to the collaboration of Annie, her assistant Paul White, and a grant from the Fred J. Epstein Pediatric Care Foundation, we have been able to connect our teens with photography to capture unique experiences and be able to view and discuss them at the CBTF office. We had the chance to ask Annie a few questions about her experiences as a professional photographer and how she came to develop a relationship with CBTF.

CBTF: You spend a lot of time working with various organizations to create photography programs for the clients they serve. What first drew you to develop these programs?

Annie: I have always been interested in and therefore created projects that told the stories of communities. I have created a fairly large amount of work about a variety of communities of older people including a permanent installation at Roosevelt Hospital here in NYC, a lobby installation for the Alzheimer's Association, among others. On a larger scale my work about older people culminated in a show at the United Nations. That show was called "Ageless" as it was about older people. I have always been interested in not only the seen meaning but also the unseen meaning of the life inside the person.

When my work was commissioned by The Frick Collection for their "Art of Observation" program for physicians I became very interested in doing projects about the intersection of peoples' lives and the world of medicine. Through the Fred J. Epstein Pediatric Care Foundation, we connected with Montefiore Children's Hospital and became involved with a group of teens and young adults who were part of a group there who were dealing with life threatening illnesses. We spent time with them and did a photography workshop, resulting in a show and the project being titled "Not Defined By Diagnosis" by the participants. I was awarded the New York Post Liberty Medal for Leadership for this project. I am grateful for this and have always felt that it also acknowledged the community's leadership in telling their own story.

CBTF: You are working through a grant with the Fred J. Epstein Pediatric Care Foundation. Can you tell me a little bit about that and why Kathy Epstein was interested in our program?

Annie: Kathy said that Fred had always been interested in the mission and work of CBTF. He was one of their honorees and the organization is going to start giving a Humanitarian Award in his name. Fred always loved photography, was an amateur photographer and thought that photos were a wonderful way to communicate and share thoughts and emotions. It was then so natural to think of combining Fred's love of photography, children and the mission of his Foundation into a program for CBTF.

CBTF: What drew you to work specifically with CBTF?

Annie:Kathy Epstein was obviously aware of CBTF and we were looking for another site that we could bring a photography workshop to. It had been so popular at Montefiore and seemed to be something that others could enjoy and benefit from. Frankly, when we had our first meeting about this my heart skipped a beat because I could feel the care, concern and personal attention for folks on the part of the staff as we spoke. My instinct on that was certainly correct - I have not been disappointed.

CBTF: We're proud of our brain tumor survivors because of their unique perspective of the world and how they can overcome challenges. What things have you observed (either through photography or their personalities in general) that surprises or inspires you?

Annie: What inspires me about people in general, is when, no matter what the situation, they choose life. Clearly that is the wise and fruitful choice but it is not always the easiest choice so when I see people do that - and I see that in the workshop participants and in their images each and every week - I am inspired.

For a little more about Annie Levy, visit www.annielevy.com
| | |
| --- | --- |
| | An Inspirational Visit from Hadley McLean |
On February 21st, 2012, the CBTF staff had the pleasure of meeting 9 year old Hadley and her father Tim McLean. In April of 2011, Hadley began complaining of headaches and nausea. Her parents instinctively knew something wasn't right and demanded an MRI. She was then diagnosed with medulloblastoma.

As her 9thbirthday approached in January, Hadley's parents asked her what she wanted. With all that she has been through, you would imagine her birthday would be an exciting time filled with gifts and presents for her. However, Hadley claimed she didn't need anything. She wanted to do something for others who are also facing a pediatric brain tumor and decided to hold a fundraiser for CBTF. Her local community found this selfless girl to be quite inspiring.

The local mall was picked to host Hadley's birthday party and the community came out to support Hadley. Hadley's community, led by Kim Allen, set up the food court to house the birthday party. They decorated the entire space in Hadley's favorite color, pink, and had a few donation buckets throughout the room. Clowns, karaoke, and face-painting were also at the party to entertain shoppers and party guests. When the day was over and the all the donations counted, Hadley's generosity raised close to $10,000!

Hadley and her father came to New York City to present the donations in person and we enjoyed a pizza lunch with them before sending them off to see the Statue of Liberty. The staff at CBTF feels truly honored to have met Hadley. Her joyful spirit touched everyone in the room.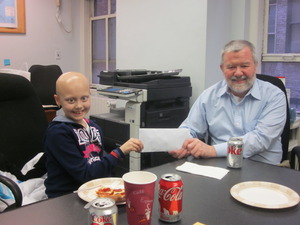 Hadley McLean presenting Joe Fay, executive director, with the donation to CBTF
| | |
| --- | --- |
| | Bereaved Families Honor their Loved Ones through Volunteering |
Because the grieving process is so unique, people often prefer certain support services or experiences to help them move forward through grief. Some bereaved families volunteer because it enables them to honor their loved ones while using their talents to help others and feel connected to the person they lost.

David Beech, now 17 years old and a junior in high school, lost his brother and best friend, Jonathan Beech, age 15, who died from a brain tumor on March 10, 2007. Following his brother's death, David immediately got involved in supporting the brain tumor community by assisting his parents with the coordination of the Annual Jonathan Beech Memorial Concert, which raises funds for brain tumor programs and research. His participation included singing in the concert with the community chorus as well as creating the concert's website: jonathanbeechmemorialconcert.org. The family donated funds raised from the 2009 concert to CBTF.

David also assisted his parents, Donna and Martin, with the Orff Music Program, a therapeutic music program the family created for camp families with funds raised from the 2010 memorial concert. David's role included teaching, conducting, and coordinating groups of children, teens and adults.

David and his family also got involved at Camp Sunshine, a camp for families of children with life threatening illnesses.

David loves volunteering and attributes the happiness he feels to his brother Jonathan, who introduced him to camp. He explained, "The most important thing to do after the loss of a loved one is to become involved in some social group. Being a volunteer gives me the feeling of acceptance and participation, and being involved is a powerful method of coping with grief." David's mother, Donna Beech, stated "Perhaps camp is the place where we are given the opportunity to accept great tragedy and rise above it and move on in healthy, productive ways."

Many volunteers, both parents and teens, explain feeling connected to their loved ones while helping others and staying involved. It helps them to feel the joy they felt with their loved ones.

It is important to know that many people need time before feeling ready to volunteer, or before experiencing the benefits. We will continue to share volunteer stories with you. For information on volunteer opportunities within CBTF's Loss, Grief and Bereavement Program, contact Jessica Elder.
Children's Brain Tumor Foundation
Toll-free Helpline: 1-866-228-4673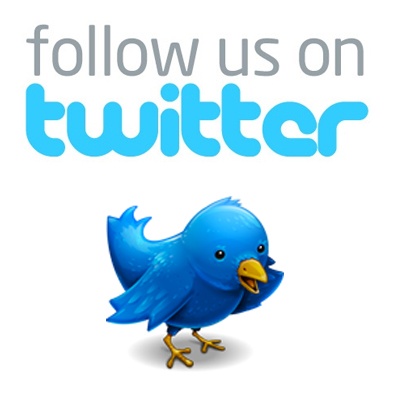 Young Adult Speed Networking Planning and Pizza
March 13, 2012, 6-8PM.
CBTF Office
For more information, contact Kayla Giacin .

YPG Happy Hour
March 14, 2012
6:30PM-Open Bar
7:30PM-Cash Bar
Sidebar
Contact ypg@cbtf.org for more information and consider registering with a donation.

Jenna's Corner Online Chat for Bereaved Parents
Wednesday, March 21st, 8PM EST
Contact Jessica Elder for more information.

Washington D.C. Teen/Young Adult Dinner Discussions
March 27, April 24, and May 29, 6-7PM.
George Washington University Marvin Center, Room 308
Contact Stacia Wagner for more information.

Jenna's Corner Online Young Adult Chat
April 11th, 7:00p.m., EST
Email Stacia Wagner or Kayla Giacin to find out more, and check out Jenna's Corner to find out more about our online groups.

Viacommunity Day
April 20th
Location TBA

CBTF at CHOP
April 22nd, time TBA
This day at Children's Hospital of Philadelphia will include a Family 2 Family training as well as a seperate teen event. For more information on the F2F training, contact Wade Iwata and for the teen event, contact Stacia Wagner.

4th Annual YPG Bowl-a-Thon
May 3, 2012
Bowlmor Lanes
If you're interested in being a captain or participating, send an email to the Young Professionals Group.

10th Annual Dream & Promise Gala
May 16, 2012
Marriot Marquee - Times Square

For more information on our upcoming events, visit us here.

Purpose Project for Teens
Date: TBA
This will be an 8 week pgotography and writing program. Contact Stacia Wagner, Wade Iwata, or Kayla Giacin for more information.

5th Annual Heads Up Conference
Young Adult: June 4th - June 10th
Teen: July 20th-August 5th
Gold Creek, MT
For more information, contact Stacia Wagner
12th Annual Kids Cruise
July 28th
New York, NY
For more information, contact Wade Iwata .

Happiness is Camping Family Camp
August 23rd-26th
Hardwick, New Jersey
For more information, contact Wade Iwata.
Texas Hold 'em Poker Tournament
CBTF's 4th Annual Texas Hold'em Poker Tournament was held Tuesday, February 28th at Stout in NYC. Approximately 130 people turned out to support CBTF! We raised over $40,000 and profits from the event will help send teenage brain tumor survivors to our Heads Up Conference this summer.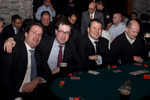 Participants of the Texas Hold 'Em Tournament
Arlene Pineda
Administrative Assistant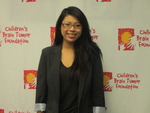 Children's Brain Tumor Foundation is an amazing organization and I am so honored to be a part of their family. I first applied as an intern and was completely ecstatic when on my first day, I was asked if I was interested in applying for the administrative assistant position! I figured "What could I lose?" and decided to go for it because it would be an even greater opportunity for me. Two months later, here I am as the administrative assistant for CBTF and I couldn't be happier.
I am a nursing major attending Christ Hospital School of Nursing in New Jersey. My passion for working for children came from my active involvement in youth organizations within my community. When I was certified to be a Youth Leader and saw the impact I made in the children I worked for, I knew this was something I wanted to pursue. Some things I enjoy doing in my spare time are cooking, dancing, reading, and most of all, working for a great cause with great people, which is exactly what I'm experiencing here at CBTF
!
If you would like to share your experience, your connection to CBTF, or a comment, email info@cbtf.org