Luke Parker and Samantha Aldrich

Young Adult Heads Up Conference

Being a young adult presents so many challenges and so much excitement. For many young adults, this is the time to begin the road to independence including moving out of your parent's home, starting a new path towards establishing a career, and beginning committed peer relationships. For brain tumor survivors who may move at a different pace than their peers, this transition can be difficult and very lonely. If you are unable to drive because of physical changes; if you don't know how to get the support you need to advance in your career path; if you get left behind because you can't hear everything at a party; if your friends don't understand you; or if your priorities seem to be deeper than other people your age, finding peer support and creating independence becomes a bigger challenges.

This year our fourth annual Heads Up Conference with Camp Mak-a-Dream addressed all of these topics and allowed survivors to build a unique support community consisting of people who "get it". The conference brings together 40 young adult brain tumor survivors between the ages of 18-30 and eight young adult mentors (also survivors from the CBTF Family 2 Family program) to build a support community, provide information and best of all to have a great time.

We address some of the biggest challenges faced by the community including barriers to employment, disclosing to peers that you had a brain tumor, and practical tips to deal with learning changes. We also learn so much about the group which we can bring back to other young adults who are unable to attend camp.

If you are interested in attending Heads Up Conference as a survivor or professional or would like more information, please contact Stacia Wagner at swagner@cbtf.org or call 866-228-4673.

Teen Heads Up Conference (T-HUC)

Most teenagers worry about what we now consider the small things in life. For example, owning the newest jeans, dealing with a bad complexion, and not getting asked to the dance can cause endless tears. While this is part of growing up, teenage brain tumor survivors have worries and concerns which are much different. They worry about things like "Will my brain tumor return?" or "How do I fit in when I can't play baseball anymore?" Dealing with these "adult" concerns, learning how to talk to your teacher about what you need, finding someone to ask questions about your medical future, and finding people who understand you are the goals of Teen Heads Up Conference(T-HUC).

This year's T-HUC, held with Camp Mak-a-Dream, brought together 40 brain tumor survivors between the ages of 13-18 and nine young adult mentors (also survivors from the CBTF Family 2 Family program). Because last year's participants asked for an extra day, the conference was extended to six days. In addition to survivor education, creating a strong survivor community, and lots of recreation, the group did the unimaginable. They created a carnival with games, food, a dunking booth and art projects for several hundred local children. They demonstrated their leadership ability and made sure the day went off without a flaw.

As with HUC, the group provided inspiration and wisdom for all of us. This is one part of our Teen Program. In the near future we will be starting Teen Conversations on our online group, Jenna's Corner. We also have teen activities throughout the year. If you are interested, please email Stacia Wagner at swagner@cbtf.org or call 866-228-4673.

We are extremely grateful to the parents who let their children participate in our programs even when they are in Montana. A special thank you to the expert professionals who helped make the conferences possible: Dr. David Strauser, University of Illinois Champagne-Urbana; Dr.Tara Brinkman, St. Jude's Children's Research Hospital; and Dr. Rebecca Block; Oregon Health and Science University. Thanks to Camp Mak-a-Dream staff and volunteers for another successful partnership.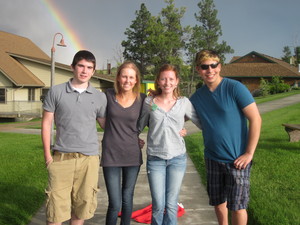 Mark Magrone, Tori Brown. Allison Clark, and Trevor Thayer
In the past few months, CBTF has been busy planning and hosting a variety of events for families facing a brain or spinal cord tumor diagnosis. From July 14th-17th we continued our partnership with Children's Oncology Services, INC. by sponsoring our 2nd Annual Brain Tumor Family camp in Wisconsin. Over the course of the camp twenty families participated in a variety of events including parent discussions, a ropes course, swimming, and many additional camp activities. CBTF's family camps are wonderful opportunities for families to escape their everyday stresses for a few days and connect with other families facing a pediatric brain or spinal cord tumor. If you are interested in participating in a future family camp, please contact Wade Iwata at 866.228.4673.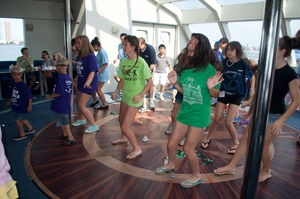 Kids' Cruise Dance Floor

Our 11th Annual Kids' Cruise, sponsored by the Mark R. Harris Foundation, was another opportunity for families to connect with each other. On July 23rd, we hosted over four hundred people onboard the Zephyr for our annual three hour cruise around New York Harbor. Families braved the heat and early morning schedule to enjoy activities such as face painting, arts and crafts, and dancing, all while taking in the sights of NYC.

| | |
| --- | --- |
| | Teens Can Grieve Together: CBTF's Community for Bereaved Teens |
Teenagers who lose their siblings feel a strong loss that remains within them forever. From early on, siblings form special relationships-unique bonds of love, friendship and mutual caring. Sometimes sibling relationships come with rivalry and challenges, but not without the connection and love they have for each other. When a sibling loss occurs, the family who offers security to hold the teen throughout the changes of adolescence, endures many challenges. While there are some similarities, each teen will grieve in a very unique way. Feelings can range from sadness, anger, confusion and fear. Some bereaved teens might cope by distracting themselves and keeping busy, appearing to move forward without being affected. Some will find it hard to concentrate and focus, or lose interest in what once gave them joy. Some will openly talk, cry, see counselors and attend support groups. Some will stay silent and resist support available to them. Some teens might deal with their grief by participating in physical sports and activities, using creative expression, or journaling about their loved one and the loss (adapted from The Dougy Center website www.dougy.org).

Parents report how challenging it can be to know how to support a grieving teen. During a recent CBTF online community discussion, one bereaved mother expressed her concern around her bereaved son who was staying silent and keeping busy, and not openly acknowledging or discussing his loss. This mother wasn't sure whether or not her son was grieving in a healthy manner, and feared he was delaying his grief. Emilio Parga, director at The Solace Tree Child and Adolescent Center for Grief and Loss (www.solacetree.org), is a grief counselor and educator who recently started co-facilitating discussions on CBTF's online community. Emilio responded to this mother's concern by stating, "Believe it or not he is grieving. He is showing it in other ways-ways that we can't understand because we see them playing, involved in things, staying busy, smiling, etc. In this case, we have learned that grief is something we feel on the inside of our body: heavy heart, stomach aches, fatigue, etc., and mourning is grief gone public... for example, tattoos, hair changes, clothing changes, etc. So, it's not delayed at all. He is grieving." What we see on the outside, is not always representative of what a teen is experiencing inside. But, it can be hard to offer support when we do not know what is going on inside.

What can parents do to help grieving teens? To start, parents can be present and available to listen. Although parents may not realize it, they are already helping significantly by being supportive, open, honest and loving. When parents are honest, communicate that they are there to listen, talk, and answer questions, a teen already feels a stronger level of security and comfort, even if he or she chooses not to talk about the loss. Simply giving teens permission to grieve can send a powerful message, as many teens might be trying to "stay strong" or feel self-conscious about expressing their feelings. If parents model open communication and express feelings about the loss, they may even help their teen to talk (adapted from www.hospicenet.org).

Individual counseling and support groups can also be helpful if the teen is willing and ready to participate. Support groups with peers can be particularly helpful and are known to be an effective way to help teens process and cope with grief. Jenna's Corner, CBTF's online community, has been offering online support groups for bereaved parents for over one year. During a recent online chat discussion about sibling grief, some parents asked, "Wouldn't it be nice if our teenagers could have a group like this?" It would be nice for bereaved teens, in any part of the country, to have a place to connect and talk to others who understand their loss. For this reason, CBTF is planning to offer an online community for bereaved teens in the Fall of 2011. This community will be a safe, private space, monitored only by CBTF staff, and will require parent consent prior to participation. Emilio Parga from The Solace Tree has been providing peer groups, programs and camps to grieving teens for many years and believes an online community could achieve some of the benefits of in-person groups, which provide opportunities for expression in a safe place. Our goal would be to enable teens to provide support to each other as they find normalcy and commonality in their lives. Emilio explained, "We have seen that the children and teens are the experts... they guide us through the grieving process."

Online groups might also appeal to those teens who feel hesitant to attend in-person groups and counseling. Teens now frequently use online communities and social media, and it has become a major communication source for many. While we would never discount the benefits of in-person support, we feel offering an additional support outlet could be helpful. For more information on the development of CBTF's online community for grieving teens, or to inform us of your interest, please contact Jessica Elder at jelder@cbtf.org

If you are interested in locating peer support groups and programs in your area, visit CBTF's website http://www.cbtf.org/connections/loss-grief-bereavement where you will have access to lists of resources, or contact us so that we can help you find a program in your local area. In addition, The National Cancer Institute (www.cancer.gov) offers helpful information on how to know when a teen might require extra help and attention.

In This Issue:
Heads Up Conferences
CBTF Summer Fun
Teens Can Grieve Together
Upcoming Events
Our Newest Staff Member
Research for Good
Young Adult Talk and Dinner
September 13th
Our second to last young adult talk will meet on Sept. 13th. Join us for a discussion on dating. For more information or to RSVP, please contact Stacia Wagner at 866.228.4673.

YPG Happy Hour
September 14th
Sidebar
The Young Professionals Group will host a happy hour and volunteer networking night from 7pm-10pm. They are asking attendees to wear gold, the color symbolizing children's cancer, and to donate $10. Email ypg@cbtf.org for more information.

Danny Jegle Open
September 19th
Hempstead Country Club
Tim Jegle will host the 13th Annual Danny Jegle Open. The event includes golf, dinner, and an auction. Only a few spots left! If you are interested in playing or sponsoring please contact development assistant Haley Askew at 212-448-9494.

Terry Fox Run
October 15th
Central Park NY, NY
Join us for a 5K Run/Walk in Central Park in New York. The Run/Walk will start at 9:30am. To join our team click here.

Big Apple Circus
October 23rd
New York, NY
The 23rd Annual Big Apple Circus Event offers the fun and exciting sights of the circus right in Manhattan. This is a great day for families! If you are interested in attending please contact Haley Askew at 212-448-9494 or register online by clicking here.
Haley Askew
Development Assistant

I am excited to be the newest member of the CBTF team! I believe my interest in development started as a Girl Scout selling cookies each year. Since my cookie days, I have earned a Bachelor of Science in Family and Child Studies from the University of Florida and a Masters in Nonprofit Management from the University of Central Florida. I am passionate about children and healthcare so CBTF is a great place for me!

I am new to New York, having lived in Mississippi and Florida my whole life. I love college football and can be found cheering on the Florida Gators every Saturday in the fall. I also enjoy exercising, reading, and movies. I am having fun getting to know all the great people involved with CBTF.

Have a little extra time on your hands?

You can help raise funds for CBTF by taking online surveys. Research for Good is an organization that works with companies, individuals, and nonprofit organizations. When companies want to better understand their market they create a survey that Research for Good invites people to participate in. Individuals that are registered with the site can take the survey and a donation is made to their favorite charity.

If you're interested you can register at www.resesarchforgood.com/cbtf Click Join Now and fill out your profile. Research for Good will email you as surveys become available. You can take as few or as many as you like! CBTF receives between $1 and $5 for each survey so this is a great way to volunteer your time.
JOIN CBTF's CIRCLE OF FRIENDS TODAY!

Circle of Friends members make a monthly donation to CBTF with a credit or debit card. These monthly contributions help sustain our work by providing a steady source of income that allows CBTF to carry out its mission to improve the treatment, quality of life, and the long-term outlook for children with brain and spinal cord tumors through research, support, education and advocacy to families and survivors.

Join our Circle of Friends TODAY by clicking here!


For more information on our upcoming events, please visit us here.
| | |
| --- | --- |
| If you would like to share your experience, your connection to CBTF, or a comment, email info@cbtf.org | |