| | |
| --- | --- |
| | CBTF Social Workers on the Road |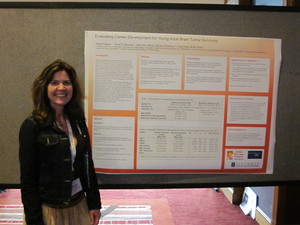 Stacia Wagner Presenting at AOSW in St. Louis

One way of keeping current about new research, promoting the programs and research at Children's Brain Tumor Foundation, and building collaborations with hospitals and other community based organizations is through conference attendance and presentations. During May, Stacia and Wade, two of the CBTF social workers, did just that. This year we attended the Association of Oncology Social Workers (AOSW) and Association of Pediatric Oncology Social Workers (APOSW) conference. We gained new information on patient care, collaborations, interventions, leadership, and future trends.

Both Stacia and Wade had the opportunity to present on career decisions and employment issues for brain tumor survivors, bereavement in young adults and how to combine community service with teen programming. They also participated in brain tumor and research special interests groups. From all of this we look forward to future collaborations and implementing new ideas.

Prior to APOSW, Stacia and Wade participated in the Excellence in Cancer Education and Leadership (ExCEL) pre-conference. Stacia was on the ExCEL faculty and Wade was selected as a participant. This one and a half day intensive workshop based on the Institute of Medicine's 2008 report on Cancer Care for the Whole Patient: Meeting Psychosocial Health Needs focused on programming, interventions, and leadership essential to being an effective oncology social worker. The report indicated many of the psychosocial needs of cancer patients are not being met. As social workers at CBTF we recognize the need to provide support and information to meet all the needs of the patient and family.

On the final night of the APOSW conference, Stacia and Wade presented the Social Worker of the Year Award to Constance Connor. Mrs. Connor is a licensed clinical pediatric oncology social worker at Life With Cancer, Inova Health System in Fairfax, VA. She was nominated by her medical team. A quote from her nomination stated "I have rarely met a social worker as dedicated, as productive, as caring, as creative and as effective as Connie. I also want to add as intelligent, because the way she goes about doing her job takes considerable brain power."

Stacia then attended the GW Cancer Institute Cancer Survivorship Research Symposium, CBTF had group discussions with colleagues on barriers, goals and potential programs to health maintenance for young adult cancer survivors. CBTF along with Camp Mak-a-Dream were also awarded Most Innovative Intervention for the Teen Heads Up Program.

If there are programs, unmet needs or areas of interest you have please call the social workers at CBTF, write us a note on our Facebook page or email us at info@cbtf.org.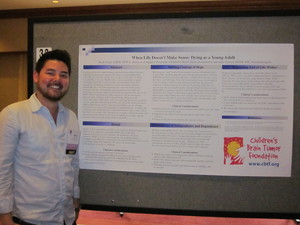 Wade Iwata Presenting at AOSW in St. Louis
2011 Dream and Promise Awards Benefit

CBTF's ninth annual Dream & Promise Benefit on Tuesday, May 17, produced b y Charlotte C. Simon Productions, raised one million dollars for children's brain tumor programs, activities, and research. More than 500 people attended the event honoring John F. Crowley, Chairman and Chief Executive Officer of Amicus Therapeutics. Special tribute was paid to Dr. Charles A. Sklar, Director of the Pediatric Long-Term Follow-Up Program at Memorial Sloan-Kettering Cancer Center. Preceding Dr. Sklar, two long-term survivors, Tom Ha and Morgan Sobel spoke of their experiences with CBTF and the impact a brain tumor diagnosis had on them.

Tom Ha noted "In 2009, something very important happened in my life. I was lucky enough to be told about a very special organization by my social worker at Memorial Sloan Kettering. I went to my first Children's Brain Tumor Foundation meeting and it changed my life. "

Morgan said of the evening "The CBTF Gala was wonderful and I was really excited and honored to be a part of that night. I didn't think speaking would be a huge deal, but when it came time to speak on stage and everyone was looking at Tom and me, I got a little nervous. Thankfully, I didn't make any huge mistakes. That night, I met a lot of new people, and also got to reconnect with a few I haven't seen in a while (like Dr. Sklar), which was really nice. I had a great time and I hope everyone else did."

Dr. Sklar spoke passionately about not only his work, but the pride he had for the survivors who spoke before him. His work and dedication to survivorship issues has been an integral part of the lives of so many people in the audience.

Our deepest gratitude to the honorees and for all they do for the brain tumor community.

After Morgan and Tom spoke, there was a spirited live auction with items including a Mark Teixeira Baseball Clinic for Kids and a Hershey Chocolate Lovers weekend for two, and "good deeds" items raising donations in support of CBTF projects. The latter received a generous single gift of $15,000. The Silent Auction included a variety of items from the popular jeweler, Judith Ripka, as well as a large variety of sports items. In total, the Live and Silent auctions raised over $65,000.

Regie Hamm, award-winning singer and songwriter and winner of the 2008 American Idol songwriter award, added to the event's excitement by performing several of his songs.

To watch Morgan and Tom's speeches, click here.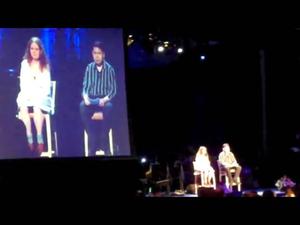 Morgan Sobel and Tom Ha
| | |
| --- | --- |
| | CBTF's Loss, Grief and Bereavement Program |
CBTF continues to expand the support services offered through the Loss, Grief and Bereavement Program. This is a national support program that was created with input and ideas offered by bereaved parents and families.

In April, Emilio Parga from The Solace Tree joined CBTF's online community, Jenna's Corner. Emilio is a children's grief professional who has been participating in our message board discussions on child and teen grief. Topics such as preserving the memory of the child, and supporting grieving teens were discussed. Laurie Burke, researcher from the Center for the Study of Loss and Transition, continues to join our monthly chat discussions and has also been a valuable resource for parents. All bereaved parents are welcome to join Jenna's Corner by following this link http://www.cbtf.org/registration.

CBTF's Family-to-Family Network provides bereaved parent mentors for bereaved parents seeking peer support. A recent survey and evaluation of the program demonstrated that both the mentors and parents who participate in this program have found it to be beneficial and therapeutic. One mentor in our program stated, "Transforming my experience into something meaningful and helpful to others has been extremely satisfying. Hearing the stories and experiences of other families has actually been helpful to me as well".

A parent who received mentor support from our program stated, "During the most devastating time in my life, I contacted CBTF to ask for support from parents who actually experienced a similar tragedy. Speaking to another parent who truly understands without "imagining what it feels like" can really help a grieving parent cope with the loss of a child. Talking to my mentor made long days of sadness and pain turn into healing moments".

Professionals can also contact us to arrange mentor trainings within their organizations or hospitals. CBTF is offering phone trainings for bereaved parents who want to become mentors on Thursday June 9th at 9am EDT, and Tuesday June 14th at 8pm EDT. To sign up or for more information, email Jessica Elder.

Finally, we have recently updated our Loss, Grief and Bereavement Program web page. You can visit http://www.cbtf.org/connections/loss-grief-bereavement to find an updated list of grief books recommended by professionals and parents. Each book includes a link to Amazon where you can read a description and purchase the book. In addition you will find an updated list of local and national bereavement organizations and programs.

Please contact Jessica Elder, Bereavement Program Manager at CBTF, with any questions or for more information.

| | |
| --- | --- |
| | Introducing Three New Staff Members |
Carolyn Selheim - Development Assistant
I am very excited to join the Children's Brain Tumor Foundation. As a recent graduate of Rutgers University, I am looking forward to taking part in the all the exciting things our development team has ahead of them. I am endlessly impressed by the work CBTF does and the difference they make in the lives of kids, their families, and survivors and couldn't be happier to be onboard.

Erin Puck - Resource and Research Assistant
I am excited to be working part-time at the Children's Brain Tumor Foundation. I have been involved with CBTF over the past 5 years, not only as an advocate for brain tumor research, but as a survivor. Being involved with this organization has been so fulfilling, because I have the opportunity to use my personal experience to aid others in winning their own battles. I graduated from Villanova in 2009 and pursued my law school dreams only to find working for a non-profit much more satisfying. When I am not working at CBTF, I am running my own non-profit organization, Toys.Calm from New Jersey.

Rachel Greenstein - Director of Development
I am privileged to have joined the staff of Children's Brain Tumor Foundation as the first Director of Development and, particularly, to be working with such a dedicated board and colleagues. My motivation to work in the non-profit world has always been to help people, to make a difference in the lives of a group in need, be it children who have educational deficits or disenfranchised adults in need of job training. At CBTF, I have already been inspired by so many of the people and families we serve and look forward to raising increased funds for the programs my colleagues will implement on their behalf.

For most of my career I have been involved with my peers as a member of Women in Development and Association of Fundraising Professionals. I also served as a co-chair of the Carroll Gardens Neighborhood Women board for eight years and another five on the board of Fifth Avenue Committee when CGNW merged with that organization, both of which are in Brooklyn where I live with my wonderful husband and handsome dog (who runs our household).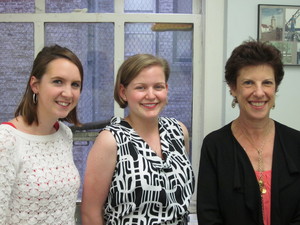 Carolyn Selheim, Erin Puck, and Rachel Greenstein
In This Issue:
CBTF Social Workers on the Road
2011 Dream and Promise Awards Benefit
CBTF at Color Me Mine
Introducing Three New Staff Members
CBTF's Loss, Grief and Bereavement Program
Young Adult Heads Up Conference
June 5th - June 11th
Gold Creek, MT
The Young Adult Heads Up Conference will be once again returning to Camp Mak-A-Dream in Montana this year. The camp will run from Sunday, June 5th through Saturday, June 11th. For more information on this camp, contact CBTF social worker Stacia Wagner at 1-866-228-4673.

Mid-West Brain Tumor Family Camp
July 14th - July 17th
Williams Bay, WI
This year CBTF and Children's Oncology Services Inc will be hosting a summer camp in Williams Bay, WI from Thursday, July 14th through Sunday, July 17th. This camp is available to families in MI, IA, IL, IN, and WI. For more information contact CBTF social worker Wade Iwata at 1-866-228-4673.

11th Annual Kids Cruise
July 23rd
New York, NY
For another year, the Mark R. Harris Foundation is sponsoring our 11th Annual Kids Cruise around NY Harbor on the Zephyr. The 3 hour boat tour leaves from the South Street Seaport promptly at 8:30am, our group will meet at 8:00am for registration! If you are interested, please contact Wade Iwata at 1-866-228-9494.

"Educational Challenges and Overcoming Them" webinar in June. Join Jenna's Corner on www.cbtf.org for more details
CBTF and The Young Professionals Group 3rd Annual Bowl-A-Thon Fundraiser in Memory of Corey Mobley

The Young Professionals' Group hosted its 3rd Annual Bowl-A-Thon on Thursday, April 28th at Bowlmor Lanes on University Place in NYC. The event was dedicated to the memory of Corey Mobley who died from a brain tumor and was a member of YPG.



Nina Mui and
Amanda Zablocki


More than 100 volunteers, friends, co-workers and survivors, wearing T-shirts emblazoned with Bowl-a-thon sponsors, filled 16 lanes with laughter and the occasional gutter-ball-inspired groan. Good food, drink and music, along with a slide show of CBTF past events, energized and entertained the bowlers.

Over $30,000 (25% more than last year!) was raised and will help support transportation for young adult survivors to our camp in Montana.

In short, the event was a great success!



Evan Natelson

On May 6th nearly twenty volunteers from Viacom volunteered to spend their day with children and families from CBTF at Color Me Mine in Tribeca. This is a wonderful event where children dealing with the many challenges of having a brain tumor create beautiful works of ceramic art.
This year, many of the ViaCommunity Day volunteers also painted ceramic items for CBTF to give to children unable to attend the event but who will attend camps and activities this summer. Children and volunteers tapped into their inner artist as they painted all sorts of ceramic figures from puppies and piggy banks to fairies and dragons.

ViaCommunity Day is an annual volunteer event organization by Viacom, where CBTF board member Leigh Anne Brodsky is President of Viacom and Nickelodeon Consumer Products. The company is a member of the International Licensing Industry Merchandisers' Association (LIMA). LIMA, has made CBTF its Charity of Choice.

This is CBTF's third year to benefit on this day of volunteerism from the enthusiasm and creativity of so many Viacom staff, who were led at Color Me Mine by Leigh Anne. Philippe Dauman, President and CEO of Viacom joined us for lunch to meet some of our children and families. Of course, as always, the children and families we serve were the real stars of our day!



John Imasuen
JOIN CBTF's CIRCLE OF FRIENDS TODAY!

Circle of Friends members make a monthly donation to CBTF with a credit or debit card. These monthly contributions help sustain our work by providing a steady source of income that allows CBTF to carry out its mission to improve the treatment, quality of life, and the long-term outlook for children with brain and spinal cord tumors through research, support, education and advocacy to families and survivors.

Join our Circle of Friends TODAY by clicking here!




For more information on our upcoming events, please visit us here.
| | |
| --- | --- |
| If you would like to share your experience, your connection to CBTF, or a comment, email info@cbtf.org | |