Pope Francis in America

Thank you to the staff of the Archdiocese of Detroit's Office of Digital Media for sharing these pictures and their experience with us.
| | | |
| --- | --- | --- |
| | | |
| It was obvious throughout Pope Francis' trip to the U.S. that he was most comfortable when he was with people. | Over and over again he had the Pope mobile stop so that he could kiss a small child or alight to bless a sick person in a wheelchair. | And there were moments when one could visually see how moved he was by the suffering of others. |
But more than the pictures it will be important to remember and meditate upon his words:
To the homeless he spoke about the importance of St. Joseph, "the one I go to whenever I am 'in a fix'". "You make me think of St. Joseph. Your faces remind me of his".
To the members of Congress he referred to four great Americans: "A nation can be considered great when it defends liberty as Lincoln did; when it fosters a culture which enables people to 'dream' of full rights for all their brothers and sisters, as Martin Luther King sought to do; when it strives for justice and the cause of the oppressed, as Dorothy Day did by her tireless work; (and when) the fruit of a faith which becomes dialogue and sows peace in the contemplative style of Thomas Merton."
To the Bishops he said: (Be) "Shepherds who do not pasture themselves but are able to step back, away from the center, to 'decrease', in order to feed God's family with Christ.
To priests and men and women of consecrated life he said: "I know that many of you are in the front lines in meeting the challenges of adapting to an evolving pastoral landscape…whatever difficulties and trials you face, I ask you, like St. Peter, to be at peace and to respond to them as Christ did: He thanked the Father, took up His cross and looked forward!"
At Ground Zero: "I feel many different emotions standing here at Ground Zero, where thousands of lives were taken in a senseless act of destruction. Here grief is palpable…The flowing water is a symbol of our tears. Tears at so much devastation and ruin, past and present. This is a place where we shed tears, we weep out of a sense of helplessness in the face of injustice, murder, and the failure to settle conflict through dialogue."
We will long remember this momentous visit!
---
News from the Vatican
Beatification for the first Catholic martyr of South Africa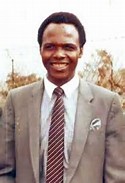 On September 13th Samuel Benedict Daswa was beatified as South Africa's first Catholic martyr. He was a primary school teacher who was stoned to death in 1990 for his refusal to support witchcraft. This was the first time in the history of the Catholic Church of Southern Africa that a South African man was being recognized as a Blessed Martyr of Christ. His Feastday will be celebrated on Feb. 1st. Follow the following web address for an official prayer to obtain favors from Blessed Samuel Daswa. http://www.scross.co.za/2015/09/the-official-benedict-daswa-prayer/
Pope Francis Canonizes St. Junipero Serra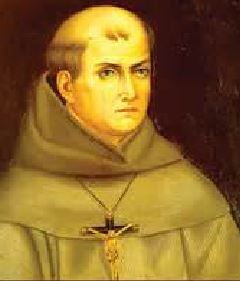 In his homily at the Canonization of Junipero Serra, Pope Francis shared the following:
"Father Serra had a motto which inspired his life and work, a saying he lived his life by: siempre adelante! Keep moving forward! For him, this was the way to continue experiencing the joy of the Gospel, to keep his heart from growing numb, from being anesthetized. He kept moving forward, because the Lord was waiting. He kept going, because his brothers and sisters were waiting. He kept going forward to the end of his life. Today, like him, may we be able to say: Forward! Let's keep moving forward." Click below to read the full homily.
http://www.nytimes.com/2015/09/23/us/pope-francis-homily-at-the-canonization-mass-for-the-rev-junipero-serra.html?_r=0
---
Year of Mercy



What is happening in Detroit?
The Jubilee of Mercy begins on December 8, 2015 and will conclude on November 20, 2016. Archbishop Fisichella, president of the Pontifical Council for Promoting the New Evangelization, has stated: "every Holy Year possesses its own unique nature and aims. It is the Pope's desire that this jubilee be celebrated in Rome as well as in the local Churches; this will give due focus to the life of individual Churches and their needs, in such a way that the initiatives will not place an extra burden on local Churches, but will blend their calendars and the usual activities very naturally."

Read more about how we will celebrate the Year of Mercy in Detroit.
Year of Mercy: Official Hymn
Paul Inwood, composer of the hymn for the Year of Mercy, offers the following to parish musicians.
Links to the score and audio recording are currently on the Pontifical Council's Italian website.
There is a YouTube video available.
The free Vatican download PDFs, MP3 and YouTube video will be found at this page.
The hymn is currently available in Italian, English and French, and the author and composer have donated all rights in it to the Pontifical Council to aid its diffusion around the world.

Paul Inwood also has generously offered to make TIF files (with English verses) available in different formats. More information about the available formats can be found here.

Paul is happy to send them free of charge to you, Please email Paul at pastoral.liturgist@gmail.com.
Two dispensations for the Jubilee Year
On September 1st Pope Francis sent a letter to the president of the Pontifical Council for the Promotion of the New Evangelization. In this letter Pope Francis writes of his concern that all God's people have an opportunity to experience the mercy and forgiveness of God. His magnanimity leaves no one outside of this mercy and forgiveness. He mentions those who visit the Holy Door in Rome as well as the Holy Door in each diocese. He enumerates ways in which the sick and elderly, the incarcerated, the deceased and all who perform a spiritual and corporal work of mercy can obtain the Jubilee Indulgence.
At the end of the letter Pope Francis extends two dispensations:
to all priests, the discretion to absolve from sin of abortion those who have procured an abortion and now approach Reconciliation with a contrite heart seeking forgiveness

and to those faithful, who for various reasons choose to attend churches of the St. Pius X Fraternity, he establishes that during the Holy Year of Mercy those faithful who approach priests from the Fraternity of St. Pius X to celebrate the Sacrament of Reconciliation shall validly and licitly receive the absolution of their sins. [Ordinarily these priests do not have the faculty to forgive sins. This is a major concession to the Pius X Fraternity and Pope Francis hopes that full communion with this group can be established in the future.]
Read the full Letter on indulgences here: http://www.im.va/content/gdm/en/giubileo/lettera.html

Pastoral Resources for the Year of Mercy
The Pontifical Council for the Promotion of the New Evangelization has created a series of 8 short books as the official catechetical resources for the Year of Mercy. See attached flyer for information.
---
For Pastors and Worship Commissions
Calendar Advisory for the celebration of the Feast of Our Lady of Guadalupe
This year the Feast of Our Lady of Guadalupe, December 12, falls on a Saturday. The Mass texts and readings for the feast should be used at all Masses celebrated before 4:00 pm. After 4:00 pm the Mass texts and readings for the Third Sunday of Advent must be used.
---
Archdiocese of Detroit



Synod on New Evangelization
The attached memo from the Synod Committee in charge of preparing for the Synod 2016 makes clear the need for and purpose of Evangelization as well as, the need for and purpose of the Synod 2016. Included also is a description of the Come, Encounter Christ opportunities to be offered throughout the Archdiocese and a full schedule of these events. More>

Relics of St. Maria Goretti to visit Detroit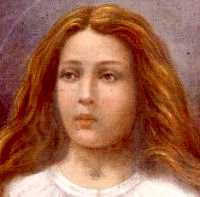 St. Maria Goretti's relics will be on display in a glass reliquary at the following parishes in Detroit:
Our Lady of Good Counsel Parish, Plymouth on October 8
;
SS. Cyril and Methodius Parish, Sterling Heights on October 10;
St. Scholastica Parish, Detroit on October 11.
---
RCIA

Rite of Election
In 2016 Lent begins on February 10th. As is custom, the Rite of Election usually takes place on the first weekend of Lent. Therefore, mark your calendar on February 13 and 14 for the Rite of Election. The full schedule is as follows:
| | | | |
| --- | --- | --- | --- |
| Saturday | February 13th | 11:00 a.m. | Bishop Cepeda |
| | | 2:00 p.m. | Bishop Byrnes |
| | | 5:00 p.m. | Bishop Hanchon |
| Sunday | February 14th | 11:00 a.m. | Archbishop Vigneron |
May 29th will be the Feast of Corpus Christi in 2016
Once again Archbishop Vigneron will look forward to welcoming all those who were initiated at the Easter vigil to this celebration. He looks forward to completing their Mystagogy at this celebration honoring the Body and Blood of Christ.
Is this the year to begin a Year-Round RCIA Process?
As you have already realized the Rite of Election is very early this year. Since according to the Rite of Christian Initiation of Adults the period of Purification and Enlightenment, which occurs during Lent, is a period of intense spiritual preparation of catechumens no teaching, per se, is expected to happen during this period. It is meant to be different from the Catechumenate period and the catechumens should know and feel that difference.

If your parish is just beginning with a new group of potential catechumens there will only be October, November, December, and January to do what the Rite in #75 directs:
provide "suitable catechesis…(that is) gradual and complete in its coverage, accommodated to the liturgical year, (so that) catechumens will have an appropriate acquaintance with dogmas and precepts and profound sense of the mystery of salvation"

provide catechumens with time and experiences to "become familiar with the Christian way of life….(and) learn to turn more readily to God in prayer, to bear witness to the faith….to practice love of neighbor, even at the cost of self-renunciation"

(there should be a) "change of outlook and conduct" (conversion)...that is evident to all in the behavior of the catechumen

"Since the Church's life is apostolic catechumens should learn and practice how to work actively with others to spread the Gospel and build up the Church"
And you will be doing this during the most socially hectic part of the year. So I ask again: Is this the Year to begin a Year Round RCIA Process?
Retreat Experience for Neophytes
St. Paul of the Cross Retreat Center has prepared a weekend experience for those who were recently initiated to give them the opportunity to remember, reflect and deepen their relationship with Jesus. The experience is modeled after the gospel story of Jesus Journeying with the disciples to Emmaus and will help these new Catholics grapple with the gradual, lifelong unfolding of what it means to be a disciple of Christ. More>
---
You have been asking
There is a candidate in our RCIA process who is waiting for a decision about his application for an Annulment. If the answer comes soon does he have to wait until the Easter Vigil 2016 to be accepted into Full Communion?
No. Read More>

The sponsor I have chosen for my child's baptism is not able to be present. What can I do?
When a godparent cannot be present in person at a baptism, a proxy (a stand in) can be designated. In that case, both the godparent and the proxy's names should appear in the register, with the proxy identified as the proxy. Both names will appear on any certificates, with the proxy being identified as such.

Ordinarily the appointment of the proxy should be made by the godparent in writing so that there be certainty as to who is the proxy and who the godparent. (Attached is a simple form that can be used to facilitate the naming of the proxy.)

What is conditional baptism? When can it be used?
Canon #869 states: If there is a doubt whether someone was baptized, or whether the baptism was validly conferred, and this doubt remains after serious investigation has been done, the baptism should be administered conditionally. Read more >

What confirmations are considered valid?
The Roman Catholic Church only accepts the confirmation of the Orthodox and the Old Catholic Church. Candidates who were baptized in other Christian Churches need to be confirmed at the time of their reception into full communion. The priest who receives a person into full communion has permission from the law to confirm that person and must use it.
---
Resources
Resources Available from AOD Print Office
The following resources are available for purchase from the Archdioccese of Detroit Print Shop:
Handbook for Lectors (English and Spanish)

Handbook for Extraordinary Ministers of Holy Communion (English and Spanish)

Adoration of the Blessed Sacrament (English and Spanish)

Nicene Creed

The Lord's Prayer

Communion to the Sick Card for Patient

Layperson's Manual for Communion to the Sick

RCIA Inventory and Envelope (a form to collect the necessary information from each person in the RCIA process with an accompanying envelope to keep information confidential).

​Call the Print Shop at (313) 237-5967 to order copies of these