Come check out some of the art and craft events I have lined up this month. All of the events are free/open to the public, and surpass the coolness-quotient with lots of work by local artists, cool music and treats! Hope to see you there ;)
This Saturday, December 6- Craft Mutiny Holiday Booty Market!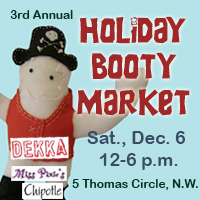 A holiday market with handmade items from 20 local artists. Brought to you by the presenters of 'Crafty Bastards'. Goody bags, holiday cookies and DJs. Located at Hilda's Giftshop at the National City Christian Church. The coolest gifts in town!

12-6pm
5 Thomas Circle NW
Washington, DC.

Friday, December 12- Tee Party at Tiffany's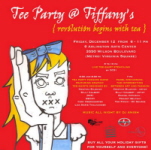 6:30-8:30: Fashion show and party featuring local artists and designers

7:00 pm
Panel Discussion: The intersection between art and fashion
Moderator: Kristina Bilonick
Billy Colbert - Artist
Rachel Cothran - Project Beltway
Tom Pipkin - DC Source

Arlington Arts Center
3550 Wilson Boulevard
(Metro: Virginia Square)
Opening December 12th @ Civilian Art Projects

'Media.Mix: Collage in the 21st Century'
December 12-27 (gallery hours: Wed-Saturday 12-6pm)
Opening Reception: Friday December 12th 7-9pm

group show including works by:
Kristina Bilonick, Cheraya Esters, Steven Frost,
Laura Hensley, Anamario Hernández, Steve Ioli,
Jennifer Mattingly, Patrick McDonough, Chinaedu Nwadibia
Betsy Packard, Nicholas Popovici, David Williams & Damu

Civilian Art Projects
406 7th Street, NW
3rd Floor
Saturday, Dec. 20- Bloomingdale Holiday Market @ Big Bear Cafe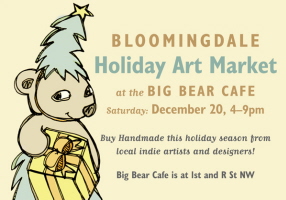 A small-scale indie market at your favorite cafe, Big Bear!
4-9pm

Big Bear Cafe
1st and R St. NW
Sunday, Dec. 21st- Rock N Shop @ the Black Cat

An Annual Favorite!
Rock-n-Shop is where it's all at. This indie craft and junk sale offers more than the standard fare...

8pm - close
Black Cat
1811 14th Street NW