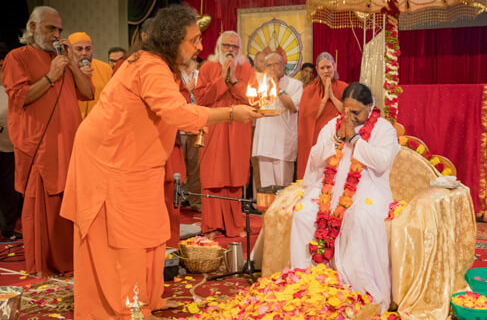 "There are so many different types of relationships based on love in the world. However, the relationship between the Satguru and the disciple is beyond all these relationships. Gurupurnima is a day to contemplate on the greatness of a true disciple, along with that of a true Master. This is because the Guru resides within the heart of a true disciple. A mother or father only exist where a son or daughter exists. Similarly, a true disciple creates an opportunity to awaken the Guru within the Realized Master."
— Amma
Dates Set for Amma's UK Programme
The dates for our beloved Amma's next visit to London have been set as Friday 17 and Saturday 18 November, with the second day being Devi Bhava and going into Sunday morning. As notified in last month's Enews, this will take place at
Sandown Park Race Course
which is not far from the centre of London, and has good transport links.
We have a Friday/Saturday slot for the first time in many years, so we will need to be well prepared for a big crowd. As you will all be aware, the setting up and running of Amma's programme is all done by volunteers (that's all of us!), so please start to think about the seva (selfless service) you may be able to offer towards making it happen. Future issues of the Enews will have more details about what will be required and ways to sign up in advance to join one of the teams. (Please note that these visit dates may still be subject to change.)
back to top
---
Birmingham Satsang Raises Funds for Visit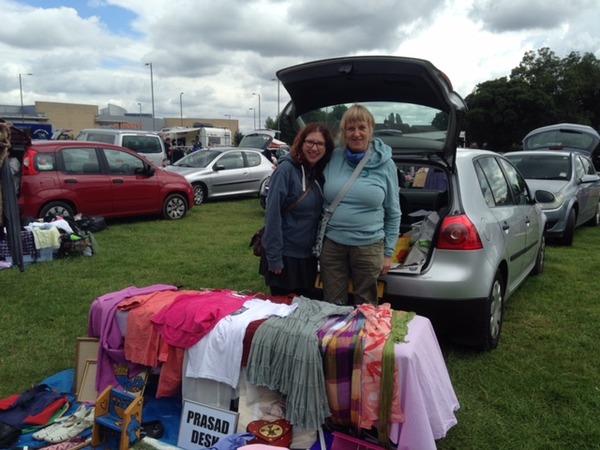 Some of the Birmingham satsang had an enjoyable Sunday morning doing a local carboot sale. We were newbies to the carboot scene, but managed to raise £125 towards Amma's autumn visit. We can recommend it as a great way to fundraise! — Roz Lowe
Raising Funds for Amma's Visit
The total so far from this initiative has reached £15,000. A massive thank you to everyone who has donated either with a one off donation or on a monthly basis. This is a brilliant start and we are well over 10 percent of the way towards our target of £80,000. If you would like to set up a donation, please let Shanker
shanker@amma.org.uk
know so we can maintain a separate record of this fundraising. Also please spread the word that we are raising funds for Amma's programme.
Three ways to donate:
If you use online or telephone banking, you can set up a standing order directly from your account. Payment details: Friends of Amma UK. Sort code: 30-96-35. Account: 00264508. If there is the option, please give a reference of "Amma UK Visit Expenses".
Make a one-off payment online at http://amma.org.uk/donation.html. Select "Amma UK Visit Expenses" from the drop-down box.
Set up a standing order using the Standing Order Form on the website. Print it off and sent it to your bank to set up.
---
Advertise in Amma's Programme Guide 2017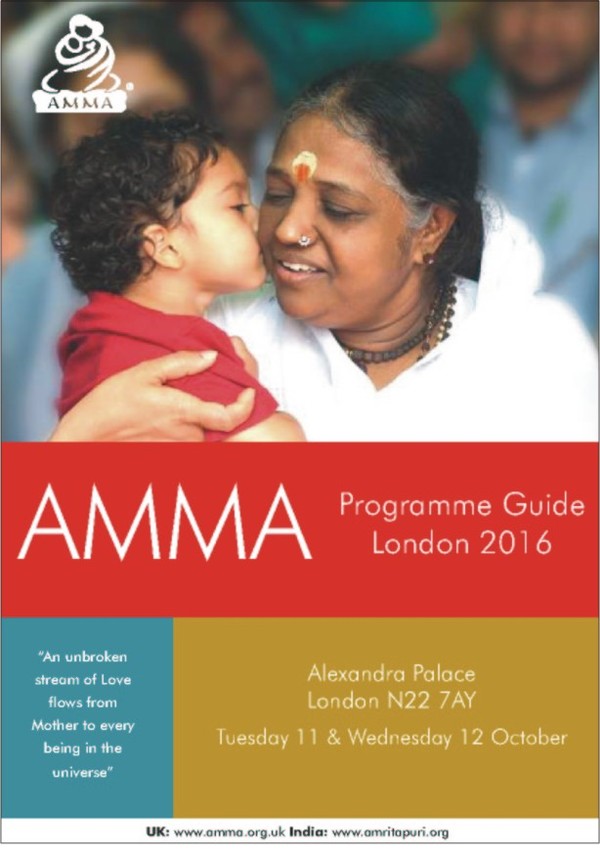 Deadline: 15th October for Bookings, 1st November for Artwork
We will once again produce a colour Programme Guide for Amma's visit in 2015, which will not only be packed full of useful information, but also have space for devotees and businesses to advertise their products and services to as many as 12,000 like-minded individuals who come to the programme.
The Guide continues to be very well received and we hope it will attract adverts from new advertisers, as well as repeat adverts from those who so generously supported the project last year.
If you have a business, or know of one you think may be interested in advertising, please come forward to book your space. Not only will you be promoting your business, you will also be helping to cover the considerable costs of bringing Amma to London.
Download Advertising Rates from the website
here
.
Last year's Programme Guide is still available to view
here
.
back to top
---
International Yoga Day in East London
A big thank you to all who supported our International Yoga day at Hilly Fields Park Brockley, near the ancient stone circle on 24 June. We started the day with Amma Satsang, chanting the 108 names and Lalita Sahasranam stotram. We were then led by our amazing Hatha Yoga teacher Simona Schimanovich, in a beautiful session of mandala and restorative yoga in the stone circle. We ended the day by eating some delicious vegan food and singing some bhajans. — Daniel & Ankita.
---
Sharing Amma's Thousand Names
Last month, I visited a community of Goddess worshippers in West Wales. They are rooted in the Celtic tradition but enjoy incorporating stories and songs from all faiths. Three years ago, they began a tradition of "Mary-Mas", celebrating the return of the darkness three days after the summer solstice, just as "Christ-mas" celebrates the return of the light three days after the winter solstice. I was told that we would stay up all night sharing stories and songs of the Divine Feminine from different traditions and my spontaneous offer to recite the thousand names of the Divine Mother was received extremely enthusiastically.
Realising that not one person in the "Spirit House" had ever heard the names, I invited them to practice the "Om Parashaktyai Namaha" response before we started but I was still a bit uncertain as to how it would be received. The group chanted with the most incredible focus and devotion and afterwards reported incredibly powerful experiences. It was deeply touching to share this practice with a group of people who were completely fresh, having never met Amma, and so wide open and enthusiastic. Last week one of them told me that the community have adopted Om Parashaktyai Namaha as a kind of catchphrase to mean a big "YES!"
Right now, I am in Ireland where I am holding a sacred song retreat in County Donegal. I didn't plan to but a few weeks ago got the sense I should offer the names each morning as an optional session. Again, I have been so amazed at how enthusiastically it has been taken up and the focus and concentration with which everyone has been chanting. The most curious part is that two of the participants have flown in from India. They were born in Mangalore but were both raised as Christians. So here, they have travelled all the way to Ireland to listen to an English woman chanting these names from their Indian tradition.
It never ceases to amaze and amuse me, the ways in which this practice unfolds itself and finds those who are yearning to deepen their connection with the Divine Mother. I am so grateful that Sri Lalita chose to play with me - and introduce me to all her friends! —
Vaishnavi Brassey
back to top
---
Satsang Meetings and Events
Satsang meetings generally include some or all of the following: Guru Stotram, 108 names of Amma, Sri Lalita Sahasranama Stotram (1000 Names), Mahisasuramardini Stotram; Reading & Meditation; Bhajans, Arati and a Prasad/Potluck dinner. For more information, please contact the satsang leader.
* Please call beforehand to say you are coming, or for more details
+ Please bring a dish to share and/or something for the altar
Email londonsatsanginfo@gmail.com to receive a weekly update of London-area satsang meetings.
back to top
Date

Time

Venue

Contact

Sun 6 Aug

4-6.30pm

Brighton, East Sussex

Michelle Hughes 0744 6263 443 *

Sat 19 Aug

5.30pm

14 Sunning Avenue, Sunningdale, Berkshire SL5 9PN. 8pm Shared Dinner

Balakrishna 07723346608 * +

Sat 26 Aug

6.30-

8.30pm

145 Milton Ave, East Ham, London E6 1BN. Tube: East Ham

Kannan/Divia 0208 4710428 *

every Tues

7pm

The Daisy Centre, Glastonbury BA6 9JQ

James 07791 496687

every Thurs

7.30-

9.45pm

Villa Devi, 99 Breakspears Rd, London SE4 1TY.

Antarma +

07838650138

monthly
7-9pm
Cluny Sancturary, Findhorn Foundation, St Leonards Rd, Forres IV36 2RD Moray

monthly

7.15pm

monthly
2-4pm
Flat 34, 15 Hay Hill, Central London W1J 8NS Tube: Green Park

Ankita 07718223913 +

Daniel 07515741494

monthly
6pm
Moseley Birmingham B13 9PL
Adele 07733267714 *+
whereisadele@yahoo.co.uk

monthly

6pm

Combe Down, Bath, Somerset

Sue 07703117137 *

monthly

6pm

Oxford

Stuart Walters 0795 0099200

monthly

2-5pm

Birdwood House, 44 High Street, Totnes TQ9 5SQ

Tanmayi 07721 396938 * +

monthly

11.30am-2.30pm

Villa Devi, 99 Breakspears Rd, London SE4 1TY.

Aloka Pagrut * +

monthly

Derby

monthly

7.30pm

Lower Maescoed, Herefordshire HR2 0DR

Surya Kalkwarf 07412 269862 *

monthly

4-6pm

15 Fourth Avenue, Newcastle-Upon-Tyne NE6 5YH

monthly

1pm

Sheffield

monthly

1pm

47, Meysydd Y Coleg, Carmarthen SA31 3GR Wales. Held on the Sunday closest to Kartika

John Chidanand and Sarada *

Quarterly

6-8pm Sat

Sri Radha Krishna Temple, Bank Rd, Dawley Bank, Telford, Shropshire TF4 2AZ
* Please call beforehand to say you are coming, or for more details
+ Please bring a dish to share and/or something for the altar
back to top


Follow 'Amma UK', the Friends of Amma UK Facebook page
If this email has been forwarded to you and you wish to subscribe, click here. If you do not wish us to send you further news and updates about Amma and the UK visit, please use the link below. You will still be able to get the latest information on Amma's visit and UK activities at the UK website: www.amma.org.uk . Information about Amma's worldwide activities is available at the Ashram website in India www.amritapuri.org and the US website www.amma.org.