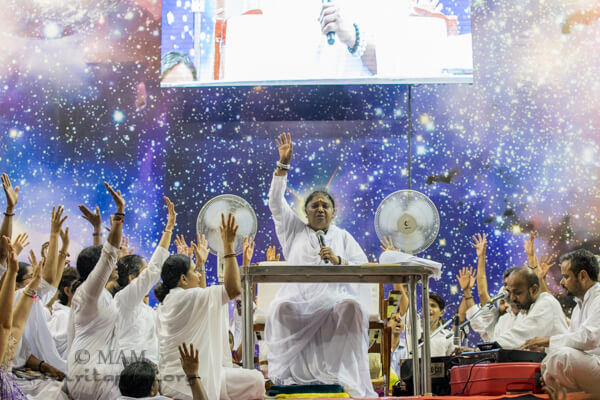 "We have a responsibility towards all those suffering from illness and poverty. We need to provide them food, care, and the light of knowledge. This is our duty. We all are children from the same mother. We need to realise that we are one and our hearts have to be united in love. More than economic or technological revolution, an inner revolution that makes us see others as ourselves is the need of the hour. We must strive to love and serve all." — Amma
Satsang with Br Shubamrita in London
Monday 29 May. 4-7pm
The Study Society, Colet House, 151 Talgarth Road, London W14 9DA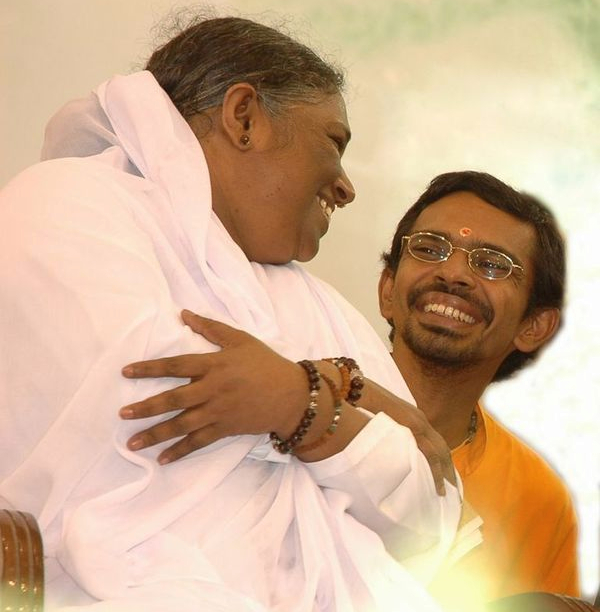 We will once again have the opportunity of welcoming Amma's close disciple, Br Shubamrita, to London. The programme will include a spiritual discourse on Living Life to the Fullest, as well as bhajans and meditation. At Amma's behest, Shubamrita regularly travels throughout Europe delivering spiritual lectures and teaching meditation and yoga. In his talks he presents the profound wisdom of Indian spirituality in a simple, practical manner, drawing frequently upon his personal experiences as Amma's disciple.

With the benefit of more than 20 years experience as one of Amma's closest disciples and personal translators, Shubamrita shares his understanding of Eastern spiritual traditions in easily understandable terms. All of Shubramrita's visits have proved to be a time of spiritual refreshment and wonderfully uplifting.

Free programme, food available. Please note restricted disabled access and no stilettos. For more information contact Yamunah vakeesyam@fastmail.fm 07883 945863.
back to top
---
IAM® Meditation Refresher Course
Saturday 6 May. 2-4pm
Note change of date
14 Sunning Avenue, Sunningdale, Berkshire SL5 9PN
An IAM® Refresher coiurse will be held in Sunningdale. This is intended for people who have previously taken the IAM® Meditation course. To register your interest, please contact Yamunah
vakeesyam@fastmail.fm
. This course will be followed by the
monthly Sunningdale satsang meeting
.
---
GreenFriends GetGrowing Course
Saturday

13 & Sunday 14 May

. 10.30am to 4.30pm
21A St Margarets Road, London SE4 1YL Tube station: Brockley
GetGrowing is a hands-on course that teaches how to grow your own, food easily and successfully in whatever space you have available – be it a piece of land, garden, paved yard or balcony
The popular course concentrates on the most useful methods to start an organic vegetable garden from scratch, how to sow and plant, care for, feed and protect vegetable plants in harmony with nature. At the same time it provides the basic insight and understanding for raising healthy and vigorous plants year after year. Topics include garden design, crop rotation, beds and container systems, feeding your soil, composting, natural pest control and much more.
The course is free of charge, however registration is essential. A vegan lunch and refreshments will be provided. Please contact Ankita
drankita.pagrut@gmail.com
for registration or Daniel 07515741494.
back to top
---
Raising Funds for Amma's Visit
The total so far from this initiative has reached £14,700 (including the contribution of the
Sunningdale sponsored walk
). A massive thank you to everyone who has donated either with a one off donation or on a monthly basis. This is a brilliant start and we are well over 10 percent of the way towards our target of £80,000. If you would like to set up a donation, please let Shanker
shanker@amma.org.uk
know so we can maintain a separate record of this fundraising. Also please spread the word that we are raising funds for Amma's programme.
Three ways to donate:
If you use online or telephone banking, you can set up a standing order directly from your account. Payment details: Friends of Amma UK. Sort code: 30-96-35. Account: 00264508. If there is the option, please give a reference of "Amma UK Visit Expenses".
Make a one-off payment online at http://amma.org.uk/donation.html. Select "Amma UK Visit Expenses" from the drop-down box.
Set up a standing order using the Standing Order Form on the website. Print it off and sent it to your bank to set up.
back to top
---
Search for Venue for Amma's Visit
We still do not have a venue for Amma's programme this year. Alexandra Palace is fully booked throughout the Autumn and we are looking for anywhere within an hour from London and, under circumstances where there are excellent transport facilities, a little further. Our biggest problems are being able to cook our own food and use propane gas, to have late and all night programmes with loud music and, ideally, to be able to sleep/rest on site as well as have sufficient space to support all the various requirements of the visit. If you know of anywhere that may be suitable, or for a full list of our requirements, please email Shanker on
shanker.amma@gmail.com
.
back to top
---
Bhagavati Seva Puja in Sunningdale
Saturday 8 July
14 Sunning Avenue, Sunningdale, Berkshire SL5 9PN

The Bhagavati Seva Puja is a memorable event unlike any other of the spiritual practices performed at Amma's ashram. Every complex detail of the preparation and performance of this ceremony creates a highly charged spiritual atmosphere. Led by Amritapriya who has lived and been trained at Amma's ashram for the last 25 years the puja is an act of worship which lasts over two hours.
The puja is performed in honour of the Divine Mother for the peace and welfare of the world. It costs £60 to participate and by doing so you can make a special offering on behalf of your family and friends and you will be making a commitment to your own spiritual progress. The effects of the pujas are subtle and cannot necessarily be seen or calculated but you will be making a concrete donation to Amma's charities. In the Indian tradition it is normal and expected that a donation is made during these events but because this is not so in the West we make a charge.
The puja will take place in Sunningdale at the home of Ganga and Balakrishna who have kindly offered their house. It will also be possible to stay overnight in shared accommodation for a morning programme of archana, satsang and bhajans, the details of which will be confirmed in due course.
To register, please choose Amma UK Puja from the dropdown box at
http://amma.org.uk/donation.html
to make your payment, and send a copy of the Worldpay confirmation email you will receive to
mike@amma.org.uk
and you will receive more detailed information nearer the time.
back to top
---
Successful Fundraising Walk Around Virginia Water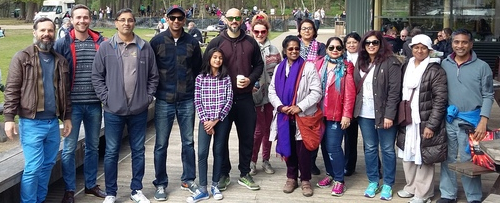 Last Saturday a group of 17 of us made our way by train and car to the Visitors Centre of the spectacular Virginia Water, part of Windsor Park. We convened outside in the glorious sunshine and, once we were all present, began our sponsored stroll around the shore of the lake itself on the designated pathway. The weather was splendid and all of us were in good spirits as we sauntered amongst the picturesque scenery of this glorious location. I, for one, was stunned by the idyllic beauty of this special place.
The first stop was to take in a delightful man-made waterfall, which was a part of the original landscaping of the park. Some of us made a short diversion as a second stop to marvel at the evocative ruins of a Roman temple which had been transplanted from Libya in the early 19th century. They were behind ropes, unfortunately, so I couldn't pretend I was a priest of the cult of Isis and climb all over them.
We cornered around the edge of the lake's western side, to find a booth selling hot drinks. I am led to believe that some of the group took the opportunity to purchase hot drinks at this pit-stop, and at a similar refuelling station further along the journey, however I have no way of knowing as Ganeshyam and I and a couple of others were taking it slow, and lagged behind from the rest of the group due to taking in the sights.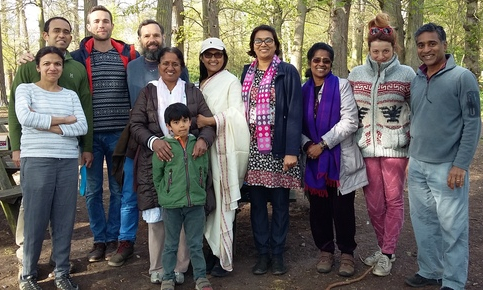 The path eventually brought us to a clearing surrounded by trees which sported a gigantic Totem pole, carved from a 600-year-old cedar by artisans from one of the Native American tribes of British Colombia in Canada, presumably gifted to this country. One of the surrounding trees was a huge ancient oak, and Ganeshyam and I gave it a hug, and took a welcome shaded rest under its large boughs before heading on.
We crossed a couple of bridges along this northern section of the lake, and found ourselves alongside some beautiful rolling gardens, notably filled with Rhododendron bushes and other flora. We did not stray from the path however, so as to keep to the itinerary.
The final highlight was arriving back at a shady wooded area of tables and benches next to the original starting point where we all convened to eat some delicious samosas and snacks. The route around Virginia Water took us around about three hours to complete at an easy pace, and was well worth the trip. Amma's grace was certainly with us, as the sun's rays and warmth shone down us for the whole afternoon, and we raised some significant funds* for Amma's programme to boot. Let's do something like this again soon! —
Jody Deane
* More tham £1,800 so far.
back to top
---
Website designer needed for Friends of Amma
We need the help of an experienced website designer who would be interested in helping Friends of Amma UK to develop a new website and then be prepared to populate it and make updates on a regular basis. If you are interested please contact Aparna
joolz.aparna@gmail.com
and Shalini
beingshalini@gmail.com
.
---
Satsang Meetings and Events
Satsang meetings generally include some or all of the followin
g: Guru Stotram, 108 names of Amma, Sri Lalita Sahasranama Stotram (1000 Names), Mahisasuramardini Stotram; Reading & Meditation; Bhajans, Arati and a Prasad/Potluck dinner. For more information, please contact the satsang leader.
* Please call beforehand to say you are coming, or for more details
+ Please bring a dish to share and/or something for the altar
Email
londonsatsanginfo@gmail.com
to receive a weekly update of London-area satsang meetings.
back to top
Date

Time

Venue

Contact

Sat 29 Apr
6.30-
8.30pm
145 Milton Ave, East Ham, London E6 1BN. Tube: East Ham (no May meeting)
Kannan/Divia 0208 4710428 *
ammasdiviakannan@gmail.com
Wed 3 May
7.15pm
Shekinashram, Dod Lane, Glastonbury, Somerset BA6 8BZ
Vandita 07915 604838 vandita.amma@gmail.com
Sat 6 May
5.30pm
14 Sunning Avenue, Sunningdale, Berkshire SL5 9PN. shared dinner 8pm
Balakrishna 07723346608 * +
ganga@omnamahshivaya.co.uk
Sat 13 & Sun 14 May
10.30am
-4pm
GreenFriends GetGrowing course

21A St Margarets Road, London SE4 1YL Tube: Brockley

Ankita drankita.pagrut@gmail.com
Daniel 07515741494
Sun 14 May
6pm
Combe Down, Bath, Somerset
Sue 07703117137 *
suedawkins@hotmail.com
Sun 21 May
2-4pm
Flat 34, 15 Hay Hill, London W1J 8NS Tube: Green Park
Please note: New Central London venue
Ankita 07718223913 +
drankita.pagrut@gmail.com
Daniel 07515741494
Mon 29 May
4-7pm
Satsang with Br Shubamrita The Study Society, Colet House, 151 Talgarth Road, London W14 9DA
Yamunah 07883 945863
vakeesyam@fastmail.fm
every Tues
7pm
The Daisy Centre, Glastonbury BA6 9JQ
James 07791 496687
every Thurs
7.30-
9.45pm
Villa Devi, 99 Breakspears Rd, London SE4 1TY.
Antarma +
07838650138
monthly
2-5pm
Birdwood House, 44 High Street, Totnes TQ9 5SQ
Tanmayi 07721 396938 * +
Tanmayi.harmony@icloud.com
monthly
11.30am-2.30pm
Villa Devi, 99 Breakspears Rd, London SE4 1TY.
Aloka Pagrut * +
aloka.pagrut@gmail.com
monthly
6pm
Oxford
Stuart Walters 0795 0099200 *+
monthly
6pm
Moseley Birmingham B13 9PL
Adele 07733267714 *+
whereisadele@yahoo.co.uk
monthly
Brighton, East Sussex
Michelle Hughes 0744 6263 443 *
monthly
Derby
Jane O'Byrne 07989 595483 *
jane_obyrne@yahoo.co.uk
monthly
7.30pm
Lower Maescoed, Herefordshire HR2 0DR
Surya Kalkwarf 07412 269862 *
suryaletthesunshine@hotmail.co.uk
monthly
7-9pm
Cluny Sancturary, Findhorn Foundation, St Leonards Rd, Forres IV36 2RD Moray

Mumta Ito

mumtaito@gmail.com
monthly
4-6pm

15 Fourth Avenue, Newcastle-Upon-Tyne NE6 5YH

Kuldeep ammaskuldeep@gmail.com
monthly
1pm
Sheffield
Kaivalya lucydevi@yahoo.co.uk *

monthly
1pm
47, Meysydd Y Coleg, Carmarthen SA31 3GR Wales. Held on the Sunday closest to Kartika
John Chidanand and Sarada *
01267 223124 saradathompson@hotmail.com

Quarterly
6-8pm
Sat
Sri Radha Krishna Temple, Bank Rd, Dawley Bank, Telford, Shropshire TF4 2AZ
Tom Stacey 07974 810254 stacey305@hotmail.com
* Please call beforehand to say you are coming, or for more details
+ Please bring a dish to share and/or something for the altar
back to top

If this email has been forwarded to you and you wish to subscribe, click here. If you do not wish us to send you further news and updates about Amma and the UK visit, please use the link below. You will still be able to get the latest information on Amma's visit and UK activities at the UK website: www.amma.org.uk . Information about Amma's worldwide activities is available at the Ashram website in India www.amritapuri.org and the US website www.amma.org.