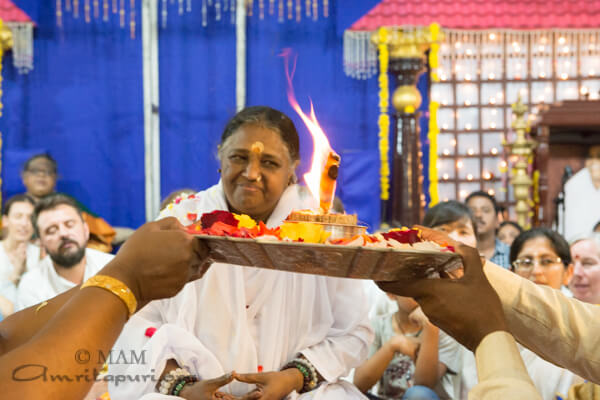 "

Pure love removes all negative feelings. Destroying all selfishness, it expects nothing but gives anything. Pure love is a constant giving up- giving up of everything that belongs to you. What really belongs to you? Only the ego. Love consumes in its flames all preconceived ideas, prejudices and judgments, all those things which stem from the ego. Pure love is nothing but the emptying of the mind of all its fears and the tearing off of all masks. It exposes the Self as it is." — Amma
Sponsored Walk at Virginia Water
Saturday 22 April 2017. 2-4pm


Virginia Water, Surrey, GU25 4QF
This is an opportunity for Amma's children to raise funds for the UK visit programme as well as take part in a beautiful walk around pristine Virginia Water. The day coincides with
Earth Day
and it may be possible to include an awareness activity if time permits. Refreshments will be provided at the regular Sunningdale Satsang nearby. Please keep the day free! More details in next month's eNews. Please think of ways to get as much sponsorship as possible. The walk will be followed by the regular monthly Sunningdale satsang starting at 5.30pm. For more details contact Yamunah
vakeesyam@fastmail.fm
The idea for this sponsored walk arose out a a recent brainstorming session by the London and Glastonbury satsangs in Sunningdale. Another idea was to was to cook and sell food at various festivals, small and large, possibly using the Amma kitchen truck.
If you have ideas for ways of fundraising towards the cost of Amma's UK visit which could be done in your community or in conjunction with your satsang, please share your idea with Yamunah
vakeesyam@fastmail.fm.
back to top
---
GreenFriends UK GetGrowing Course 2017
21-23 April
Cheddar, Somerset BS27 3JN
Inspired by Amma, GetGrowing is a hands-on course that teaches how to grow your own healthy food easily and successfully in whatever space you have available – be it a piece of land, garden, paved yard or balcony. You will return home from this 2-day course inspired and confident to grow some of your own produce this growing season.
This is an invaluable course for both beginners and those already with growing experience.Having attended a GetGrowing course you can then share your knowledge with friends, family and organisations in your own community, and if you wish, be part of the teaching team on future GetGrowing courses.
This course is taking place in an established permaculture garden, taught by a team of teachers who attended last year's courses. The course is free, but there will be a nominal charge for those who need accommodation and meals/ refreshments. To register interest please click
here
. For more information visit the
GreenFriends website
or email Mary
silverlining@gorgeview.org.
back to top
---
Raising Funds for Amma's Visit
Following on from last month's announcement that we are trying to raise all the funds for Amma's programme in advance,
we would like to give a big thank you to everyone who has signed up for monthly and one-off donations. Five people have started up regular monthly donations so far. Your generous regular gifts are going to make a significant annual amount and several people have given one off donations. Whatever you give and in whatever way you give - everything is helping to support the programme and therefore, ultimately help all those humanitarian projects that Amma is so keen to expand.
www.embracingtheworld.org
has all the latest news and projects. Please do take the time to have a look.
We are looking to raise a sum of £80,000 or more so we still have a long way to go. So far we have raised £2000.
Three ways to donate:
If you use online or telephone banking, you can set up a standing order directly from your account. Payment details: Friends of Amma UK. Sort code: 30-96-35. Account: 00264508. If there is the option, please give a reference of "Amma UK Visit Expenses".
Make a one-off payment online at http://amma.org.uk/donation.html. Select "Amma UK Visit Expenses" from the drop-down box.
Set up a standing order using the Standing Order Form on the website. Print it off and sent it to your bank to set up.
In all cases it would be very helpful, if possible, to send a separate notification to Shanker Nair
shanker@amma.org.uk
so we can maintain a separate record of this fundraising initiative. Many thanks for your help and generosity.
£1-a-Day in Your Piggy Bank to Fund Amma's UK Visit
A personal view
The cost of holding Amma's programme has gone up dramatically in recent years due to the larger crowds, the late night programmes and the over-night accommodation for the 280 staff and volunteers. As venues are not geared up to provide such extensive cover, security and health & safety requirements have significantly added to the costs.
In the past Amma had suggested using the money generated from the food sales to cover the costs but this had not been enough in recent years and money from the book shop sales has had to be used to top up the shortfall. Now, Amma sits 15 to 20 hours a day to console all her UK children, but she also expects to donate the money earned from sales during this period to her poorest and neediest children abroad.
So how did such an unfortunate situation arise? How can it be that Amma is invited to the UK but sufficient funds are not available to pay for the programme? Isn't that like inviting your mother home and asking her to bring the food and money for her stay?
Now, it is normal practice to give a Dakshina to the Guru, and indeed most major spiritual programmes require a significant financial commitment from their visitors. There may also be truth in the adage that people will value something if they have to pay for it. However, Amma will never charge as she says '
how can a mother charge her children to see her
'. This is why her public programmes have always been free.
Amma is so utterly selfless and her love so absolutely unconditional that she cannot make demands, she can only give of herself. Perhaps, this may be why we, her children have become a little complacent about our own responsibilities in inviting her to the UK? So how can we make amends and help raise funds for the visit in advance? If you have the means why not put aside £1-a-day in a piggy bank and donate that to Mother? Don't forget we only have six months to go till the visit! Alternatively, you could make a standing order for however little you feel able to give monthly, whether it is £1 or more. Perhaps you could use this opportunity to reduce some of the luxuries that you have been meaning to do away with, such as that extra cup of coffee or that second pair of shoes.
I feel confident that Amma's UK children will rise to the occasion and find ways to raise the necessary funds. With Amma's Grace may we all work together to welcome her wholeheartedly to the UK. —
Vakees
back to top
---
Birmingham Satsang has Food for Thought
Inspired by the goal of keeping our minds on Amma's teachings, Birmingham satsang shared some of Amma 's teachings about food before they settled down to a shared supper at their meeting on Sunday 26 February.

This included "Food is Brahman" and "Once we love God our appetite spontaneously decreases". Adele shared some strong words from Amma during the Indian tour about the importance of not wasting food. We talked about Amma's message to grow our own organic fruit and vegetables, and her advice to drink rice water for hydration during meals. It was good to remind ourselves that all aspects of life are sacred and give us an opportunity for spiritual practice, even the most mundane or routine. —
Jane
back to top
---
Satsang Meetings and Events
Satsang meetings generally include some or all of the followin
g: Guru Stotram, 108 names of Amma, Sri Lalita Sahasranama Stotram (1000 Names), Mahisasuramardini Stotram; Reading & Meditation; Bhajans, Arati and a Prasad/Potluck dinner. For more information, please contact the satsang leader.
* Please call beforehand to say you are coming, or for more details
+ Please bring a dish to share and/or something for the altar
Email
londonsatsanginfo@gmail.com
to receive a weekly update of London-area satsang meetings.
back to top
Date

Time

Venue

Contact

Sat 4 Mar
6pm
Flat 49D St Leonard's Road, Oxford OX3 8AD
Stuart Walters 0795 0099200 *+
Sat 18 Mar
Sat 22 Apr
5.30pm
14 Sunning Avenue, Sunningdale, Berkshire SL5 9PN. shared dinner 8pm
Balakrishna 07723346608 * +
ganga@omnamahshivaya.co.uk
Sat 25 Mar
6.30-
8.30pm
145 Milton Ave, East Ham, London E6 1BN. Tube: East Ham
Kannan/Divia 0208 4710428 *
ammasdiviakannan@gmail.com
Sun 26 Mar
2-5pm
Birdwood House, 44 High Street, Totnes TQ9 5SQ
Tanmayi 07721 396938 * +
Tanmayi.harmony@icloud.com
every Tues
7pm
The Daisy Centre, Glastonbury BA6 9JQ
Note: new venue
James 07791 496687
every Thurs
7.30-
9.45pm
Villa Devi, 99 Breakspears Rd, London SE4 1TY.
Antarma +
07838650138
monthly
7.15pm
Shekinashram, Dod Lane, Glastonbury, Somerset BA6 8BZ.
Vandita 07915 604838 vandita.amma@gmail.com
monthly
11.30am-2.30pm
Villa Devi, 99 Breakspears Rd, London SE4 1TY.
Aloka Pagrut * +
aloka.pagrut@gmail.com
monthly
3pm
Combe Down, Bath, Somerset
Sue 07703117137 *
suedawkins@hotmail.com
monthly
tbc
Central London Looking for new venue
Ankita 07718223913
drankita.pagrut@gmail.com
Daniel 07515741494
monthly
6pm
Moseley Birmingham B13 9PL
Adele 07733267714 *+
whereisadele@yahoo.co.uk
monthly
Brighton, East Sussex
Michelle Hughes 0744 6263 443 *
monthly
Derby
Jane O'Byrne 07989 595483 *
jane_obyrne@yahoo.co.uk
monthly
7.30pm
Lower Maescoed, Herefordshire HR2 0DR
Surya Kalkwarf 07412 269862 *
suryaletthesunshine@hotmail.co.uk
monthly

The Nature Sanctuary, The Park, Findhorn Foundation,

Findhorn

, Moray IV36 3TB

Mumta Ito

mumtaito@gmail.com
monthly
4-6pm

15 Fourth Avenue, Newcastle-Upon-Tyne NE6 5YH

Kuldeep ammaskuldeep@gmail.com
monthly
1pm
Sheffield
Kaivalya lucydevi@yahoo.co.uk *

monthly
1pm
47, Meysydd Y Coleg, Carmarthen SA31 3GR Wales. Held on the Sunday closest to Kartika
John Chidanand and Sarada *
01267 223124 saradathompson@hotmail.com

Quarterly
6-8pm
Sat
Sri Radha Krishna Temple, Bank Rd, Dawley Bank, Telford, Shropshire TF4 2AZ
Tom Stacey 07974 810254 stacey305@hotmail.com
* Please call beforehand to say you are coming, or for more details
+ Please bring a dish to share and/or something for the altar
back to top

If this email has been forwarded to you and you wish to subscribe, click here. If you do not wish us to send you further news and updates about Amma and the UK visit, please use the link below. You will still be able to get the latest information on Amma's visit and UK activities at the UK website: www.amma.org.uk . Information about Amma's worldwide activities is available at the Ashram website in India www.amritapuri.org and the US website www.amma.org.