---
NKT-IKBU INTERNATIONAL SPRING FESTIVAL 2014
---
A Dharma Protector for the Modern World
with Gen-la Kelsang Dekyong
May 23-28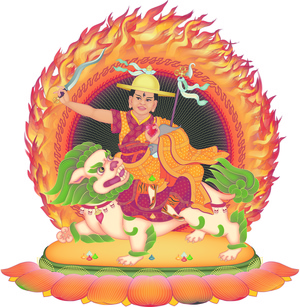 Only one month to go to the start of
our 20th annual
International Spring Festival
– a wonderful opportunity to experience modern Buddhism in action at an international level, and to enjoy an inspiring and meaningful spiritual holiday at Manjushri Kadampa Meditation Centre, the mother centre of the New Kadampa Tradition and home to the first Kadampa Temple for World Peace.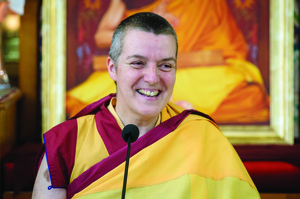 During the Festival,
Gen-la Kelsang Dekyong, NKT-IKBU General Spiritual Director, will grant the blessing empowerment of Dharma Protector Dorje Shugden, followed by two days of commentary to the practice, showing how by relying upon him we can quickly increase our spiritual realizations of wisdom, compassion and spiritual power.
Each day a senior Teacher will lead guided meditations based on the commentary, and following this there will be the opportunity to take the teachings to heart and gain direct experience by engaging in a short guided retreat.
Who is Dorje Shugden?
(Excerpts from Venerable Geshe Kelsang Gyatso's commentary at the 2006 Summer Festival)

"Je Tsongkhapa himself appears as Dorje Shugden to prevent his doctrine of the Ganden Oral Lineage from degenerating by pacifying obstacles, gathering necessary conditions and bestowing powerful blessings upon practitioners of these teachings."

"If we continually rely upon Dorje Shugden with faith, he will care for us like a mother cares for her child. He will guide us to the correct path, or liberating path, pacify our obstacles, gather necessary conditions for us and bestow upon us powerful blessings."

"Through this our wisdom, compassion and spiritual power will increase, and we will easily make progress along the quick path to enlightenment that Je Tsongkhapa shows us."

The Festival Venue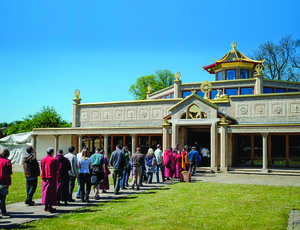 Manjushri Kadampa Meditation Centre,
at the southern edge of the English Lake District, is the birthplace of modern Kadampa Buddhism, and the mother centre of the New Kadampa Tradition.
It is here that Venerable Geshe Kelsang lived and taught for over 30 years, where he founded the New Kadampa Tradition, established Tharpa Publications, and inaugurated the International Temples Project (ITP) with the building of the first Kadampa Temple for World Peace.
This Temple, which is the venue for the Festival, is a precious and holy place, where Venerable Geshe Kelsang has given hundreds of teachings and over 30 empowerments.
Manjushri KMC occupies a large historic house adjacent to the Temple and stands in 70 acres of gardens and woodlands that extend to the peaceful shores of Morecambe Bay.
It is a privilege and a blessing to meditate and to receive teachings and empowerments in this auspicious place.
Find out more...
Click below for full information about the Teachings, the Festival venue, the Festival experience, and how to book for this inspiring event.