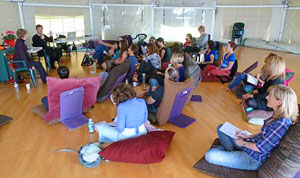 Dear Friends,
It is with great delight that we share with you our weekly newsletter today. We generally send you a schedule and teaching every week, sometimes when it gets really busy, we skip a week. Last week we skipped so thank you so much for your indulgence in waiting a week!!
THIS COMING FRIDAY NIGHT
: at 8 pm. Dr. Marc will be leading a
Chant Intensive
and will be giving a
"reality consideration" talk on
"Sex Ethics and Injury: The Wounds of Love, The Evolutionary Masculine and Feminine, Personal Responsibility and the Shadows of the Blogosphere."
The talk will be held at he home of Marty and Heather in San Francisco
From Marty and Heather:
Our house is at:
646 4th Ave.
San Francisco
Here are directions
ESALEN RETREAT:
We are delighted to report that our annual world spirituality retreat - this year at Esalen Institute was a great success. The event was filled to the brim with people from all over the United States and Europe. The teaching was led by Dr. Marc and Sally Kempton. The evaluations were off the charts. Both Sally and Marc felt this was the highest teaching that they have ever been privileged to share together. It felt like the gates of insight blew open as we entered into the awakened heart of the kosmos in stunning meditations. Our topic was The Three Stations of Love, a teaching originally developed by Marc, drawing on the great traditions and evolutionary perspectives. The Three Stations of Love teaching is fast becoming one of the pivotal insights in the emergent World Spirituality based on integral principles. No less important, the community reconnected and shared profound love and spaciousness.
Watch a slideshow of our annual world spirituality retreat at Esalen
TELECOURSE:
World Spirituality Telecourse; Growing Up to the New Enlightenment is in full cry.
Members of the course and the private study circle are receiving downloads of the course directly to their email the day after the course. If you are interested in joining the private study circle, please email us marc19@hushmail.com
4) Finally we are delighted to share a special gift with you this week. A teaching by Dr. Marc Gafni on Love.
A Teaching on Love: The Three Stations of Love
We are delighted to share with you a leading edge evolutionary Teaching on love originally developed by Dr. Marc Gafni, The Three Stations of Love.
The teaching draws on the great traditions and developmental theory. In preparing for ISE 2 valuable developmental and other perspectives were added to this teaching from Ken Wilber, Sally Kempton, Diane Hamilton, and Clint Fuhs.
Marc wrote the original version of the teaching in 2002 based on the non dual developmental model of Hasidic master Israel Baal Shem and called it at the time, the Three Stations of Love.
A second version of this teaching appeared in the first draft of Mystery of Love (Gafni 2003) and in numerous teachings of Gafni's between the years 2003-2006; to access these teachings sees marcgafni.com under free audio section.
These teachings that have now been adopted in many parts of the integral and evolutionary teaching spaces add a valuable perspective which deeply serve the evolution of love.
Marc first drafted a later version of this teaching in 2010 for the second Integral Spiritual Experience. It is this version with the emendations and edits of the folks listed above (esp. some important emendations by Clint Fuhs) that we are sharing with you now.
A more robust and fuller version of this teaching will appear in Dr. Gafni's upcoming works tentatively entitled The Three Stations of Love, and in a co-authored volume provisionally titled, World Spirituality based on Integral Principles.
Preparation of these volumes as part of a larger World Spirituality library is one of the core missions on the Center for World Spirituality.