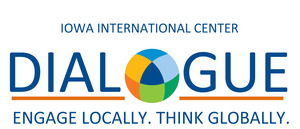 The Iowa International Center and Meredith Corporation (NYSE: MDP) continue the 2016
Dialogue Series with the program, "Understanding Religious and Cultural Identities," on Tuesday, June 7, from Noon to
1:00 p.m. in the Meredith Conference Core
at 1716 Locust Street in Des Moines. The
free cultural program is open to the public.
Our speaker is Dr. Maeve Callan, Associate Professor of Religion at Simpson College.
Dr. Callan has been studying and teaching religion for more than 25 years. Using this knowledge and experience, as well as interviews with leaders and representatives from Iowa's diverse religions, she'll discuss religious and cultural identities. She'll touch on how community members can unwittingly convey insensitivity, either through silence or unknowingly using offensive terms. Dr. Callan will also consider how the media impacts people's perceptions of religious and cultural identities, as well as the media's representation of religious diversity in Iowa and beyond.
Attendees may bring lunch or purchase food from the Meredith cafeteria. Free on-site parking is available in the Meredith parking ramp at 17th and Locust streets.

Thank you to The Meredith Corporation Team for making this Dialogue possible. We hope to see you on June 7 from Noon to 1 p.m.

Complete descriptions of the Dialogue series programs can be found
on the Iowa International Center's web page.


May 3rd Dialogue Update
Our May 3 Dialogue series featured Nancy Mwirotsi, founder of Pi 515, a free after-school program to educate refugees and underserved youth in grades 7-12 on basic computer coding. The technology classes emphasize tackling real-world problems with coding and prepares students for higher education and careers. Nancy and her students shared a few of their web site projects and spoke about future goals. We loved the pink t-shirts!

---
The Sehgal International Visitors Center - IVLP Program
The Sehgal Foundation International Visitors Center / International Visitor Leadership
Program welcomes emerging global leaders from around the world to study the work
of state and local governments in Iowa. The Iowa International Center serves as a
facilitator during the visitors' stay in Des Moines, coordinating professional meetings
with delegates' Iowa colleagues, visits to educational institutions, business tours,
speaking engagements, job shadows, and hospitality dinners. These meetings have
provided the starting point for many of the lasting personal and institutional ties between
Iowa and other countries around the globe.


We were pleased to welcome the following groups in May for business development, governmental relations and cultural sharing. Thank you to all of our hosts for sharing your time and expertise!

May 11 – 14: International Trade in a Changing Global Economic Landscape:
Jordan, China, Rwanda, Saudia Arabia, and Turkey

May 13 – 18: Anti-Corruption and Accountability: Thailand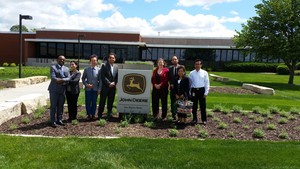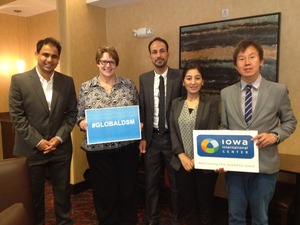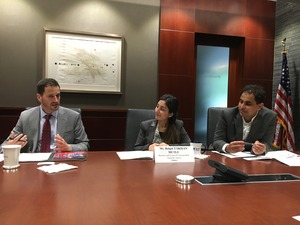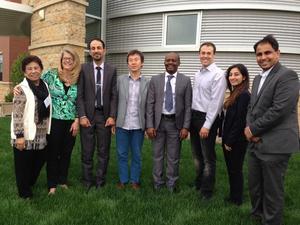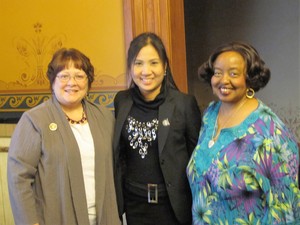 COMING UP
May 21 – 25: America's Multi-Ethnic Society: Austria, Belgium, Bulgaria, Estonia, Finland, Greece, Netherlands, Russia, and Slovakia