---
2016 Passport Event Committee
A Very Special Thank You to our Honorary Chair
& Honorary Event Committee Members!


Honorary Chair - Suku Radia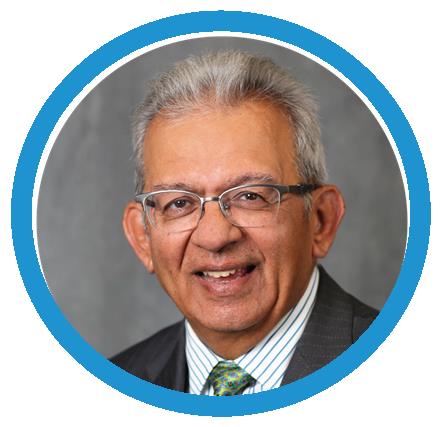 Passport Honoree (2009)
Bankers Trust CEO



For a complete list of our Event Committee Members, please click here.
---
Welcome New Board Members and Officers!
In recognition and thanks to our 2016-2017 Board of Directors and New Officers.
For a complete list of our Board Members and Officers, please click here.
---
IVLP Visitors
We were pleased to welcome 7 Venezuelan visitors on an "American Culture and TEFL Education" program in June, featured in the photos with Vinh Nguyen educating the Venezuelan ESL educators on the Des Moines school district and its ELL program.
In July we welcomed 6 visitors from Austria, Bosnia and Herzegovina, Czech Republic, Romania, Spain, and the United Kingdom on a "U.S. European Security Issues" program. They joined us for an exciting and informative week! Many thanks to our professional hosts for these visitors: Des Moines City Councilman Christopher Coleman, LTC (Ret.) Michael Musel from the Camp Dodge Gold Star Museum, and Stationary Supervisorary Resident Agent, Robert Dewitt from the local FBI office.
Today we welcome our 8 visitors from Burma, Egypt, Kosovo, Malaysia, Pakistan, Tanzania, and Zimbabwe on a "Role of NGOs in Promoting Global Women's Issues" program.
Thank you to all our hosts for sharing your time and expertise!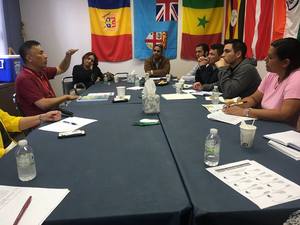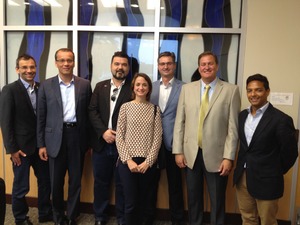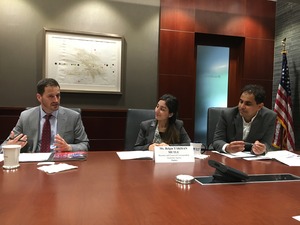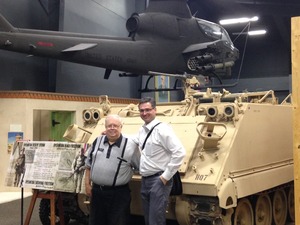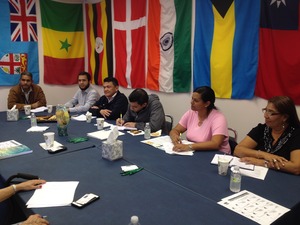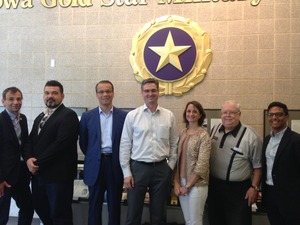 ---
Meredith Bell teaches fifth grade at Hanawalt Elementary School during the school year, including teaching many of the children who live at Deer Ridge. Meredith knows the parents of the children and knows how important it is for them to learn English. So it is particularly helpful that Meredith is teaching the ESL adult classes at Deer Ridge this summer. An outstanding and passionate teacher, the numbers of students have tripled under Meredith's tutelage. Classes for these parents will continue at Deer Ridge for the fall semester and Meredith will be able to provide an extra class on Saturday when she is not teaching the children at Hanawalt. Meredith is creating a beautiful communication bridge between parent and child.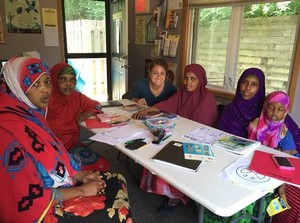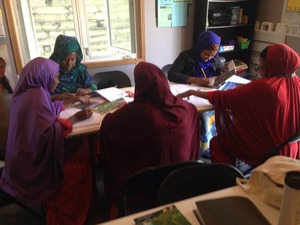 ---
Exciting New Opportunity for ESL:
Announcing Registration for ESL Adult Academy
The Iowa International Center is partnering with Plymouth Church and RENEW Program, United Way of Central Iowa and the Des Moines Public Schools to offer training to persons who are interested in learning more about teaching ESL. The ESL Adult Academy will be launched on September 9 and 10, 2016, with workshops presented by nationally recognized ESL trainer, Lynda Franco. Workshops will be held at Plymouth Church Friday, Sept. 9 from 5:00 to 9:00 and Saturday, September 10, from 8:30 to 4:00.

Content will include: ESL Basics and best practices; Teaching non and low-literate adults; Lesson planning; Curriculum suggestions; Teaching reading; Resources; Assessment. There will be regular training sessions following the initial launch, available at convenient times on Saturdays and/or evenings. Ongoing coaching and training, strategies and resources will be scheduled on a continuing basis.

All metro area ESL tutors/instructors are invited to attend the first session including Plymouth's RENEW program, DMACC, EMBARC, Catholic Charities, USCRI, LSI, those from churches and other ethnic organizations.


To register for the Academy launch, email Helene Grossman at: hgrossman@UNITEDWAYDM.org


If you are unable to attend the workshops on September 9 and 10, please let Helene Grossman know of your interest in receiving information regarding ongoing training.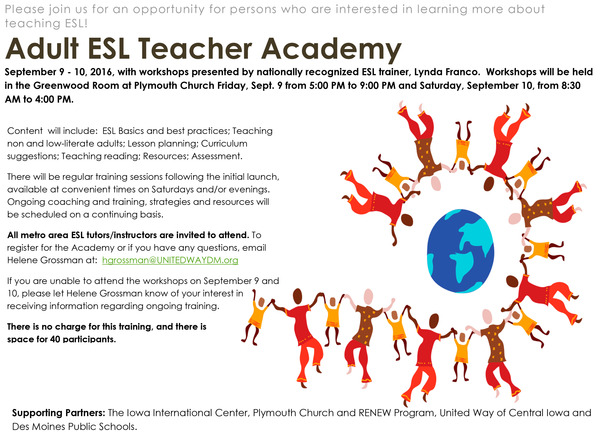 ---
Our important program work is possible with our talented and dedicated students. We have an outstanding group of interns with us this summer and we extend a huge Thank You to all of them!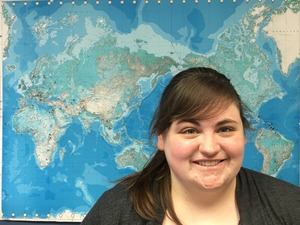 Shelby Dietz - Accounting Assistant
Shelby is attending Drake University to earn her Master's Degree in Accounting. Her favorite part about working for the Iowa International Center is learning about all of the different international languages in Iowa.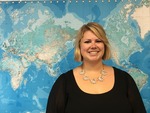 Nicole Dohm - Marketing and Communications
Nicole is going to be a Senior majoring in Public Relations and Graphic Design at Drake University. She is excited to work as the Assistant Chair on the event committee for our biggest event of the year, Passport to Prosperity.

Lucy Korsakov - Interpretation and Translation Services
Lucy will be a Senior at the University of Iowa studying International Economics and Spanish. She enjoys learning about the diversity here in Iowa through the languages and cultures we represent.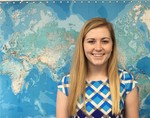 Claire Schafer - International Visitor Leadership Program

Claire is going to be a Junior at Drake University majoring in International Business and International Relations. She loves getting to meet the visitors through our IVLP program and working alongside our wonderful International Program, Intern & Volunteer Manager, Janet Norton.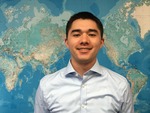 Harrison Yu - Administrative

Harrison will be a Senior at Drake University studying International Relations and Economics. His favorite part about working for the Iowa International Center is the the amount of responsibility and trust he is given to take on Administrative and ITR tasks.