October 7, 2014
Forward this message to a friend!
Beethoven, blue jeans, and beer launch new Masterworks Series
Perennial crowd-pleaser Beethoven & Blue Jeans launches the 2014/2015 Masterworks Series with an Oktoberfest spin Saturday night, 7:30 p.m. at the Koger Center.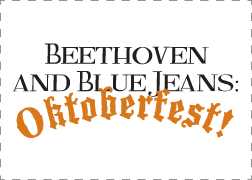 An S.C. Phil tradition, Beethoven & Blue Jeans gets enthusiastic support at the box office each season. The revered composer's work is popular with or without denim, but the pairing has worked in Columbia for more than a decade. It's never opened a season before, however, and the timing lends itself for an Oktoberfest party (read more below) before the concert.

The all-Beethoven evening features the Coriolan Overture, the rhythmic Seventh Symphony, and Third Piano Concerto. The concert is sponsored by Marcia & John Stine.

Hugo Kitano, winner of the 2013 Arthur Fraser International Concerto Competition at the Southeastern Piano Festival, is the featured piano soloist for the concerto. His S.C. Phil appearance is sponsored by David C. McQuillan in memory of his wife Barbara Glatz McQuillan. (Read more about Hugo below.)

Concert tickets are $47, $39, $29, $21 and $17. Click to buy now, or order by phone at 803.251.2222 or at the Koger Center Box Office at Park and Greene streets (9 a.m. to 5 p.m., M-F). Student and military discounts are available.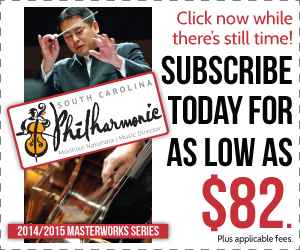 Oktoberfest party starts the evening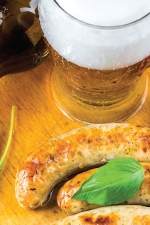 Before the musical festivities, the S.C. Phil presents an Oktoberfest treat at 5:30 p.m. Columbia's River Rat Brewery and Southern Way Catering are offering local beer with kielbasa and trimmings, German-style potato salad, and soft pretzels. The meal is $15 with beer and $10 without, and additional beer, wine and soft drinks are available for a fee. Separate, advance tickets are strongly encouraged and may be purchased below or by calling 803.254.PHIL (7445).

Saturday night's program order
Masterworks 1: Beethoven & Blue Jeans: Oktoberfest!
Saturday, October 11, 2014 at 7:30 p.m.
Koger Center for the Arts

Concert sponsored by Marcia & John Stine

Morihiko Nakahara, Music Director/Conductor
Huge Kitano, piano
Sponsored by David C. McQuillan,
remembering Barbara Glatz McQuillan
on our 35th wedding anniversary

Beethoven: Coriolan Overture, op. 62

Beethoven: Piano Concerto No. 3 in C minor, op. 37
Allegro con brio
Largo
Rondo – Allegro
Hugo Kitano, piano

Intermission

Beethoven: Symphony No. 7 in A Major, op 92
Poco sostenuto; Vivace
Allegretto
Presto; Assai meno presto; Presto
Allegro con brio
Programs, artists, dates, and times subject to change.
Large-print versions of the program page are available at the lobby courtesy table.
Morihiko is on stage at 6:30 p.m. for Classical Conversations, a free pre-concert lecture about the evening's program open to all ticket-holders.
Be in the know!

Read up on some common concert etiquette

.
Parking and Traffic Notes
Here are a few of things to keep in mind as you head to the Koger Center Saturday:
The Koger Center handicapped parking circle IS open for decal-only parking and drop-off/pick-up for everyone.
Disabled patrons (with a valid decal) may park in "bagged" meter spaces along Assembly and College streets free of charge if spots in the Koger Center circle are unavailable.
Southern Valet will provide valet parking Saturday for $10 from 5:30 p.m. from the USC School of Music circle off College Street. Arrive early – valet parking availability is limited and is known to run out.
Self-parking is available for $5 in the Discovery Garage, behind the Koger Center at the intersection of Park and Greene streets.
Get Morihiko's thoughts on the concert. Tune in for these radio interviews this week!
Tuesday from 9 to 9:30 a.m. on The Palm with Mike Allen (WWNU 92.1 FM)
Tuesday from 4 to 5 p.m. with Steve and the Class (WXRY 99.3 FM)
Wednesday from 1:45 to 2 p.m. with Gary Pozsik (WGCV 620 AM)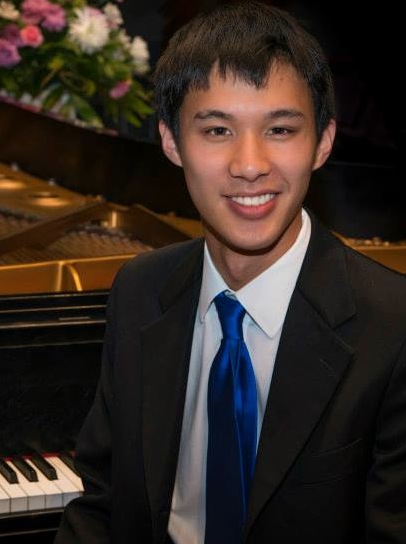 Praised by Robert Beale in International Piano Magazine as "unusual for a player of his age and an excellent augury for the future," 19-year-old pianist Hugo Kitano is a young musical talent from San Francisco with profound artistic maturity. He currently studies with Dr. Frederick Weldy at Stanford University.

Hugo is the first place prize-winner in numerous national and international competitions, including the 11th International Russian Music Piano Competition and, recently, the Arthur Fraser International Piano Competition. He won the U.S. Chopin Foundation Scholarship Competition each year from 2010 to 2012.

He has performed in various venues in England, Austria, Germany, Hungary, and Japan. In the spring of 2011, Hugo organized and performed in three benefit concerts to aid the survivors of the earthquake in Japan and raised more than $12,000. He also performed on NPR's From the Top broadcast twice. His S.C. Phil appearance is sponsored by David C. McQuillan in memory of his wife Barbara Glatz McQuillan.
Returning for its fifth season, the Phil's "Music for a Cause" initiative allows the S.C. Phil to help a diverse group of six fellow non-profit organizations raise money and awareness for their causes. The partner for the Oct. 11th concert is Canine Angels.

Every year, at least 3 million animals are put to death in shelters. And every day, 18 American military heroes take their own lives. These nightmares aren't going away. Until they do, Canine Angels' mission is to rescue dogs from shelters and prepare them to serve disabled veterans and first responders.

Founder and president Rick Kaplan has been training working service dogs for the people with disabilities for more than 20 years. He has trained dogs to assist those with hearing disabilities, seizures and PTSD, as well as stability and mobility issues. Learn more at canineangelsservicedogs.org/.
By S.C. Phil horn player Cyndi Williams

As a member of the S.C. Philharmonic, invariably, I am asked to explain the difference between a "symphony orchestra" and a "philharmonic orchestra." I hope this will clear things up a bit.

Remember when your brain exploded after your math teacher told you, "Every square is a rectangle, but not every rectangle is a square!" in fourth grade? It's kind of like that. Every symphony is an orchestra, but not every orchestra is a symphony. Likewise, every philharmonic is a symphony, but not every symphony is a philharmonic…

Keep reading on "Backstage Pass" – the S.C. Phil's blog!

Meet our friend, Connie Schulz
Distinguished Professor Emeritus, USC Dept. of History
Retired S.C. Phil violinist (tenured member for 28 years)
Resident of Columbia's Shandon neighborhood for
29 years
Active researcher of S.C. history, avid gardener, and world traveler
S.C. Phil subscriber for 29 years (and counting)
To encourage others to support the S.C. Phil, an organization she holds near to her heart, Connie is presenting an exciting challenge: For every first time gift to the Philharmonic ($50 or more) or for every contribution increased by $50 or more, Connie will match that gift – up to $10,000!

Please make your gift today!
This challenge will end June 30, 2015 – or before, if the match is met! For more information, please call the S.C. Phil at 803.771.7937 or email Robin@SCPhilharmonic.com.
---
The S.C. Philharmonic Masterworks Series
is supported, in part, by:
the City of Columbia and Richland County
and by the South Carolina Arts Commission,
which receives support from the
National Endowment for the Arts.

Enjoy Columbia's many Famously Hot
restaurants, shops, and hotels
before and after your concert experience!