CENTENNIAL CELEBRATION

Los Angeles Orthopaedic Hospital is commemorating its 100th year of providing premier orthopaedic care to the Los Angeles community.
The official celebration begins Friday, February 11, on the Downtown Campus, 2400 South Flower Street, from 1:00 p.m. - 2:30 p.m., with an event featuring special presentations by local dignitaries to acknowledge the hospital's historical and contemporary influence on Los Angeles. Refreshments, music and activities for children are also planned.
Please join us at the Centennial Year Kick Off to honor the physicians, benefactors, volunteers, staff, patients and community leaders who have helped make Los Angeles Orthopaedic Hospital the premier institution that it is today.
For further information or to RSVP, please call (213) 742-1500.

FAMILY MAKES STRIDES WITH CLUBFOOT CLINIC
Five months ago, Jennifer and Mark Lovers were told by their doctor that their son, Benjamin, would walk normally only if he had invasive surgery to correct the clubfoot condition with which he was born.
Following a failed initial casting treatment, the recommendation led the Lovers to investigate other physicians in Los Angeles and out of state. They chose to work with LAOH and Dr. Lewis Zionts, the director of our Clubfoot Clinic.
LAOH's warm, caring, patient-centric atmosphere and Dr. Zionts' willingness to work with non-invasive methods further convinced Benjamin's parents that they had made the right choice.
At their most recent clinic visit, the family had their proof. With mom's support, Benjamin stood with both feet planted firmly and fully on the floor. Dr. Zionts smiled and said: "Ben's ready to start walking. Come back in a couple of months to show me what you can do."


Dr. Lewis Zionts with Jennifer and Benjamin Lovers

RESEARCH TEAM WINS INTERNATIONAL AWARD
| | |
| --- | --- |
| | |
| Fabrizio Billi, Ph.D. | Paul Benya, Ph.D. |
A team of our investigators led by Fabrizio Billi, Ph.D., and Paul Benya, Ph.D., has been recognized with the John Charnley Award for 2011 from The Hip Society.
Granted annually at the discretion of the Awards Committee of The Hip Society for innovative research, either clinical or basic, encompassing important advances in the management of hip disorders, the Charnley Award is internationally recognized as among the highest honors for research on problems of the hip.
Dr. Billi will present a paper titled "An Accurate and Extremely Sensitive Method to Separate, Display and Characterize Wear Debris: Polyethylene, Metal and Ceramic Particles" at the annual meeting of the Hip Society in February.
Other members of the award team include Aaron Kavanaugh, B.S., John S. Adams, M.D., Edward Ebramzadeh, Ph.D., and Harry McKellop, Ph.D.
The long-term goal of research at Los Angeles Orthopaedic Hospital is to reduce disability and improve mobility and quality of life for musculoskeletal patients in Los Angeles and worldwide.

PHYSICIAN INVITED TO SPEAK IN JAPAN
Deborah Kado, M.D., has been invited to present the following two talks at the 84th Annual Meeting of the Japanese Orthopaedic Association in Yokohama, Japan, in May.
1. Diffuse Idiopathic Skeletal Hyperostosis (DISH) and Impaired Physical Function: The Rancho Bernardo Study
2. Older Men with Hyperkyphosis Display Worse Physical Function: The MrOS Study
An Associate Professor in the Departments of Orthopaedic Surgery and Medicine at the David Geffen School of Medicine at UCLA, Dr. Kado is a specialist in the fields of geriatric and internal medicine with an emphasis on the evaluation and treatment of osteoporosis. Her primary research interests have focused on understanding the pathogenesis and adverse health outcomes associated with age-related changes in spinal posture.

CHP, LAPD SWAT, AND LAOH SUPPORT GROUPS TEAM-UP FOR CHILDREN'S HOLIDAY PARTIES
Over 3,000 toys were distributed to our patients and their families at special holiday events last month, creating wonderful memories for thousands of kids.

Santa visited the LAOH downtown campus twice. He first arrived by CHP motorcycle to deliver gifts to patients at the Los Angeles Orthopaedic Outpatient Medical Center. Later in the month, with Mrs. Claus at his side, he touched down in an LAPD SWAT helicopter for the annual Children's Holiday Toy Party. An appearance at the Calexico Clinic helped our patients there celebrate the season.

This holiday to remember was made possible by the generosity of many supporters, including the CHP, the LAPD SWAT, LAOH Support Group members, and students and faculty of the Orthopaedic Hospital Medical Magnet High School.

A special thank you is due the Volunteer Toy Party Committee, which included Chairman Dan Madden, Joe Estrada, Robert L. Moore, Jr., Officers Steve Scallon and Ossie Crenshaw of the LAPD SWAT, Gay Swanson, Kelly Merda and J J Goldrick.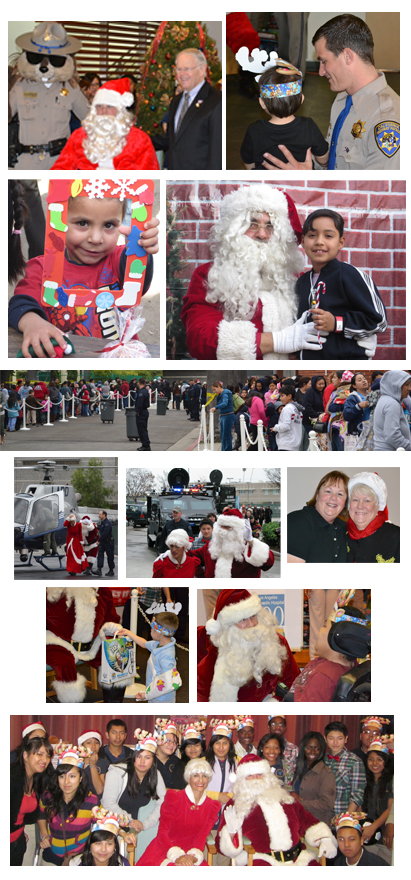 SHARE YOUR STORIES AND PHOTOS
Have a great story?
Share it with Los Angeles Orthopaedic Hospital.
Whether you are a patient or family member who has experienced our care, a dedicated volunteer, or a devoted supporter, you are a vital part of our community and we want to tell your story in future editions of the eNews.
All submissions are subject to editorial discretion, and may include changes due to content, deadline and format restrictions.


MARK YOUR CALENDARS
Spread the word!