Issue: March 2009
Mumbai Trauma Recovery & Resiliency Work
After the November 26, 2008 paramilitary terror attacks in Mumbai, I left for India with a desire to offer my services to Mumbai's helping professionals – the caregivers and first responders who assisted the injured and traumatized. Having trained helping professionals in response to the 2002 Gujarat Violence, the 2004 Tsunami and the 2005 Earthquake in Pakistan, I was proficient with Asian work settings. My trauma consultancy firm, Greenleaf Integrative Strategies, was full of tried and tested strategies. Even better, a friend and colleague, Dr. Grant Brenner, the volunteer lead of Disaster Psychiatry Outreach, was ready to join me in Mumbai to share what we know about healing a community.
Like many communities today, Mumbai keeps getting hit by traumatic events, and rather than having a chance to heal, their trauma responses are repeatedly re-activated. For example, when Dr. Brenner and I viewed the especially gruesome train platform photos, I understood that the photographers who had documented these attacks were visually exposed to yet another layer of psychological trauma as they carried out their duty.
Click to see a South Asian American magazine describe my work
When I met helping professionals in Mumbai, some were subtly traumatized and others openly grappled with difficult emotions. Subtle or obvious, all the emotions were natural responses to the attacks. They were angry and full of grief because they themselves are Mumbaikars (Mumbai residents). Their work with victims and families was a constant reminder of loss, terror, and life cut short by the attacks on their city. When I offered professional development and self-care education, journalists, psychiatrists, social workers and psychologists were eager to learn anything that might help them heal in the face of the trauma they continually encounter.
MY THREE OBJECTIVES IN MUMBAI
1) Teach skills so that helping professionals are resilient in the presence of strong emotions -- preventing their own burnout and vicarious trauma. For example, breathing techniques and neuropsychosocial self-monitoring are powerful & portable skills.

2) Share best practice techniques for psychosocial first aid and crisis counseling. For example, I taught psychosocial first aid and crisis counseling strategies which are more effective than common, and sometimes harmful, techniques.

3) Build capacity in organizations to handle mass trauma and crisis. Organizations want to contain costs and ensure effectiveness; I assisted people in sustaining their work groups during crisis so as not burn out their most valuable assets...talent & human capital.

During all of December and half of January, I provided pro-bono services to Mumbai's helping professionals and journalists. This work was done on a shoestring budget and included countless planning meetings, important site-visits, seven mini-presentations to mental health leaders and three workshops with over 100 helping professionals. For more details, visit the Disaster Aid page on www.siddharthshah.com.
Pro-bono work has always been a hallmark of my professional ethics. Although I asked potential clients to seek appropriate funding, I made sure they understood that lack of payment would not influence my decision to work in India. When Mumbai leaders said they could not even cover my expenses, I reassured them, "I'm not going anywhere. I'm here to do the work."
| | |
| --- | --- |
| | During my 15 hour training program for the Tata Institute of Social Sciences, I arranged a Skype video virtual classroom in which three experts from the American Group Psychotherapy Association provided a 2-hour training from New York City. One LCD projector took care of the Powerpoint presentation, and the other LCD projector displayed my colleagues Dr. Robert Klein, Dr. Suzanne Phillips and Dr. Jeffrey Kleinberg. |
At this time, the terror in Mumbai is long gone from the news cycle, and most people are busy "moving on" trying to make a living. Philanthropy and non-financial contributions are reaching a low point, leaving terror-affected people, including the caregivers, law enforcement and other first responders feeling unsupported, forgotten, emotionally numb, and socially isolated.
In contrast to the so-called "heroic period" of disaster psychology, during which communities feel a sense of purpose and strength, during this "after" period both adults and children begin to show significant symptoms of emotional stress. Therefore, it is important to recognize that psychosocial and mental health resources need to be kept strong even when it feels like the disaster has passed.
How do we best support helping professionals to remain at their best in such times?
One clarification is in order: Greenleaf Integrative Strategies is not a disaster response firm. Instead, it strives to teach resiliency and trauma recovery strategies to people pre-crisis and in between crises in order to transform the way we collectively respond to disaster, crisis and trauma. So why choose to work in Mumbai, other than for public service? After a terrible experience of mass trauma, helping professionals and their organizations can become acutely aware of unmet needs. They are thus very open to professional development, self-care education and organizational preparedness. So Greenleaf worked in the acute phase because it was both an important door opening and a way to contribute skills where they were most needed.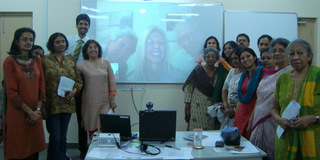 Gandhi once said about service: "The best way to find yourself is to lose yourself in the service of others." If you know of an agency or organization where positive strategies for resiliency would be valuable, please connect us. It always helps if you can provide a 2-3 sentence testimonial or endorsement when you send this newsletter to others who might be interested in employing my strategies. Since people frequently ask, here is a PDF of my Professional Profile and CV/Resume that you can forward or keep on record.
The more stakeholders we have in resilience work, the better. I welcome your partnership.
Be well,
Siddharth

Email: drshah@greenleaf-is.com
www.greenleaf-is.com (Trauma Consultancy website)
www.siddharthshah.com (Professional Activities and Album information)
Two audio products representing the content and feel of the Mumbai Trauma Recovery & Resiliency Work:
STRESS MANAGEMENT IN DEMANDING ENVIRONMENTS WITH DR. SIDDHARTH ASHVIN SHAH

Recordings of my guided meditations and one yoga nidra session that I use in trainings all over the world.
Track 1: Morning Resilience -- when you know the day will be stressful
Track 2: Power Napping -- for doctors and others on call who need 40 winks
Track 3: After Work Transition -- to put the work day behind you
Track 4: Rescue Remedy -- to regain your equilibrium while at work
Track 5: Yoga Nidra -- deep stress cleansing for the busy workplace

I made the album with the lives & realities of the following people in mind:
-- Mental Health Professionals and Counselors
-- Police, Fire Dept, Military and First Responders
-- Journalists and Photographers covering Trauma/Disaster
-- Physicians, Nurses and other Emergency workers
-- Humanitarian Aid Workers





EATING MINDFULLY WITH DR. SIDDHARTH ASHVIN SHAH

Mindful eating practice, guided meditation and yoga nidra relaxation with Dr. Siddharth Ashvin Shah

The silent, mindful eating practice (Track 2) proved very desirable with overtaxed psychologists, social workers and psychiatrists in post-terror attack Mumbai. After an introduction to the practice, every 5 minutes I remind you to eat in community, but without talking. "Practice chewing each bite thoroughly. Practice setting down your utensils or food between each bite while you chew." Eating this way periodically gives everyone permission to be fully with the process of eating (and not feel like they HAVE to socialize to be nice).

Initially, a very positive experience of silent mindful eating with meditation teacher Dana Moore inspired me to take this up. Whether I have led this practice in the USA or India, people comment that it is magical to have this simple set of instructions.