Issue: December 2009
"When we have inner peace, we can be at peace with those around us. When our community is in a state of peace, it can share that peace with neighboring communities." - Dalai Lama
Other Developments
Video on difference between Burnout and Vicarious Trauma (Secondary Traumatic Stress)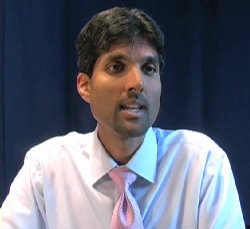 Click on the photo above to view the video
*******
National Public Radio Interview
Dr. Shah was interviewed by WAMU's Michael Cottman in 2009 following the Washington D.C. Metro train tragedy.
Click below for key excerpts:
To listen to all parts of this interview, please visit the
audio library
.
Happy Holidays! Here's wishing you the joy and peace of the season.
Last year I was pleased to share with you the launch of my firm Greenleaf Integrative Strategies, which specializes in technologies to maintain the inner peace and resiliency of those working in demanding environments.
In 2009, Greenleaf was awarded a federal contract by U.S. Agency for International Development (USAID). This contract furnishes our core technologies on an ongoing basis to the Civilian Response Corps (CRC), a powerful interagency effort that deploys vital personnel to countries in crisis or emerging from conflict. Greenleaf is providing unprecedented trainings to CRC on how to remain personally resilient in the process of working with trauma.
Civilians in Sudan, Iraq, Afghanistan, Lebanon, Kosovo, and Haiti face ongoing conflict and disarray, making them vulnerable to atrocities and terrorism. The CRC provides pools of qualified civilian professionals (e.g. development specialists, law enforcement, education experts, public health specialists) to support stabilization efforts in such at-risk countries.
Psychosocial trauma is ubiquitous and severe in these environments; therefore, any worker desiring to be effective deserves more than Trauma For Beginners. To CRC's credit, they recognize this and are investing resources into a very progressive and proactive training for their staff.
Severe operational stress is anticipated due to proximity to combat, kidnappings, bombings and other forms of aggression. Given these realities, Greenleaf prepares and equips personnel with critical techniques to take on hazardous and important humanitarian missions.
Medical literature validates that people providing services amidst calamities and conflicts suffer detrimental effects of trauma themselves. With effective education and training, workers are better equipped to prevent becoming traumatized, and when appropriate, mitigate traumatic effects in others.
In serving CRC personnel, Greenleaf's program includes:
Pre-deployment group training on stress inoculation and resiliency skills;
Bi-monthly individual check-ins via telephone and Voice over Internet Protocol during deployment;
Providing hands-on resources for field personnel including a stress control handbook and an audio technology I prepared earlier this year;
Reintegration training for the month after return; and,
Stress regulation coaching on an as-needed basis.
This contract allows Greenleaf to provide corps members with preventive and health-promoting training (before, during and after their service) rather than reactive, illness-based care. I am delighted that Greenleaf - with technologies crafted from mind-body Eastern therapies, standard Western psychology, and contemporary neuroscience - has been selected to lead this significant endeavor with CRC.
Based upon the model used with CRC, I look forward to sharing Greenleaf's expertise with other organizations that work in demanding environments.
Have a safe holiday season and may the New Year bring many states of peace.
Siddharth

Email: drshah@greenleaf-is.com
www.greenleaf-is.com
www.siddharthshah.com