A Message from the ITRC

The ITRC was recently presented with the US Congressional Victim Rights Caucus Suzanne McDaniel Public Awareness Award, in a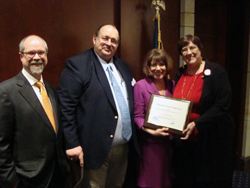 lovely ceremony in the U.S. Capitol Visitors Center. This is one of five awards presented in conjunction with National Crime Victims' Rights Week to honor crime victims and those who serve them for outstanding efforts in victim advocacy, allied professional advocacy, public policy, and public awareness. Representatives Ted Poe (R-TX) and Jim Costa (D-CA) established the U.S. Congressional Victims' Rights Caucus in 2006.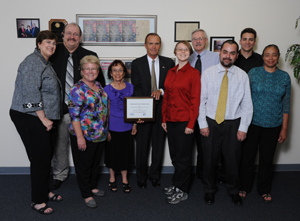 This award is named for Suzanne McDaniel, one of the first prosecutor-based victim advocates in Texas and in the nation.
Board member James Lee, Jay and Linda Foley accepted it proudly on behalf of the entire ITRC staff.

Congressional Representatives Brian Bilbray (R) and Susan Davis (D) of California nominated ITRC for this award.
During the presentation, Congresswoman Susan Davis honored ITRC with praise and recognition of the many years she has worked with the ITRC.

In addition, ITRC was honored to have Congressman Brian Bilbray (center) visit the ITRC offices and meet the entire staff.

The
Securing Our eCity
coalition, started in late 2008, is a bold new approach

to address an increasing area of concern. With San Diego as the pilot city, the initiative is focused on fostering public / private partnerships at local, state, national and international levels and helping to create a cybersecure community.
The stakeholders, including consumer advocates, business owners, and governmental agencies (law enforcement and legislative bodies) have come together to raise awareness, offer education and help
individuals and businesses prepare for cybersecurity challenges now and in the future. The mission is to enable every San Diegan to live, work and play safely in today's cyberworld.
The Identity Theft Resource Center takes great pride in being one of the many participants in this program. A more cybersecure community is a worthy goal for the protections it will provide in an identity theft world. The education and awareness of this type of program can make San Diego a safer place to live.

The ITRC would like to announce that Lisa J. Sotto has been elected to the board of directors.

Sotto, Managing Partner of the New York office of Hunton & Williams, LLP, heads the firm's Privacy and Information Management Practice.

She was voted the world's leading privacy advisor in Computerworld's two most recent annual surveys and was ranked "Band 1" by Chambers USA in the category of Privacy & Data Security.

She also was named one of the 100 "2009 Attorneys Who Matter" by the Ethisphere Institute.

Ms. Sotto assists clients in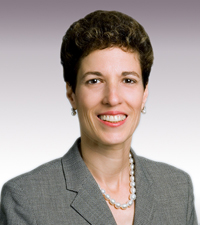 identifying and managing risks associated with privacy and information security issues.

She advises clients on HIPAA, GLB, COPPA, CAN-SPAM and other U.S. state and federal information privacy and security requirements (including state breach notification laws), as well as international data protection laws.

She routinely advises clients on FTC and state investigations and enforcement actions, and assists with Safe Harbor certification for transfers of EU data to the U.S. In addition, Ms. Sotto has handled over 500 data security breaches.

Ms. Sotto was appointed by Secretaries Ridge and Chertoff as Vice Chair of the Department of Homeland Security's Data Privacy and Integrity Advisory Committee, and continues to serve as a member of the Committee.

She also serves as Co-chair of the International Privacy Law Committee of the New York State Bar Association and Chair of the New York Privacy Officers Forum.

She is a member of the board of the International Association of Privacy Professionals.

Ms. Sotto has testified before Congress and Executive Branch agencies on privacy and data security issues.

A routinely quoted source on the topic of privacy, Ms. Sotto has authored or been quoted in well over 200 articles and publications. She received her B.A. from Cornell University (with Distinction) and her J.D. from the University of Pennsylvania Law School, where she was an editor of the Law Review.


Note: Ms. Sotto is filling a board seat vacated several months ago.

The ITRC published the 7th edition of the Identity Theft: The Aftermath 2009. Since 2003, the ITRC has conducted annual victimization surveys to study the impact of identity theft crimes on its victims. The goal of these surveys and reports, now with seven years of information, is to view identity theft from the victim's perspective. These annual studies provide a snapshot of each victim
at the time they took the study.

In terms of results, this report showed some encouraging items but also highlighted that identity theft victims are still struggling. The following are some highlights of the report.
The "unlawful use of personal identifying information" for only financial identity theft crimes was reported by 74% of the respondents. The remaining 26% reflect cases of criminal identity theft, governmental identity theft, and/or combinations of the above.

Opening new lines of credit continues to remain the most frequently occurring use for a victim's identity (55%). Ranking second in use of personal information are charges on stolen credit cards and debit cards at 34%. Check fraud continued to reflect an increase in 2009 either by synthesizing or theft of checks.

How a victim finds out about an identity theft issue continues to be adverse, indicating that the public and business sections have been less successful in proactive measures to stop identity theft crimes before they happen or become complicated.

Unfortunately, while victim time involvement may have decreased, there continues to be an inability to easily clear negative records. Nearly 1/3 of the respondents were unable to remove any negative items.

Dr. Charles Nelson (crime victim specialist), analyzed the short term and long term emotions felt by victims. He reached the following conclusions:

- Despite media coverage and education about identity theft, the public still believes this happens to someone else. Thus, when this crime touches their lives, disbelief and denial are intensified, followed by anger and rage, similar to the stages of grief.
- The ITRC is seeing an increase in long term shame, embarrassment, a sense of being an outcast, and undeserving of help. This may be due to strong consumer messaging about protecting yourself from identity theft.
- Many victims "have on-going symptoms and do indicate that they are wrestling with long term dysfunctional changes in their behavior and thought patterns."
The full report and all tables may be found on the ITRC website:
Photocopiers and Hard Drives
In recent weeks, a great deal of attention has been focused on the subject of photocopiers which use hard drives. Basically, the more feature-rich the photocopier you are using, the more likely there is a hard drive built into the unit. This means copiers that can collate multiple copies of large documents, enlarge or reduce the size of an item to be printed, or does full color by scanning the original document, may often have a hard drive to enable these procedures. This hard drive provides a lot of the feature capabilities which enable photocopies to make our daily lives a little easier. Unfortunately, these types of copiers also store the images they are called upon to copy.

The concern is that public or company photocopiers, being used by consumers and businesses, capture images of the material copied. For the business community, including companies that have public photocopying, this means you have now become responsible for everything which has been copied on a machine that stores information in a hard drive. That hard drive could be stolen and exploited.

The biggest question is how to deal with this. Some of the high-end photo-copiers are equipped with a software program which allows for deletion of files. For many machines, this program is an add-on feature that must be purchased. Armed with this knowledge, companies need to put into place a policy to have the hard drive erased or destroyed when the photocopier reaches its end of service life.

Currently, most companies possessing high-end copiers don't have a policy for disposing of the data stored on those machines. Equally problematic, are the companies that buy used photocopiers for redistribution that don't have a policy for disposing of the data either. The next big question to be decided is which company or entity is responsible for dealing with and protecting that data: the original company or the resellers. This is, of course, a question you will want to have the answer to before the data goes astray.

TDoS Attacks
The FBI Newark Division recently released a warning to consumers concerning a new scheme using telecommunications denial-of-service (TDoS) attacks.
The FBI determined fraudsters compromised victim accounts and contacted financial institutions to change the victim profile information (i.e., e-mail addresses, telephone numbers, and bank account numbers).
Read More

Toll-Free Victim Assistance
888-400-5530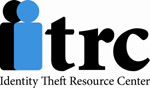 Securing our eCity
Welcome New Board Member
2009 Aftermath Study
The Sandbox
Business & Consumer Concerns
Dear Wilma
Scam Alerts

Contest Winner Named
The video"Overexposed"by Nicholas Chen and Edan Freiberger took the grand prize this year in the Trend Micro Internet Safety for Kids and Families "What's Your Story" 2010 Video Contest.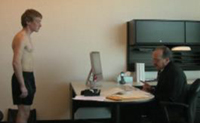 "Overexposed" humorously and realistically demonstrates the importance of keeping a good reputation online and the consequences of not doing so.

Entries were submitted in four categories: Keeping a good rep online; Staying away from unwanted contact; Sticking to legal, age appropriate content; and Keeping the cyber-criminals out.Click here to view the Category Winners.

The ITRC was proud to take part in supporting this contest and played a role in judging the top videos.
ITRC would like to recognize the recent passing of Frank Funa, one of the five original ITRC board members.

His years of service and commitment to serving the needs of identity theft victims will always be remembered and appreciated. His on-going efforts helped facilitate the establishment and growth of the ITRC.
Securing our eCity
by Liz Frauman, ESET
Director, Cyber Security Awareness & Education

Did you know over 80% of San Diegan's have NOT heard of Cybercrime? So, you might be one of the folks asking, 'What is it'?

The ITRC has done a great job helping us to learn about Identity Theft… well, cybercrime encompasses this and a myriad of other criminal activities conducted "online," "digitally," "on the Internet" and in "cyber space." In other words, if there is an electronic transfer or sharing of data it is likely a cybercrime.

Cybercrime refers to any crime that involves a computer and a network, where the computers may or may not have played an instrumental part in the commission of the crime. This is where you have to think beyond a laptop or desktop machine and the scope of the issue becomes huge. Just watch the evening news or read your favorite publication (online or in-print) and you will note high-profile cases being cited, particularly those surrounding hacking, copyright infringement, child porn, and more. There are also major problems of privacy when confidential information is lost or intercepted, lawfully or otherwise compromised.

Internet Crime Complaint Center (IC3) shared that in 2009 the total dollar loss reported was $559.7M with California having the highest percentage of victims at 19.9%!

So, what can we do?

Securing Our eCity is a coalition of nearly 200 organizations across San Diego that have taken the
first step to begin to raise awareness of the issues. Every single "digital citizen" must become aware of the potential impact that their actions can have on not only their personal loss from cybercrime, but to their organizations. The next step is education. It is the primary deterrent to cybercrime victimization. The third step – get prepared. Take the steps and actions that you learn both at home and at work. Perhaps they are best summarized as:

1) Remember everything on the Internet is permanent
2) Think before you click!

Get involved in Securing Our eCity and help make us all more secure.

Dear Wilma,
I saw an ad in the paper for credit consolidation. I have a lot of debt and they promised

only a 3% interest rate when I called them. They told me to go to a website, fill out a form with my credit card numbers and debt owed, my Social and send it in. They promised me they could get everything done in one week. I haven't heard from them and now their phone's dead. It was in the newspaper. They have to be a real company if they have an ad don't they? I called the BBB, the state attorney general and the district attorney's office. No one will help and now a new bill came in on one of my cards for a $1700 computer I never bought

HELP, Sinking Fast

Dear Sinking Fast,
You have been scammed! Unfortunately, anyone can place an ad in the paper. You should never give your personal information to a person or company without verifying they are legit. Here is a basic life lesson that really applies to identity theft: If it sounds too good to be true, it probably is. So, now what? Cancel all credit cards you listed on the form NOW, plus place a fraud alert on your credit reports as a victim of identity theft. Get your free credit reports. Notify any credit card company of fraudulent charges the minute you find out about them or your right to dispute the charge may be lost and you'll be deeper in debt. If you still need to consolidate your debt, get a referral from your bank, the BBB, or the National Foundation for Credit Counseling.

Keep Swimming,
Wilma
ITRC Hot Link
Find the ITRC on: