A Message from the ITRC

Happy New Year -

Here we are again, getting ready to face a new year. Time to set those dreaded New Year's resolutions. You know, lose the 10 pounds, give up the chocolate, quit smoking, and win the Nobel Peace Prize.
Along with the breaking of some bad habits, now is the time to take on some new habits to protect you against identity theft. The ITRC offers the following top 10 resolutions you can make in 2012:
1. Lock up your social security card! Get it out of your wallet! Put this valuable card, along with all other important personal documents, in a safe, locked box or safety deposit box.

2. Don't share your Social Security Number (SSN) unnecessarily. Ask questions: Why do you need it? What happens if I don't give it to you? Who gets to see it? What are you going to do with it? Legitimate reasons to provide your SSN are limited including: verifying identity for employment; establishing new lines of credit; government benefit programs; and tax purposes.
3. Invest in a good cross cut shredder and USE IT! Destroy all documents that include personal identifying information (account numbers, birth date, SSN, medical numbers). This includes those pre-approved credit card offers that fill your mailbox. When in doubt, shred it!
4. Order your credit reports! Go to www.annualcreditreport.com or call 877-322-8228 to obtain your free credit reports. You are entitled, by federal law, to obtain one free credit report from each Credit Reporting Agency every year. For best results, the ITRC recommends that you stagger your requests to one CRA every four months, through this free program.
5. Consider investing in a locked mailbox. If you already have a locked community mailbox, just remember, sturdier is better. Additionally, make it a habit to take out-going mail to the post office and stop using your "come steal me" red flag.
6. Take the time to place passwords on all your accounts and change the old ones. This includes bank accounts, investment accounts, money markets, credit cards, etc. Be creative and use something that is not easily guessed by someone who may know you. A good verbal password is NOT the last four digits of your SSN, your mother's maiden name, your pet's name or kid's birthdays. A random word, not associated with you or your life, is highly recommended.
7. Limit the amount of personal information you share online. If you don't want it publicized - don't put it online! For online accounts, use strong passwords and change them regularly. (A strong password should be more than 8 characters in length, and contain both capital letters and at least one numeric or other non alphabetical character. Use of non-dictionary words is also advised.) Do not access accounts on shared or public computers (library, internet cafes, work, etc). For more information on safe social networking, see ITRC Fact Sheet 138 – Social Networking and Identity Theft.
8. Be a savvy online shopper! Check out the merchant and make sure they are legit. Protect your information online by using a secure payment agent – a security product which allows a consumer to control the use of their personal identifying information whether shopping, paying bills online, or registering at websites. Consider using credit cards instead of debit cards when making purchases. In addition, install security and malware software to protect your computer and update it frequently.
9. Monitor any and all account statements carefully. Don't wait three months to balance your check book or open your mail! React quickly if you notice any discrepancies.
10. Guard all checks and deposit slips as you would your precious jewelry. In the wrong hands, these account numbers can be even more valuable than handfuls of cash! When making out checks, use specially formulated gel ink pens, developed to defeat check washing.
---


Data Privacy Day, January 28, 2012, is an annual international celebration designed to promote awareness about privacy and education about best privacy practices.
In this networked world, in which we are thoroughly digitized, with our identities, locations, actions, purchases, associations, movements, and histories stored as so many bits and bytes, we have to ask – who is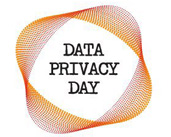 collecting all of this data – what are they doing with it – with whom are they sharing it? Most of all, individuals are asking 'How can I protect my information from being misused?' These are reasonable questions to ask – we should all want to know the answers.
Data Privacy Day promotes awareness about the many ways personal information is collected, stored, used, and shared, and education about privacy practices that will enable individuals to protect their personal information.
These are not questions for consumers and citizens alone, however. Business operators and state and federal governments must engage in this dialogue as well. Businesses have to question whether they are complying with laws and regulations requiring consumer privacy protections. They know that customers have to trust their technologies and services before they will use and pay for them. Government representatives need to explore and give effect to legislation in this area that protects consumers but also allows for technological innovation, progress and growth.
Data Privacy Day promotes collaboration and dialogue among all of those stakeholders with an interest in privacy. Click here to Get Involved!
For the Consumer

Holiday Travel: Keeping Home Safe While You're Away

Each year, signs of the holidays seem to come earlier and earlier. Decorations are always for sale before pumpkin pie filling hits the stores, and sometimes they even beat the Halloween Candy to the aisles. While much of this enthusiasm seems premature, it's never too early to prepare when it comes to safety. So, as you're finalizing the details of this winter's family reunion, beach escape or alpine adventure, take note of what you should do to prepare your home for your absence.

Automatic Lights– Even if the idea of having lights on when you're not in the house makes you cringe, a few dollars spent on electricity can save you in the long run. Minimize the appearance that you're not at home by putting interior and exterior lights on a timer system. Stage lights in multiple rooms at different times to create the most realistic look.

Hold Your Mail– Nothing says "We're not home" like an overflowing mailbox or packages piled near your door. You're not only risking losing a few cards or gifts – or worse yet, a thief knowing they can break into your home. There's tons of sensitive information in your mailbox, including credit card applications, financial account statements, and other personally identifying information that can cause long-lasting damage if found by someone with unethical intentions. The US Postal Service will hold your mailat no charge. Suspending newspaper delivery is important too.

Keep Up Appearances– Just because you won't be home to enjoy it, doesn't make it okay to let your yard suffer. Avoid the urge to save a few dollars and keep your regularly scheduled appointments with your gardener. If you usually garden yourself, hire someone to rake leaves and mow your lawn if you'll be gone for more than a week or two. Also, if you live in a snowy area, hire someone to keep your walkway and driveway plowed and shoveled.

Social Silence– As cool as it is to 'check in' at the ski mountain's summit or at a coveted dining hot spot, avoid the temptation to boast to your social media communities. Despite efforts to keep your networks private, you simply never know who's looking. Telling the world that you're at the top of the world is also telling them that no one's home. The bragging rights will be just as good if you share your fun news at the end of your trip.

Holiday season is travel season; take the steps necessary to make it a safe season.

Dear Wilma


Dear Wilma,

My credit card company just alerted me that a card I hardly ever use has just had several thousand dollars of online transactions made, including plane tickets. I don't use this card online and I only use it at known places around town. How could this happen? - Trish

Dear Trish,
Hmm. Sounds to me like this may be due to skimming. Skimming is when a thief is able to obtain the information on the magnetic strip located on the back of a credit card. The two most common ways to do this is for the thief to physically swipe a card, such as at a restaurant, drive thru, or other unobserved ways when the owner is not looking. The other way is to conceal the skimming device in a frequently used machine such as in an ATM, gas station pump, or a card reader at a store. When the owner of the card swipes it to make a purchase or get cash, the reader records the data on the strip. Occasionally, thieves will attach a hidden camera to or around the machine in order to gain the user's pin code.

Thieves will not always use this information right away. Sometimes they will hold on to it for months or longer before exploiting the information or selling it to another thief.

My advice, keep a mental list of all the places you used this card. Get a new card number from the credit card company and file a police report for the fraudulent charges. Keep track of where you use your new card. If fraudulent charges show up, you'll have a better idea of where it's coming from and you can report it to the cops.

And always remember, when in doubt, use cash.

Wilma

For the Business
The ITRC is supported only by sponsorships, grants, and company directed contributions. A sponsorship from your company could help the growing number of victims of identity theft regain their life. It is estimated that more than 4% of the U.S. population are victims of this crime. Shouldn't your company be a known partner in helping your affected customers or clients?

Please contact the ITRC for more information on sponshorship or partnership opportunities (888) 400-5530, ext. 111.


Toll-Free Victim Assistance
888-400-5530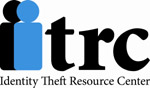 In This Issue
Data Privacy Day
For the Consumer
The Sandbox
Securing our eCity
Dear Wilma
For the Business
The Sandbox
Sharing on Social Networks Could Lead to an Un-Happy Holiday: The Social Media Privacy Report
It is the time of year when giving becomes a top priority. And while presents and exchanges of food and drink are the standard during the holiday season, make sure you aren't giving a thief too much information via social media networks. This can give a criminal the potential to burglarize you; turning your holiday joy into sadness. Think of your privacy, security and safety before you post!
On social networks like FourSquare, Facebook and even Twitter, geo-location sharing has become the norm. Earlier this year we wrote about the dangers of sharing your whereabouts on these sites, but even in just a few months, new and startling statistics will make you want to take even more precaution in your location sharing habits, especially during holiday travel.

Think about this, for example. Did you check-in on FourSquare during Thanksgiving weekend in 2010? If you can't remember, don't worry because FourSquare can since it has all of its historical data stored and logged. This information, however, is faceless and thus harmless. But what if this information were to be used by a criminal. All it takes is for one bad guy to connect the dots and realize who is traveling where and homes will be empty and ready for the looting.

According to a recent study (Credit Sesame), of fifty former burglars in the U.K., 78% used social media sites, such as Facebook, Twitter and FourSqaure to uncover when people be would traveling during the holiday season. These crimes would end up costing each individual more than $2,000 in stolen goods and property damage. The site also reports that social media users are willingly placing this information into the wrong hands: "35 percent of the people in this country are checking in on Facebook or tweeting on a regular basis throughout the day. Incredibly, about 15 percent of those folks reveal their location, or when they left home, or worse- how long they will be gone."

Another study, as reported by the Daily Mail, found that after one of these revealing status updates or check-ins is sent into cyberspace it only takes a thief one minute to track down the address. The article states, "Researchers looked at messages such as 'packing my cases' to another which said 'just landed' with a smiley face only hours after their location was given as 'Manchester Airport.'" Once knowing a particular person is traveling, the crime becomes easier to commit.

But it is easy to avoid being a victim this holiday season. A recent release from Allstate says that social network users don't have to let a status update ruin their holidays. The company gives some fantastic tips of staying safe when using social media.

Some are reprinted below:

Turn off automatic locating functions.Most social media sites with geo-location and tracking functionalities have options to turn them off.
Review your privacy settings.Make sure you understand who you are broadcasting your information to. If you are not comfortable with what people can see, alter your settings.
Delay uploading pictures until returning home.Thieves may be able to view details about pictures, such as where the picture was taken and at what time. Posting pictures in real time lets others know you're not at home.
Be aware of photo and video backgrounds. Avoid making videos that reveal house numbers or other information telling others exactly where you live.
Be careful of where you "check in."If checking in at various locations as you shop or dine, use precaution. You may be alerting a thief to goodies in your car's trunk.
Keep your travel plans offline. Although it may be hard not brag to friends with a photo from the beach, this information also can tell thieves when you're away. Save the details for your return.
Keep expensive gifts quiet. Despite excitement about the new tablet or gaming system received this year, resist the temptation to post updates about any big ticket items new to the household.
If you are traveling, remember to keep your itinerary off of social networks.

by Jillian Ryan

Jillian is Private WiFi's Social Media Ambassador. With a passion for writing, the web, and fast-paced information exchanged via social networks, Jillian is also concerned about the ramifications of putting your life details and personal data into cyberspace
Securing Our eCity
Training Presentation
To learn more about how you can protect your home and business from Internet threats, view our interactive tutorial. Topics in this presentation include cybercriminals and what motivates them, biggest threats, analysis of specific malware, a discussion of how cybercrime impacts business and effective ways to protect yourself, and your company.
Also, see our list of resources for Small and Medium Businesses and Government/Military/Non-profit organizations.

In San Diego?
Request a free workshop!


Archive Issues
ITRaC News Q1 2009
ITRaC News Q2 2009
ITRaC News Q3 2009
ITRaC News Q4 2009
ITRaC News Q1 2010
ITRaC News Q2 2010
ITRaC News Q3 2010
ITRaC News Q4 2010
ITRaC News Q1 2011
(not available)
ITRAC News Q2 2011
ITRAC News Q3 2011