Heart of the Lakes Center for Land Conservation Policy
Fifth Annual Summit
Tuesday, November 10, 2009
Lansing Center, Lansing

Wind Energy and Conservancies Featured at Summit

What do Michigan's conservancies need to know about wind energy development in Michigan? Conservation impacts? Drafting conservation easements? Emerging state and local policies? Join the conversation with a panel of experts at the Wind Energy and the Role of Michigan's Conservancies session at the November 10 Summit.

Early Registration Ends October 23! Register now!
BONUS: Plan to spend two days in the Lansing area and attend the Land Trust Alliance's Standards and Practices Curriculum Training on Monday, November 9: Financial Management for Land Trusts
Lead Sponsor:

Sponsors: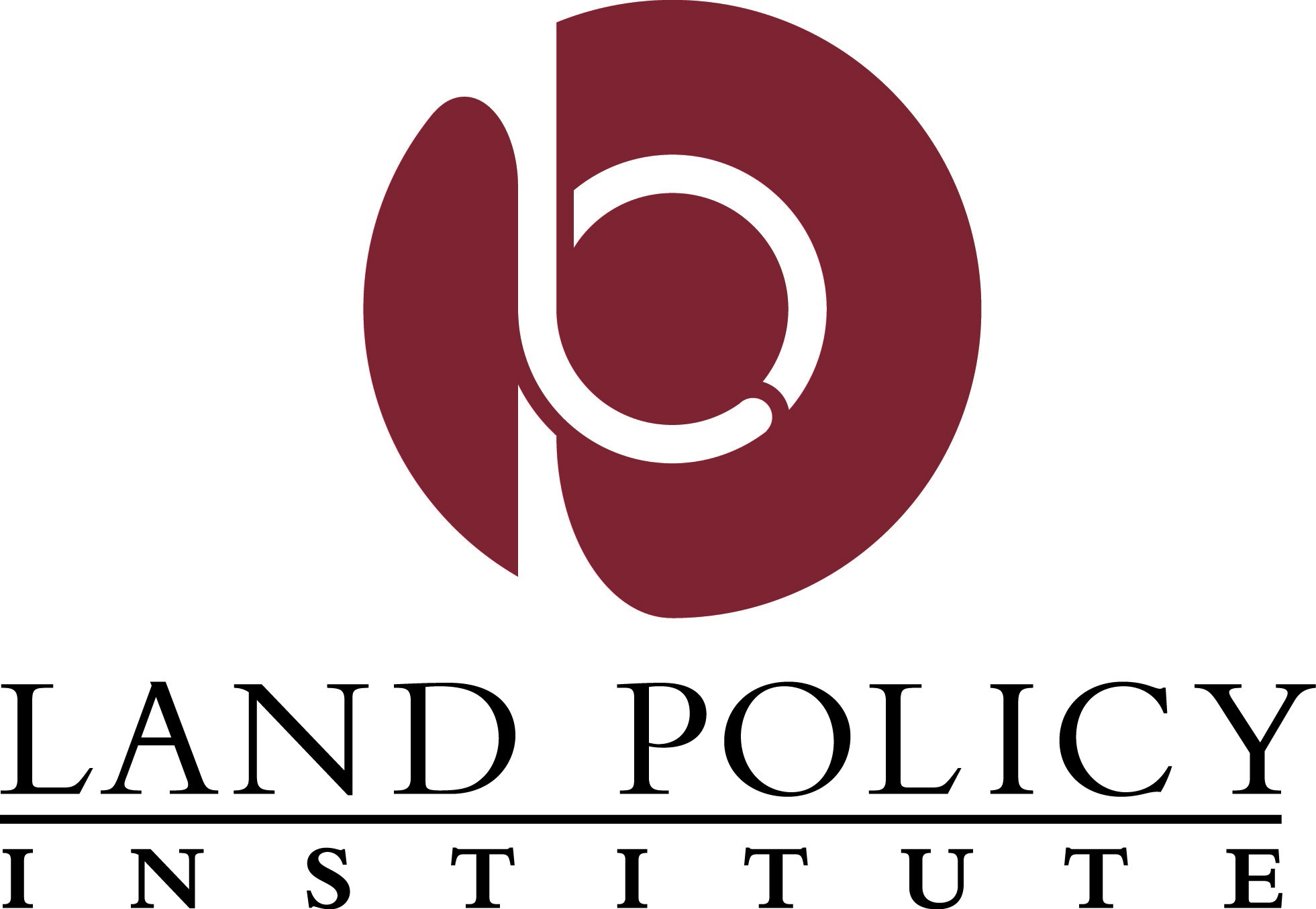 Supporters: Meijer, Inc., Public Policy Associates, Williams & Associates, Inc., Yankee Appraisal Associates, Treemore Ecology and Land Services.
Policy Update
Current Policy Focus: State
DNR and DEQ Combined by Executive Order


Governor Granholm issued an Executive Order combining the Department of Natural Resources and the Department of Environmental Quality into a new agency, the Department of Natural Resources and Environment (DNRE), to take effect January 17, 2010. The Executive Order strips the Agriculture Commission of its authority to appoint the director of the Department of Agriculture, and the new Director of the DNRE will be appointed by the Governor instead of the Natural Resources Commission. The Executive Order also eliminates the Citizens Committee for Michigan State Parks and the Ag Preservation Fund Board, which will presumably change the process by which state PDR funding decisions will be made.

Although combining the departments has the potential to be a positive step for conservation, the loss of board oversight and Commissions' authority to appoint department directors is facing strong opposition. Resolutions have been introduced in the Senate to overturn the Executive Order and are currently being reviewed by two separate joint Senate Committees.
Governor Approves FY 2010 DNR/DEQ Budget

Governor Granholm signed the FY 2019 DNR/DEQ budget, with some line item vetoes and comments. Although the legislature had combined the two departments' budgets and estimated savings that the two departments would realize after the consolidation, the Governor made it clear in her notes that the two departments remain separate until January 17. Regardless, both the legislator and Governor Granholm estimate that the consolidation will create a cost savings of $350,000 by eliminating duplicative functions and reorganizing staff.
The FY 2010 appropriation is $704.3 million, which includes $43.7 million in General Fund money and $65 million in federal funds for the Great Lakes Restoration Initiative.
Wetlands Program to Stay in Michigan
SB 785, a bill designed to keep the Wetlands program in Michigan, was signed by the Governor. The original bill, sponsored by Senator Patty Birkholz (R-Saugatuck), designated the Clean Water Bond Fund as the funding source, but was later amended, through the work of Rep. Dan Scripps (D-Leland) to draw $2 million a year for three years from the bottle deposit fund. During the next three years, an advisory council will search for a stable, long-term funding source.
SB 785 attempts to cut costs for running the program by adopting the federal definition of a wetland (more narrow than the state definition) and revamping the permitting process so that certain actions would no longer require permit review. The wetlands advisory council will oversee the implementation of the program.
With the guidance of Heart of the Lakes' Policy Advisory Committee, Heart of the Lakes testified in support of keeping the wetlands program in Michigan while refraining from comment on the regulatory aspects of the bill.
Still Tracking: HB 4158
HB 4158 (Mayes D-Bay City) would allow capture of a portion of $12.8 million in property liens owed the state through P.A.116 non-renewals to fund permenant farmland preservation. Heart of the Lakes supports this legislation, which has been assigned to the House Committee on Agriculture but has not yet been given a hearing.
Current Policy Focus: Federal
Majority in Both Houses Reached for Conservation Easement Incentive Act


HR 1831 now has majority support of the U.S. House with 242 Representatives. 32 Senators have signed on as co-sponsors of the Senate companion bill, S 812, including Sen. Debbie Stabenow (D). The bills would make the enhanced federal tax deduction for qualified conservation easements permanent that are set to expire December 31, 2009 if no Congressional action is taken. Eleven out of 15 Michigan representatives have signed on: Ehlers-R, Dingell-D, Hoekstra-R, Kildee-D, McCotter-R, Miller-R, Peters-D, Rogers-R Schauer-D, Stupak-D, and Upton-R. (See map below.) While not a co-sponsor due to his role on the House Ways and Means Committee, Congressman Dave Camp is also a champion of this legislation. The bills now need to move through Congress before the end of the year.
For more information, visit the Land Trust Alliance website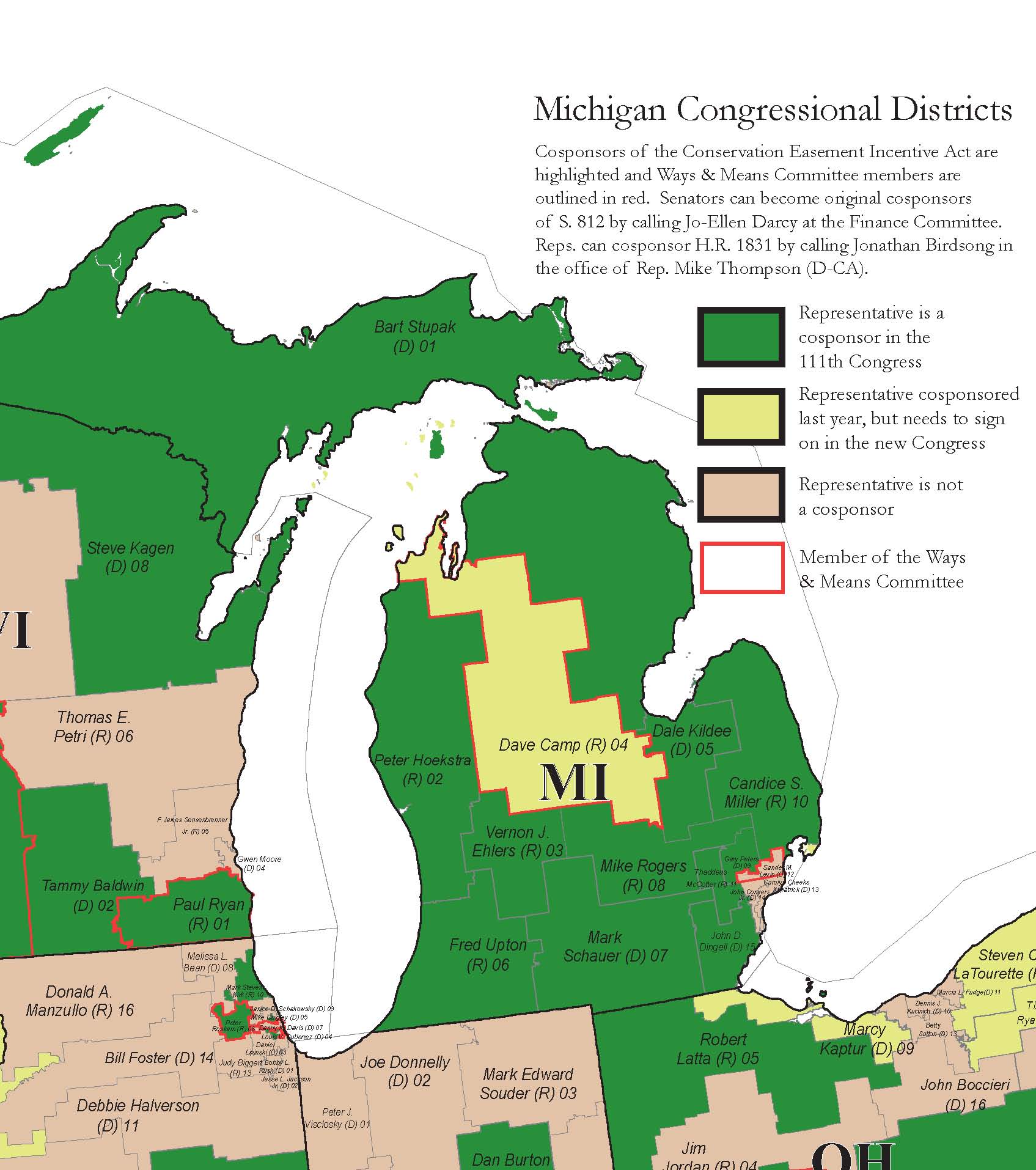 Conservancies in the News

Three Michigan Land Conservancies Accepted into Advancement Program
Cadillac Area Land Conservancy, HeadWaters Land Conservancy, and the Land Conservancy of West Michigan were recently accepted into the Advancing Conservancy Excellence (ACE) program, a $1 million, three-year initiative of Heart of the Lakes and the Land Trust Alliance to help transform the state's land conservancies into a high-performing and sustainable conservation community. The new additions bring the total number of Michigan land conservancies participating in the program to eighteen
Conservation Partnership Reaches Agreement for Significant Coastal Site
Leaders from the City of Saugatuck, Land Conservancy of West Michigan and The Nature Conservancy reached a $20 million agreement to acquire the 171-acre south portion of the former Denison property adjacent to Saugatuck's Oval Beach Park. The City of Saugatuck is seeking a major grant from the Michigan Natural Resources Trust Fund to make the acquisition a reality.

Two-Part Television Series Features Land Conservation
"Michigan Land Conservation", a new television series produced by WCMU public television, premiered this month with moving stories of landowners who worked with several conservancies to permanently protect the land they love. Part Two of the series, "Looking Down the Road" aired Sunday, October 18 at 10:30 pm WCMU stations. Click here for more information.
Survey of Important Southeast Michigan Properties
The Southeast Michigan Land Conservancy is requesting help in identifying important properties in the 7-county southeast Michigan region which are worthy of protection and to help guide land protection efforts.
Click here to participate in the survey
.
Chikaming Celebrates 10 Years
This October marks the tenth anniversary of Chikaming Open Lands and ten years of preserving open space and the diverse, natural character in the Galien River watershed and southwest Berrien County. Congratulations!
Employment Opportunities
Part-time Administrative Assistant
Michigan Nature Association


Stewardship Coordinator
Michigan Nature Association


Executive Director




Six Rivers Regional Land Conservancy
Events and Training
Advancing Conservancy Excellence
Friday, November 6, 2009, 10:00 – 11:00 am
Ask An Appraiser Conference Call
Featuring appraiser Paul A. Rose, President, Jeffress-Dyer, Inc.

November 5, 2009: APPLICATION DEADLINE
ACE Peer to Peer Mentoring Program
A program to match peers of like experience and job responsibilities


Heart of the Lakes Center for Land Conservation Policy
November 10, 2009, 9:00-5:00pm
Lansing Center, Lansing, Michigan
Heart of the Lakes 5th Annual Summit
Join the Conversation!
Land Trust Alliance In-Person Trainings

November 9, 2009, 10:00 am to 5:00 pm
Financial Management of Land Trusts, $65 for LTA members
Kellogg Hotel & Conference Center, E. Lansing, Michigan

Land Trust Alliance On-Line Trainings
October 26, 2009, 2:00 pm, Free
$1 Million or More in 60 Minutes or Less: How Land Trusts Can Profit From Transportation

October 28 – November 18, 2009
Preparing for Perpetuity: Building Your Board

The Stewardship Network
January 22 and 23, 2010
2010 Stewardship Network Conference
The Science, Practice & Art of Restoring Native Ecosystems
Kellogg Center, E. Lansing, MI

Nonprofit Enterprise At Work (NEW)
October 23, 10 am to Noon
The Next Level: Using Social Media Creatively

October 26, 3 pm to 5 pm
Get Connected: Navigating the New Local Media

Wakeup Webinar Series, all 7:30 am to 8:30 am
Board Chair 101, October 15, 2009
Nominating Chair 101, Wednesday, November 18, 2009
Development Chair 101, Wednesday, January 20, 2010

Real Estate Continuing Education
December 9, 2009, 8:30 am to 4:30 pm
The Land Conservation Marketplace I—Essentials for Appraisers, Assessors and Brokers
Greater Lansing Area Association of Realtors
For more information contact the Avocet Group, 517-974-3064 or avocet09@gmail.com

Land Conservancy of West Michigan and Korth Family Foundation
October 29, 2009


Frederik Meijer Gardens & Sculpture Park, Grand Rapids
9th Annual Korth Conservation Speakers Series
The Land Conservancy of West Michigan will host Buddy Huffaker, Executive Director of the Aldo Leopold Foundation: "A Land Ethic for the 21st Century: Integrating Land Conservation and the Built Environment". Public invited, registration required.
Other Training Opportunities: Board Connect, Michigan Nonprofit Association