Shana Tova U'Metukah!
As the resident beekeeper at Bela Farm, the weeks leading up to Rosh Hashana are particularly meaningful for me. I get to spend quality time with the hard-working honey bees that live at Bela Farm. Working with honeybees is a constant reminder of the power, necessity and wisdom of collective action. It takes all 60,000 bees per colony (including 1 queen, 55 000 female worker bees and approximately 5000 male drones) to build their home, raise their children, pollinate our fruits and vegetables and make sweet honey. Just like us, all the bees are essential to the overall functioning of the hive.

I kind of felt like a bee last week while marching in the streets of Manhattan with 400,000 other humans at the People's Climate March. I walked on behalf of Shoresh in solidarity with the Jewish Climate Campaign and all of humanity. And I marched for the bees who are already being challenged by climate chaos.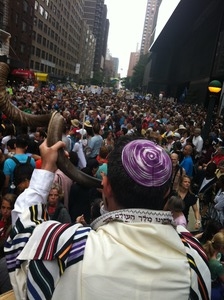 Rabbi Jay Michelson blows the shofar at the Interfaith contingent of the People's Climate March
While there I felt inspired by the sheer energy of 400,000 coming together to demand change. I also felt a deep sadness as the reality of this mess we have gotten ourselves into. Climate change is no longer an "environmental issue." It's a serious global issue that can't be ignored. It will take all of us, working together as a team to turn this world around!

May we learn from the honeybees how to work together and create a sweeter, more fruitful and sustainable world.

The Bela Farm apiary has been created through collective action. With the generous support of two very special community members (13-year old Ryan Storm and Izzy/Dino Venasio from Ben and Izzy's Deli), we were able to expand the number of beehives and double our honey production last year. Our community also built the beehives with their own hands and two weeks ago, a group of us went to the farm and harvested 150 lbs of sweet nectar from the apiary. It was radically amazing and completely awesome. Kosi Revayah.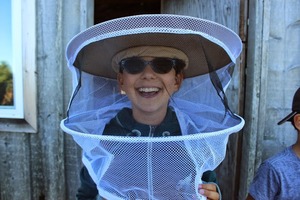 Ryan Storm donated money from his Bar Mitzvah to help us grow the Bela Farm Apiary. He is an aspiring beekeeper and an amazing honey extractor. He will be speaking about bees, honey and Shoresh tomorrow morning at Beth Torah.

Our intention for next year is to grow the apiary and produce enough honey to provide the community with honey from Bela's Bees for Rosh Hashana 5776. WE NEED YOUR HELP!
Please make a donation here today and talk to us about how you can build and protect our bee hives!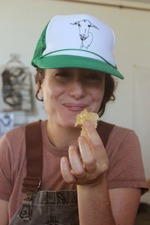 On behalf of Shoresh and the bees at Bela Farm, we wish you a sweet, healthy, abundant, inspired and revolutionary new year!

Shana tova u'metukah,
Sabrina Malach
Director of Community Outreach, Shoresh Jewish Environmental Programs






PS-Wondering what it means to be a Jewish beekeeper? Check out this lovely article in today's Toronto Star about yours truly and why I do what I do.
PPS- Save the Date for our Sukkot Festival at the Kavanah Garden!
Celebrate Sukkot at Shoresh's Kavanah Garden! Bring your kids, family and friends to play in the garden, harvest vegetables and enjoy apples and honey from the bees at Bela Farm in our sukkah. Feel free to bring a picnic dinner and enjoy it in the beauty of the garden.

Date: Thursday October 14, 2014

Time: 3:00-6:00

Location: Shoresh's Kavanah Garden, 18 Lebovic Campus Drive
Cost: $6/per person or $18/family