2013 Spring Newsletter
Your California Bar Foundation:

Championing

access to the justice system,

investing

in the next generation of California attorneys,

educating

citizens about their rights and responsibilities and

promoting

philanthropy in California's legal community.
From the Executive Director: Partnership is Priority
As lawyers and legal professionals, we understand the rights, responsibilities and protections afforded by the rule of law and ensured through our legal system. We also understand the power of effective representation, and the disparate outcomes resulting when people don't have access to it.
With your help, every day, your California Bar Foundation works to make real a justice system guaranteeing full and equal access for all who deserve it, not just those who can afford it.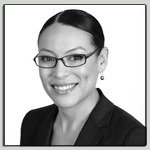 As the center of philanthropy for California's legal profession, and with strong ties to the State Bar, the Foundation is well-positioned to mobilize and leverage the financial resources of attorneys and legal professionals in building a better legal system. Through grants, scholarships, public education,
partnership and community collaboration, the Foundation strategically invests the resources of our donor partners—individuals, law firms, corporations and foundations.
Together, we will continue to transform our legal system and expand the legal profession so that, in
California, access is the norm, not the exception. As the year progresses, I look forward to updating
you about
your
Bar Foundation's work.
---
Supporting California's Veterans in Rural Communities
Returning veterans face difficult challenges and, for some, that includes contact with the criminal justice system. A staggering 200,000 military veterans are incarcerated. For many veterans, particularly those suffering from mental health or substance-abuse problems, the traditional criminal justice model is ineffective and, often, even harmful. Increasingly, scholars, prosecutors and judges recognize that alternatives to incarceration result in better outcomes to the traditional criminal justice system.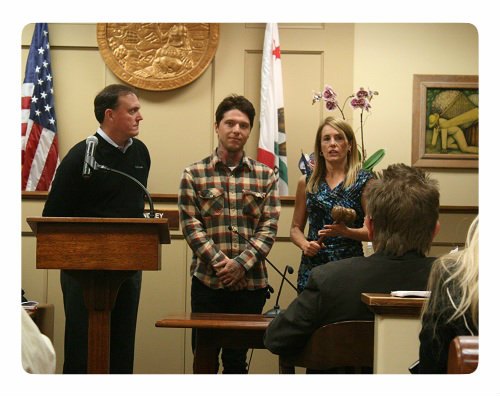 A powerful example of such alternatives are Veterans Courts, which are specialized alternative sentencing courts connecting veterans in the criminal justice system with treatment, housing and services as alternatives to incarceration. These unique courts focus on assisting veterans whose criminal conduct is linked to posttraumatic stress disorder, traumatic brain injury, military sexual trauma, mental health problems or substance-abuse.
As part of our ongoing commitment to broadening access to justice in rural and underserved communities, the Foundation is partnering with Public Counsel, one of the nation's leading public interest law firms, in expanding the Veterans Court model to rural California. With over 2 million soldiers returning home from service in Afghanistan and Iraq, the Foundation's grant supporting Veterans Courts in Lancaster and Kern Countries is particularly timely and making a difference (

Click here to READ MORE

).
---
Increasing Diversity in California's Legal Profession:
2013 Diversity Scholarship Application Open
As California grows even more diverse, the California Bar Foundation continues working to increase the diversity of the state's legal profession. This marks the sixth year we will award our Diversity Scholarship, which helps move the California Bar towards resembling California's population, and the need has never been greater.
The accompanying table highlights results of a recent survey by the State Bar of California Council on Access & Fairness and vividly demonstrates the profession's continuing lack of overall diversity.
Even more telling, the legal profession lags behind corporate America and most other professions when it comes to diversity and inclusion. Twenty percent of California lawyers are people of color, compared to 28.3 percent amongst doctors, 27 percent amongst architects, and 23 percent amongst
engineers. We must do better.
The Diversity Scholarship is one way the Foundation
delivers on our commitment to building a
California
legal profession that represents
the
communities it serves and serves the communities it represents. T
he scholarship financially supports law students from groups historically
underrepresented in the legal profession and matriculating to a California law school. Rising first-year law students are invited to apply by June 5, 2013. For more information on applications, contact

Natalia
Merluzzi

or

download the application form and checklist

.
Join other leaders in promoting diversity and sponsor a Diversity Scholarship. Learn more
by contacting our Director of Development,
Joe
Swimmer
.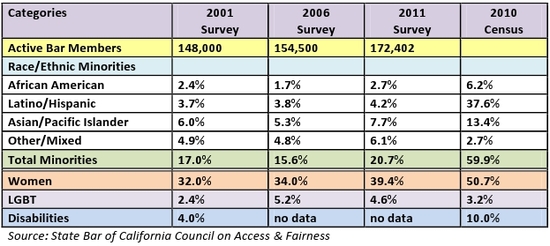 ---
Educating Young Californians on their Rights and Responsibilities
"This country matters to me, to you, to all of us, and frankly to the world…" Retired United States Supreme Court Justice Sandra Day O'Connor highlighting the importance of civics education and citizen participation at the February 28, 2013 Civic Learning California Summit.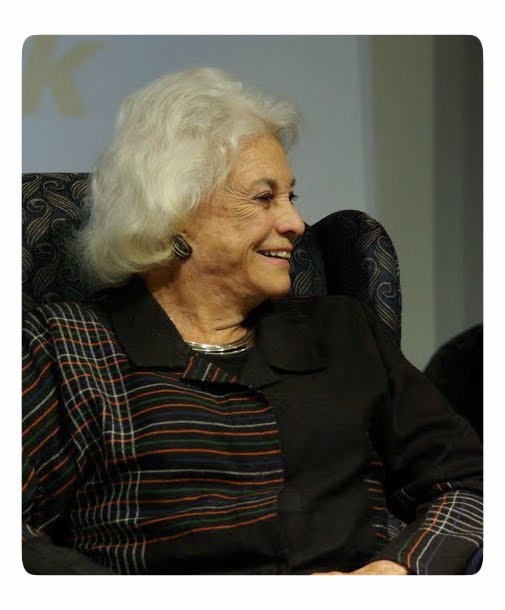 Educating California's citizens of their rights and responsibilities under law is a central component of the California Bar Foundation's mission. It is even more critical today as California's youngest citizens encounter a precipitous decline in traditional civics education. Public schools are defunding basic civics learning, and surveys demonstrate a resulting lack of understanding of our Republic's founding principles and the underlying social compact.
We recognize that improving civics education requires a long-term strategy crafted by stakeholders from across California. Partnering with California Chief Justice Tani Cantil-Sakauye, the Foundation facilitated the start of an ongoing conversation among stakeholders by supporting the Civic Learning California Summit: Making Democracy Work in Sacramento on February 28. At the Summit, students, educators, lawmakers, lawyers and judges gathered together to hear from a variety of thought leaders on civics education. Speakers included Justice O'Connor, Chief Justice Cantil-Sakauye, California State Senator Leland Yee, California Secretary of State Deborah Bowen, and State Bar CEO Joe Dunn.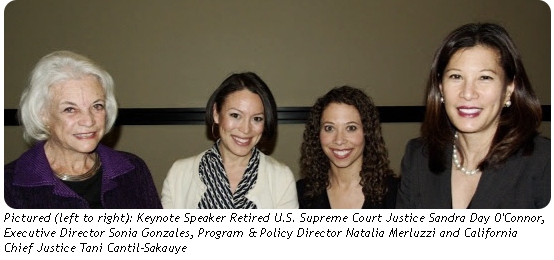 ---
Addressing a Critical Need:
Public Interest Bar Exam Scholarship 2013

According to legal news outlets, bloggers and the mainstream press, graduating law school students face a dire environment—education debt in the hundreds of thousands of dollars, dim job prospects and a legal industry changing rapidly in unpredictable ways. Graduates planning public interest careers (e.g., nonprofit, government) encounter the added challenge of studying for, taking and passing the bar exam without the financial support typically offered in the private sector. Without such financial support, law graduates often are forced into high-interest loans, adding to already substantial law school debt simply to acquire the license required to practice law.

The California Bar Foundation, committed to investing in the next generation of California attorneys, addresses this pressing need through our Public Interest Bar Exam Scholarship. As the only statewide organization offering graduating law students a no-cost BarBri Bar Exam review course and, in some cases, a living stipend, the Foundation is helping move students from study to practice.
This critical need was underscored by the applications received from 19 California law schools as part of the recently closed-2013 program. Evidence points to this need increasing over the coming years.

Learn how your organization can fund a Public Interest Bar Exam Scholarship—contact our Director of Development, Joe Swimmer.
---
Empowering Immigrant Youth in Rural California
In our

last newsletter

, we highlighted the ground-breaking Deferred Action for Childhood Arrivals (DACA) work undertaken by the Immigrant Legal
Resource Center (ILRC) with the Foundation's support.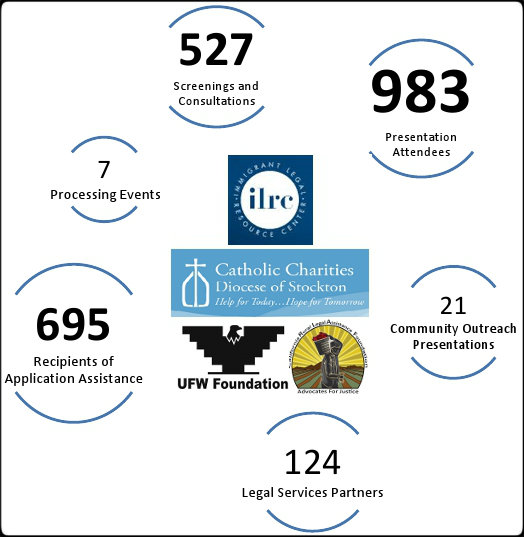 Our grant partner ILRC is collaborating with the California Rural Legal Assistance Foundation, United Farm Workers Foundation, and Catholic Charities Diocese of Stockton to transform the lives of hundreds of immigrant youth in rural California.

ILRC's deep experience and understanding of DACA allowed the collaborative to host 21 community outreach presentations and 7 l
arge-scale processing events. The combined efforts assisted some 983 youth over four
months in rural, hard-to-reach communities—meeting the Foundation's mandate of expanding access, particularly in rural California.
As a leader on DACA work, and through the Foundation's funding, ILRC has produced a comprehensive, 10-chapter manual on DACA. Purchase a copy of

DACA: The Essential Legal Guide

.
180 Howard Street, San Francisco, CA 94105 • info@calbarfoundation.org • www.calbarfoundation.org



---

---

Congratulations to Board Member
Eric Casher!

We are excited to congratulate California Bar Foundation Board Member Eric Casher on his recent appointment to California's Fair Political Practices Commission (FPPC). In making the appointment, California Attorney General Kamala Harris noted that, "Eric's commitment to justice, fairness and the rule of law will make him a strong asset." The FPPC enforces campaign-finance and conflict-of-interest laws.

READ MORE about Eric's appointment.

---

Thank you for our recent Cy Pres Award!

We give special thanks to Davis Wright Tremaine LLP and California Wage & Employment Attorneys for naming the California Bar Foundation as the recipient of a cy pres award.

Contact

Joe Swimmer

for information about directing cy pres awards to the Foundation.

.

---

Foundation Grant Partner Receives Award

---

Welcome, Carlos!

We are pleased to welcome Carlos Aguilar as the new Operations & Development Associate for the California Bar Foundation. Carlos brings fundraising, organizing, and administrative expertise to this challenging role. Since graduating from the University of California, Davis, in 2011, Carlos has managed a variety of fundraising campaigns. Join us in welcoming Carlos!

---

It is bittersweet to share that Emily Peck, our Development Assistant & Office Manager and invaluable team member of more than four years, is leaving the Foundation. Emily is heading to Hawaii for her new post as field

instru

ctor at

Pacific Quest,

a wilderness therapy program that inspires troubled teenage

rs, adolescents, and young adults to realize their full potential. We are excite

d for Emily as she pursues long-term career interests. Our best wishes as she heads off on this new adventure.

---

Exclusive Offer from OfficeMax!

Save on office supplies and support the California Bar Foundation.

Learn more about this program here:

---

Learn More About our
2012 Grantees:

Bet Tzedek Legal Services

---

Subscribing to your
favorite magazines supports the
California Bar Foundation! Click to
Start Shopping:

---