The Perfect Mother's Day Gift

The O2Compost Micro-Bin Compost System is a simple and inexpensive way to convert raw manure into a wonderfully beneficial product - compost. It is perfect for every farm with 1 to 4 horses.
BUY IT NOW, save 20% and receive a copy of Dr. Karen Hayes' book,
How to be the Perfect Horsekeeper – Absolutely FREE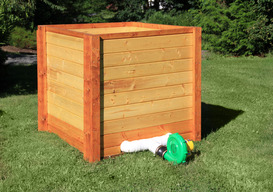 The Micro-Bin converts raw manure into a finished product in about 30 days, all without having to turn the pile. It is equally well suited for composting other farm animal manure as well as garden and kitchen waste.
The Micro-Bin Kit includes the following components:
Operations Manual with Three Design Options

High Impact Plastic Blower – 2 Year Warranty

Cycle Timer – 2 Year Warranty

20-inch Temperature Probe

Aeration Manifold and Fittings

Technical Support to Answer All of Your Composting Questions
The method of composting that we use is referred to as Aerated Static Pile (ASP) Composting. This simply means that we induce airflow through the mix of materials using an electric blower operated by a simple cycle-timer that periodically turns the blower On and Off.
With aerated composting we maintain aerobic conditions throughout the compost pile, and by adjusting the timer we are able to control pile temperatures. Aeration expedites the composting process and yields a high-quality compost product that is effectively free of pathogens, parasites, and weed seeds. As a result, the compost is safe to use in vegetable gardens; and to give away or sell to friends and neighbors.
By composting in this manner, we are also able to control offensive odors and flies, improve the aesthetics of the waste handling area, reduce labor and quickly produce a superior product for use in gardens or back on the pasture.
Best of all, the Micro-Bin also eliminates adverse impacts to surface and ground water resources and is considered a "Best Management Practice".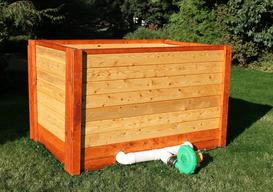 The optional designs allow you to construct different size bins to accommodate varying quantities of manure and bedding.
The bin shown to the left holds approximately 4 cubic yards and is the perfect size for a small farm tractor.
Using the one blower & timer set, two or more bins may be constructed so that one bin can be "cooking" while the second is being filled.
The Micro-Bin is well suited to all climates and is designed for year-round operation. All you need is an area with flat ground and access to 110V Electrical Power.
Each design includes a complete materials list making the purchase of materials an easy process. The cost of materials for two Micro-Bins is roughly $325, so for a budget of $1,000 you can resolve your manure management challenges once and for all.
Constructing the Micro-Bin is easy for anyone with basic carpentry skills. The bin structure is very durable, with a life expectancy of 5+ years.
The O2Compost Micro-Bin Kit normally costs $675, plus shipping. With this 20% discount offer, the kit costs $540 – and includes shipping - saving you at least $200. Payment can be made either by check or credit card. Your Micro-Bin kit will be shipped within one business day and will be delivered to your doorstep by UPS or FedEx Ground. The box measures: 12"x18"x24"; and weighs ~20lbs. Free Shipping to all farms within the USA.
Note: If you ever decide to upgrade your Micro-Bin Compost System to any of O2Compost's other compost systems, your original investment of $540 will serve as a deposit toward the upgrade purchase. There are no time limits on this offer.
To order your Micro-Bin Compost System, call 360-568-8085 or send an e-mail to: info@o2compost.com. Call today and have your new Micro-Bin Compost System set up and ready to go for Mother's Day.
Sale Ends April 30th.