St. John's University Earns Gold Star Rating with the AASHE STARS Program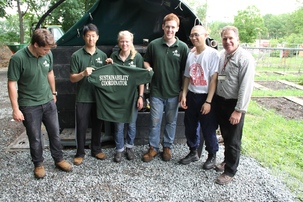 St. John's University in New York City collects food waste from university dining halls and coffee shops, composts it on-campus, and utilizes their finished compost in sustainable landscape practices and in a student run organic garden. This project is led by Mr. Tom Goldsmith, St. John's facility manager, with help provided by a team of enthusiastic and dedicated Student Sustainability Coordinators.
By composting on-site, St. John's has reduced its carbon footprint by eliminating the need for the Department of Sanitation to transport food waste to a landfill, thereby significantly reducing both truck exhaust and the production of landfill greenhouse gases. In addition, St. John's participates in EPA's Food Recovery Challenge and the Greater Greener New York program.
Their composting project has helped St. John's achieve a Gold Rating with the AASHE STARS Program. Of the 321 member institutions, only 33 have met the requirements for this highest Gold Standard. Our congratulations to Tom and his team.
AASHE
stands for the
Association for the Advancement of Sustainability in Higher Education
, and
STARS
stands for the
Sustainability Tracking, Assessment & Rating System
. STARS takes a comprehensive approach to helping universities and other institutions measure their progress toward achieving their sustainability goals. To learn more about this project, and the STARS Program
click here
.
---
Entre-Manures in North Carolina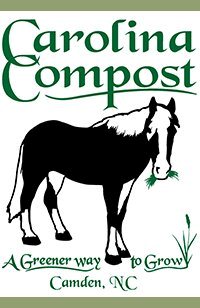 Many of O2Compost's clients sell or give their finished compost away, much to the delight of friends and neighbors. Of those who sell their compost, a few have started side businesses to transform their manure pile into "tail-end" profits.
A fantastic example of this is Carolina Compost, owned by Brian and Anna Smith. Brian and Anna have six horses on their farm near Camden, North Carolina, each of which produces an average of 50 pounds of manure every day. Instead of piling up the manure out behind the barn, Brian composts it in his O2Compost system. After 30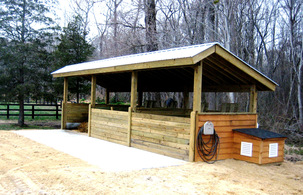 days or so, he shreds it to produce a uniform texture and then places it in bags for the local market. When he started his marketing campaign he gave his compost away, but over the past three years the market demand has grown to exceed his production capacity.
While Brian readily admits that his compost system "wasn't cheap", it did pay for itself in the first two years of operation, and in the third year it earned enough to pay for a small farm tractor. To learn more about Brian and Anna Smith and Carolina Compost,
click here
.
---
American Grown, by Michelle Obama
The Story About the White House Kitchen Garden
and Gardens Across America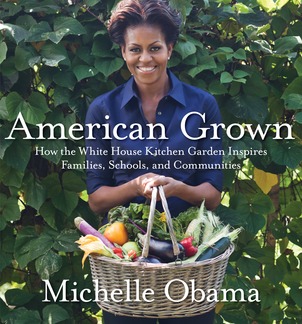 We were very interested to learn that Michelle Obama had written a book about her garden at the White House, in particular because O2Compost donated a Macro-Bin Compost System to the garden in 2009.
American Grown includes two pages on using compost to amend the garden soils, and Mrs. Obama includes a subtle reference to our compost system when she says, "At the White House, we make our own compost. We use a system of three large wood bins joined together… We have a small fan to help speed up the process, …" You have to look pretty hard to find it but there it is on Page 63.
The opportunity to donate a compost system to the White House arose through one of our favorite clients, Gregg Twehues with the Stone Barns Center for Food and Agriculture. Stone Barns operates an 80-acre four-season farm and is working on broader initiatives to create a healthy and sustainable food system. Through their Growing Farmers Initiative, children's education programs, and diverse public awareness programs, there is aim to improve the way America eats and farms.
Gregg and his colleague Jack Algier were instrumental in helping the White House Staff learn about organic gardening and amending the garden soil with compost. Gregg, Jack and O2Compost owner Peter Moon were given the "Cook's Tour" of the White House and Michelle's Garden the day before Halloween in 2009 – it was great fun and provided many lasting memories.
---
Think Big - Start Small
Ken Fields, our client in Katonah, New York attended a class on urban agriculture at Stone Barns Center some time back. Ken mentioned to his brother-in-law, Bill Clement in Virginia that he had seen our 4-bin aerated compost system at Stone Barns – they use it to process the chicken offal and feathers following their weekly harvest. This got Ken and Bill thinking about composting and together they purchased and constructed an O2Compost Micro-Bin on Bill's property.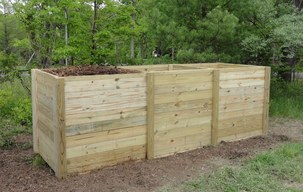 Bill modified our single bin design into a 3-bin system and assembled his aeration pipe network to provide airflow to any one or combination of bins using simple push-pull gate valves. The first batch, shown above, consisted of horse manure picked up from a local stable along with shredded leaves and fine mulch. They achieve desired temperatures in 3 days and held steady at 145 degrees (Fahrenheit) to 155 degrees for about 18 days. After 30 days, the temperature had slowly dropped to about 100 degrees. "Textbook".
This is a perfect example of 'Thinking Big and Starting Small' and 'Learning by Doing'. Bill and Ken are now looking into what it will take to work with horse farms and other organic waste generators in their community, and to size up their Micro-Bin to a full scale operation and possibly a compost business.
Helping people like Ken and Bill is what makes our work here at O2Compost so rewarding.
---
Schedule of Events
October 8 – 12, 2012
Compost Facilities Operator Training Class in Puyallup, Washington


October 14 – 17, 2012
AASHE Annual Conference In Los Angeles, California


January 28 – 31, 2013
US Composting Council Annual Conference, Orlando, Florida


---
Wishing you a Happy (and Safe)
Independence Day!