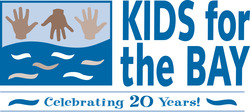 KIDS for the BAY News - Winter 2013

In this edition of the KIDS for the BAY Winter E-Newsletter ........

THANK YOU so much to all our Major Donors for helping us to

reach our Matching Gift Campaign Goal!

Neighborhood Clean-Up Projects Reduce Pollution to the San Francisco Bay
Learn how you too can Be An Environmentalist by

reducing plastic marine debris

And….. get ready for summer by signing up your young environmentalists

for our KIDS for the BAY Summer Camp 2013!
---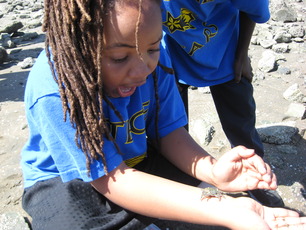 THANK YOU to our

Major Donors!
KIDS for the BAY raised $20,000 in major donations of $250 - $1,000 in honor of our 20 Year Anniversary in 2012! The Dean Witter Foundation will match these funds for a total of $40,000 to help support our programs in the 2012 – 2013 school year, which will reach 147 teachers and 4,334 school students. We want to say a very big THANK YOU to our major donors, including: retired teachers who were former participants in KIDS for the BAY programs, advisory board members, friends and family members, parents of our school students and summer camp kids, KIDS for the BAY staff and many others in our network. We really appreciate all your support for our work!

Click here to see our Inspired Environmentalists in action in our

---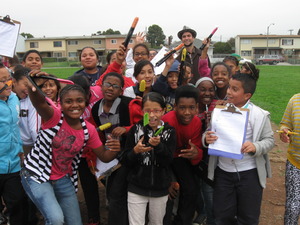 Neighborhood Clean-Up Projects
Did you know that the storm drains in your neighborhood drain directly to creeks that connect with the San Francisco Bay? Rainwater from our streets goes un-cleaned into storm drains, washing pollution into our local creek and bay ecosystems. KIDS for the BAY students have taken to the streets this winter to clean up their school neighborhoods and prevent harmful trash from getting into storm drains that lead to the bay. Armed with tongs and bags for collecting trash and for recycling, KIDS for the BAY students have collected hundreds of pounds of garbage from their local streets. It is amazing how enthusiastic our students are about helping the earth by cleaning up their local environment. Take a look at what they are accomplishing!
Visit our Facebook page to see more pictures of our

students' neighborhood clean-up projects.
---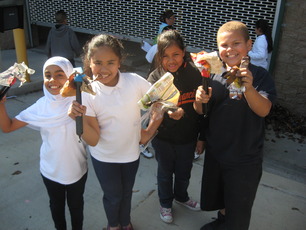 Be An Environmentalist – Reduce Plastic Marine Debris
Up to 80 percent of marine debris comes from land-based sources. This debris flows into storm drains, then into creeks, estuaries and the ocean. More than 60 percent of marine debris is comprised of plastic material. Due to its durability, buoyancy, and ability to absorb and concentrate toxins present in the ocean, plastic is especially harmful to marine life and the humans who use marine life as a food source. Studies show that there are 46,000 pieces of plastic litter floating on every square mile of the ocean. More than 1 million birds and more than 100,000 whales, seals and turtles, and countless fish worldwide, are killed by plastic debris each year. These deaths occur through entanglement, suffocation and starvation by ingestion. Do your part to reduce plastic marine debris by reducing your use of plastic. Every day you can: refuse single-use plastic bags, reuse plastic materials, recycle plastics where possible and make sure plastics are properly disposed of and do not find their way into storm drains, creeks, the bay and the ocean.
Find out how you can help to reduce plastic marine debris.

---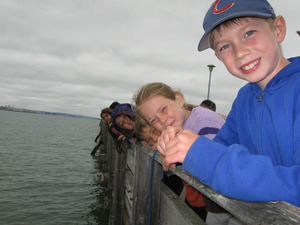 KIDS for the BAY Summer Camp 2013 Now Enrolling
Let's Get Outside! Join KIDS for the BAY for a fun-filled summer of hands-on science and nature exploration in the outdoors. Our summer camp takes full advantage of the amazing natural spaces in our own backyard. Campers will explore bay and ocean shorelines, visit botanical gardens, hike along beautiful creeks, collect insects from ponds, and swim in a lake!
New this summer -we are offering summer camp sessions for 5-8 and 8-11 year olds. In our new KIDS for the BAY Explorers camp, 8-11 year olds will embark on exciting Bay Area adventures including kayaking on the bay, exploring the ocean, hiking up a river, boating on Lake Merritt, and orienteering through a forest. Campers will also engage in higher-level science learning in hands-on investigations of aquatic environments.
SPECIAL OFFER – the first two people to email sheela@kidsforthebay.org and give the code word "EXPLORERS" will receive $100 off the price of one session of our new KIDS for the BAY Explorers Camp.
---
---