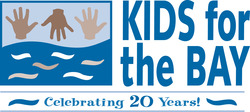 KIDS for the BAY News - Summer 2012
Welcome to the KIDS for the BAY Summer E-Newsletter.

Find out what our Inspired Environmentalists have been doing in
KIDS for the BAY environmental action projects and summer camps.

Learn how you too can be an Environmentalist by conserving fresh water.
And...... SAVE THE DATE - OCTOBER 20 - for our 20 Year Anniversary Event!

---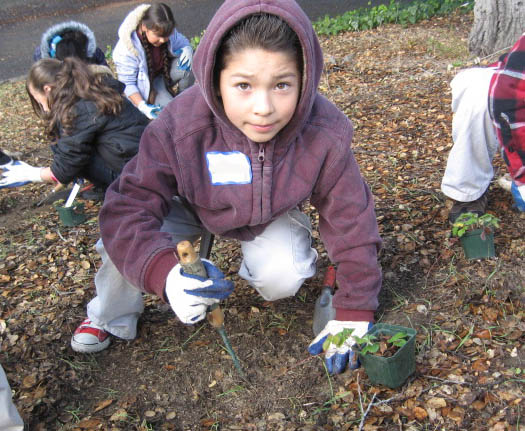 KIDS for the BAY Students

In Action!
Environmental action projects are a highlight of KIDS for the BAY programs. After learning about their local environment and how to take care of it, our students work together with their classmates to choose and develop a special project. In the 2011 – 2012 school year, action projects included: restoring local creeks by planting native plants, weeding and cleaning up garbage; testing creek water quality and sharing findings; teaching safe bay food consumption guidelines to families, peer students and anglers; making green pesticides to use at home and in school gardens; and many more exciting projects.
Connect with our Facebook page to see more pictures of our Inspired Environmentalists in action:
---
KIDS for the BAY Summer Camp Highlights

What a blast we had this summer! KIDS for the BAY spent 8 special weeks with 140 young scientists, exploring in nature. Wonderful World of Plants campers made Plant Parts Tacos and Seed Bombs; played Leaf Safari; and explored a grove of Giant Redwoods. Animals, Animals Everywhere! campers made friends with fascinating, slimy gastropods; studied crabs, lobsters, and shrimp in Crustaceans Stations; and made traditional Japanese fish prints. Campers in our Aquatic Science Adventure Camp explored creek, bay, and lake habitats and discovered the amazing plants and animals that are part of these special ecosystems. Summer 2012 marked our twelfth year of providing week-long summer camps in the Berkeley area. We are already looking forward to our 2013 Summer Camp Program, which will include new camp locations in the Oakland area. See you next summer!
Visit our website to see highlights from each camp session in our Photo Gallery:


http://www.kidsforthebay.org/site/programs/summer-camp-photo.shtml
---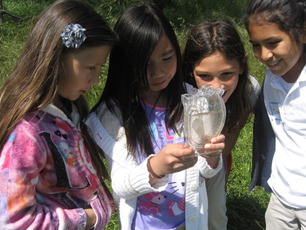 Be an Environmentalist!
KIDS for the BAY students test water quality and learn why it is so important to conserve fresh water and keep it clean and healthy. On Planet Earth 97% of available water is found in the oceans and is unsuitable for drinking. The 3% of fresh water on Earth is mostly locked up in polar ice caps, glaciers and ground water too deep under ground to reach. The remaining approximately 0.33% of fresh water is found in creeks, lakes and wells. Clean, fresh drinking water is essential to the survival of all living things, including people. KIDS for the BAY students keep a Water Conservation Log at home for a full day to see how much water they use, and sometimes waste. Then they work hard at conserving for a day and see how much water they can save. Finally our students make a pledge to practice water conservation every day at home. Find out how you too can be an Environmentalist and practice water conservation!
Visit East Bay Municipal Utility District for Water Smart Tips:

http://www.ebmud.com/environment/conservation-and-recycling/watersmart-tips
---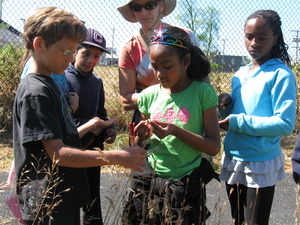 KIDS for the BAY 20 Year Anniversary Event!

On October 20, 2012 KIDS for the BAY will celebrate our 20 Year Anniversary and reaching our goal of 60,000 Inspired Environmentalists who have graduated from our programs.

At 10:30 a.m. on October 20, 2012 we will gather to celebrate and to restore our adopted section of Codornices Creek on the Berkeley/Albany border at 8th and Jackson Streets. Last spring KIDS for the BAY students from John Muir School in Berkeley carefully collected hundreds of seeds from plants that are native to this special habitat - including purple needle grass, buttercups, and California poppies - from the creek banks. These seeds were cleaned, dried and then planted in starter pots by campers in our Wonderful World of Plants! Camp this summer. Now the plants are ready to be planted beside the creek. Please SAVE THE DATE and join us for this special event. We will also have food, drinks, music and activities to enjoy.
---
Follow KIDS for the BAY on Facebook
Visit our Facebook page to see posts from our student participants, pictures of our students' environmental action projects and much more:
---