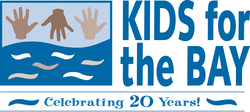 KIDS for the BAY News - Winter 2014

In this edition of the KIDS for the BAY Winter E-Newsletter ........

Matching Grant from the Footprint Foundation!

Place Based Environmental Education

Be An Environmentalist! Practice the Four Rs

KIDS for the BAY Summer Camp 2014 Now Enrolling
---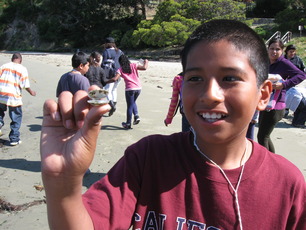 Matching Grant from the Footprint Foundation Secured!
A big THANK YOU to all the donors and funders who helped KIDS for the BAY secure the $25,000 matching grant from the Footprint Foundation. This funding, $50,000 in total, is providing essential support for our Watershed Action Program. It was matched by: the first year of donations from new donors joining our EverGreen Monthly Donors Club; generous additional year-end donations from several major donors; and several new foundation funders. We really appreciate this support from our funding partners.
Please click here for a full list of 2013 Donors and Funders to KIDS for the BAY.
---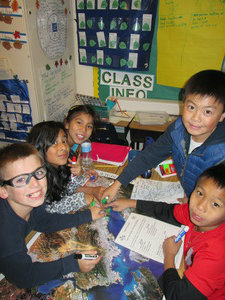 Place Based Environmental Education at KIDS for the BAY
Students in many KIDS for the BAY programs learn about the San Francisco Bay Watershed by studying large, colorful satellite maps. Students are very excited to find their homes and schools and then widen their horizons by discovering the snow capped mountains of the Sierra Nevadas, rivers, creeks, the San Francisco Bay-Delta Estuary and the Pacific Ocean. Guiding students to recognize the unique mermaid-like shape of the bay helps them to remember the different features of the watershed. Observing how all the water bodies in the ecosystem are connected helps students understand how pollution in one area of the watershed can easily move throughout this aquatic system and cause pollution in many areas. This important lesson inspires our young environmentalists to change polluting behaviors.
Please click here for more information on KIDS for the BAY Programs

that teach school students and their families how to reduce pollution

---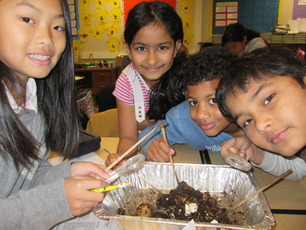 Be An Environmentalist! Practice the Four Rs
Our KIDS for the BAY Inspired Environmentalists are busy learning how to reduce waste and litter by practicing the Four Rs - Reduce, Reuse, Recycle and Rot. Students are especially excited to investigate red wriggler worms and discover how they break down organic waste to create compost. Many students become fascinated with their worms as they gently hold them, study them and then carefully return them to their compost bin. Some students even name their worms! Many KIDS for the BAY classes that participate in our Four Rs Action Program have started their own worm compost bin in their classroom and are collecting left-over food scraps from lunch to feed their worms. Some classes have even made lunch menus to help select the right kinds of food for their worms!
You can compost at home too! For more information please click here
---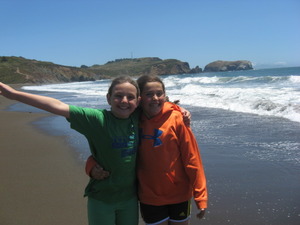 KIDS for the BAY Summer Camp 2014 Now Enrolling
Let's Get Outside! Join KIDS for the BAY for a fun-filled summer of hands-on science and nature exploration in the outdoors!

We offer summer camp sessions for 5-8, 5-9 and 8-12 year olds. Our summer camp takes full advantage of the amazing natural spaces in our own backyard. Campers will explore bay and ocean shorelines, visit Angel Island, hike along beautiful creeks, collect insects from ponds, kayak on the bay and swim in a lake!
Themes include:
Don't miss our EARLY BIRD SPECIAL - register before April 1st

Visit our website for more information and to register.
---
---