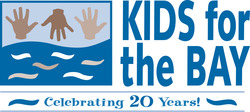 KIDS for the BAY News - Fall 2012
Welcome to the KIDS for the BAY Fall E-Newsletter.
How does an environmental education organization celebrate a 20 Year Anniversary?

Creating an Estuary – fall classroom lessons filled with hands-on science activities
Learn how you too can Be An Environmentalist by planting native plants

And….. see what 4,014 KIDS for the BAY students accomplished in our
Annual Report for the 2011 – 2012 School Year.


---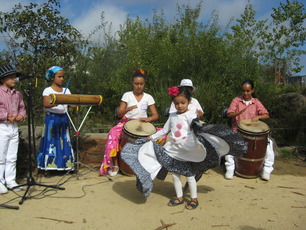 KIDS for the BAY

Celebrates 20 Years!
On October 20, 2012, the beautiful greenway of Codornices Creek was brightened by KIDS for the BAY volunteers and celebrators. How does an environmental education organization celebrate its 20 Year Anniversary? By doing something for the earth of course! Teachers, families, donors, board members and other supporters joined together to plant native plants beside Codornices Creek and to celebrate KIDS for the BAY's 20 years of successful environmental education programs in local elementary schools. Planters also enjoyed a performance by Quenepas - Puerto Rican drumming, dancing and singing youth group - and a presentation of two KIDS for the BAY Guardian Awards, as well as delicious Cheese Board Pizza!
Visit our website for the full story.

Connect with our Facebook page to see more beautiful pictures of our event.

---
Creating an Estuary!
How do you make an estuary? By mixing fresh water and salt water where the mouth of a river meets the ocean - or by creating a model of the San Francisco Bay in your classroom using clay, salt, water and food coloring! Students in our Watershed Action and Storm Drain Rangers programs are creating models of the bay, investigating real bay animals including striped bass and Dungeness crab, simulating bay food chains and learning about sources of pollution to the bay, among many other hands-on activities this fall. In the current 2012 – 2013 school year, KIDS for the BAY will partner with 147 teachers to deliver programs to 4,334 school students. Our programs will connect students with nature, turn students on to science, inspire environmental action and leave a lasting impact.

---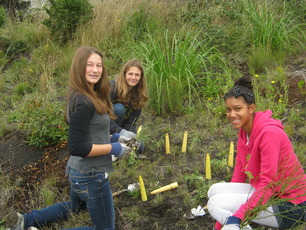 Be an Environmentalist -

Plant Native Plants!
There are many benefits to planting native plants. Once established, native plants require minimal irrigation and very low maintenance - you can look forward to using less water and fertilizer and spending less time working in your garden and more time enjoying it! Native plants have developed their own defenses against many pests and diseases. By planting natives, you can eliminate pesticide use and keep toxins out of our creeks and watersheds. Native wildlife prefers native plants, so you can attract more birds, butterflies and other wildlife to your garden.
Click here for step-by-step instructions to get started

planting your own native plants.
---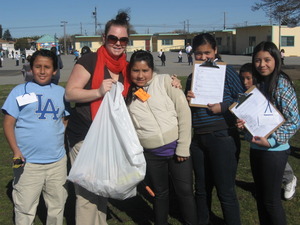 KIDS for the BAY Annual Report for the 2011 - 2012 School Year.

"I've been helping the earth because of the KIDS for the BAY program. I educated my parents about storm drains and I blew their minds! I felt like a teacher when I did it. Thank you, KIDS for the BAY. When I got my certificate, I felt like I could touch the moon!" – Abel Mendola, 4th Grade Student, Milana Elementary School, Newark
KIDS for the BAY partnered with 140 teachers in the 2011 - 2012 school year, to deliver environmental education programs to 4,014 school students. Field trip sites included Strawberry Creek, Berkeley Marina, Brannan Island and Keller Beach. Environmental action projects included creek restoration, water quality testing, safe bay food consumption, making natural pesticides and painting watershed murals.
Click here to read about the lasting impact of our work

in our Annual Report.
---
---