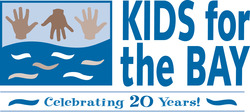 KIDS for the BAY News - Spring 2012
Welcome to the KIDS for the BAY Spring E-Newsletter!
Find out what our Inspired Environmentalists have been doing and learn
how you too can Be An Environmentalist!
---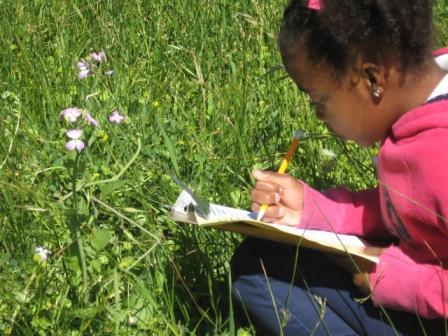 Spring Field Trips - Creeks, Bays and Oceans, Oh My!
Spring is the time when KIDS for the BAY students and teachers get out of the classroom and into the outdoors to connect with nature in their watershed. Touching the cold water of the creek, holding a crab, smelling the salt water of the ocean and studying plankton in field microscopes are some of the awesome experiences that our young scientists had this spring on field trips to creek, bay and ocean habitats.
Please visit our Facebook page to see some inspiring pictures of our students learning hands-on science in nature.
---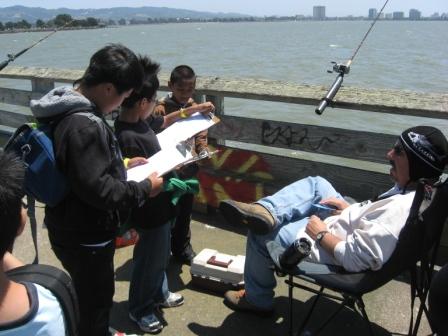 KIDS for the BAY Safe Bay Food Consumption Project
Bay Nature Magazine, the leading magazine for natural science in the San Francisco Bay Area, recently wrote an exciting and informative article about the KIDS for the BAY Safe Bay Food Consumption Project. In this empowering environmental action project, our students learned how to safely prepare and cook fish from the Bay, to reduce intake of toxins. These young environmentalists then invited their families to special presentations and taught them about the biomagnification of pollution in bay food chains, demonstrated how to safely prepare and cook bay fish and then shared the cooked fish in a tasty snack! KIDS for the BAY students also interviewed anglers on local piers to share safe bay fishing guidelines and important health and safety information.
Follow the link below to read more:
http://baynature.org/articles/apr-jun-2012/safe-fishing-with-kids-for-the-bay

---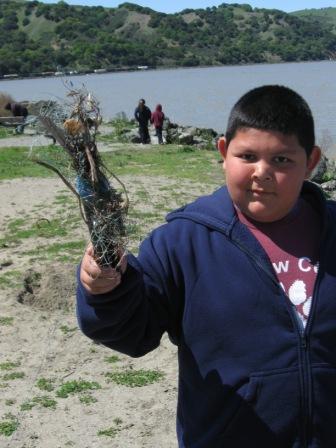 Be an Environmentalist!
KIDS for the BAY students and their families have been learning how to keep the San Francisco Bay clean and healthy by reducing plastic marine debris. This spring 74 classes of KIDS for the BAY students - 2,220 students - cleaned up creek, bay and ocean habitats to remove plastic garbage and prevent it from becoming dangerous pollution. Did you know that more than 1 million birds, more than 100,000 whales, seals and turtles, and countless fish worldwide are killed by plastic debris each year? These deaths occur through entanglement, suffocation and starvation by ingestion. Please help by REFUSING to buy products in plastic packaging, REUSING plastic materials as much as possible and RECYCLING plastics to help prevent the problems of plastic marine debris.
For more information, follow this link to the California Coastal Commission web site:
---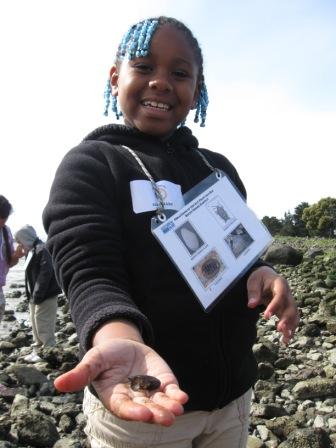 KIDS for the BAY Environmentalists!
Please join our 20 Year Anniversary Gift Campaign and make a donation to help us raise $60,000 to reach our goal of 60,000 Inspired Environmentalists by fall 2012! Simply visit our website at www.kidsforthebay.org and click on "Donate".
Any donations of $250 or more will be matched by the Dean Witter Foundation to double your gift. If KIDS for the BAY can raise $20,000 from our donors in gifts of $250 or above, the Dean Witter Foundation will match each gift up to $20,000.
---
KIDS for the BAY on KPFA 94.1 FM
On Friday, June 15, KIDS for the BAY
Executive Director and Founder, Mandi Billinge, was featured on KPFA 94.1 FM's "Terra Verde" radio show.
Mandi had the opportunity to talk about how KIDS for the BAY integrates environmental action and environmental justice into our work.
Please take a moment to listen to the show and write a comment for us!
---
Follow KIDS for the BAY on Facebook
Visit our Facebook page to see posts from our student participants, pictures from a recent environmental action project and much more:
---