IN THIS ISSUE...
Legacy Gala Awards
Boat Cruise Tickets
Featured Events
News
Workshops + CE Hours
CHAPTER NEWS + EVENTS



Legacy Gala Awards - Nomination Deadline This Wednesday


This year the Chapter has introduced an awards program for its largest networking and fundraising event of the year. The awards will recognize projects and individuals that demonstrate advancement in the green building industry in Southern Ontario. Nominations must be submitted before Wednesday, July 31st.
Thank you to our event partner, TRCA and our first committed sponsors: Enbridge and Bentall Kennedy at the gold level and Mars Drinks and TD Bank at the silver level.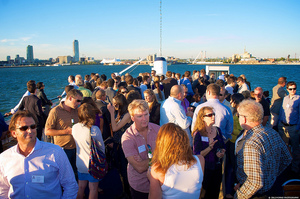 Boat Cruise Tickets Now on Sale




Join us at our Third Annual Chapter Boat Cruise on Wednesday, September 11. Don't miss this opportunity to attend another networking event while exploring the revitalization project of Waterfront Toronto followed by dinner and a cruise through the islands! Click here to read more or to purchase tickets.
Featured Professional Development and Events
We've posted the entire 2013 CaGBC course schedule on our website and you'll notice that we have a jam-packed summer course lineup! Below are some of the highlights:

GREEN BUILDING NEWS

New LEED Certifications in Ontario
Congratulations to the 41 Canadian projects that achieved LEED certification in June! Twenty four of these were Ontario projects, most of which have been listed below. See our Ontario Green Building Map for more buildings.
June
Conroy Public Works Yard (Ottawa) - LEED NC Silver
Apollo Health and Beauty Care (Toronto) - LEED NC Silver
500 Wellington

(Toronto) - LEED CS Certified
Trenton North (Brighton) - LEED NC Silver
Morrisburg (Williamsburg) - LEED NC Silver
West Lorne (Dutton) - LEED NC Silver
York University Life Sciences Building (Toronto) - LEED NC Silver
TD Bank Tower

(Toronto) - LEED EB: O&M Gold
Mapleglen Residences

(Vaughan) - LEED NC Gold
Sun Life Financial Centre (Toronto) - LEED EB: O&M Gold
Huron Early Learning Centre (Ottawa) - LEED NC Silver
Frenkel & Moher Residence (Ottawa) - LEED for Homes Platinum
Vaughan Fire & Rescue Service FIRE STATION #7-10 (Vaughan) - LEED NC Gold
Target - T3729: Toronto Danforth (Toronto) - LEED for Retail (NC) Certified
Appleby Ice Centre (Burlington)

- LEED NC Certified
Milton Sports Centre Expansion

(Milton) - LEED NC Gold
Target - T3639 (Ajax) - LEED for Retail (NC) Certified
Target - T3753 (Hamilton Central) - LEED for Retail (NC) Certified
70 University Avenue (Toronto) - LEED EB: O&M

Gold
111 Richmond W Revitalization (Toronto) - LEED CS Gold

How Canada's Largest City is Reducing its GHGs
Toronto has been quite successful in lowering its greenhouse gas emissions. Read about the policies and strategies that are making it happen here.
Waterfront Toronto's 1st Sustainability Report Shows Progress
Waterfront Toronto has launched its first Corporate Social Responsibility and Sustainability Report. Access the full report or read about the highlightes here.
Green Building Leaders Declare Freedom from Toxics
Indoor environments can be 2 to 5 times more polluted than outdoor air. Many manufacturers and trade organizations are unwilling to disclose environmental information on their products, but new policies and programs may soon change this. Read more here.
Four Myths About Green Product Declarations
Transparency is quickly becoming a requirement for doing business. Read about the various product disclosure types and their importance here.
Competition in GTA Helps Drive Demand for Energy Efficiency
In 2010, there were 35% more homes in Canada than in 1990, but the emissions of greenhouse gases from all houses had fallen by nearly 6%. Read why here.


UPCOMING WORKSHOPS, CE HOURS & EVENTS
Check out some of our upcoming green building workshops, opportunities to gain CE hours, and other exciting events below:
Quick News: Best of Twitter
@ CaGBC-GTC

@CanadianWater After TOstorm XCG stresses need for municipalities to plan for extreme weather.

@CBC Toronto Electric vehicles may put 'disruptive load' on grid

@andrealmarch Way to go McGill!! The Greening of Canadian Campuses

@HuffPostGreen Could this nifty invention, called the Bird Brick, save our avian pals?

@HuffPostGreen Obama apparently is waging a war on ceiling fans, and boy are House Republicans mad!

@ClimateReality sierraclub reports coal plants most toxic US water polluters.

@GoGreenSaver Compare electrical generation in Ontario to some other North American regions.