Youth Forum Spreads Abstinence Awareness

Youth panelists and speakers discussed the benefits of abstinence, including how it can strengthen the family, during a youth forum held March 9 as part of the Fourth Abstinence Awareness Week in Washington, DC, March 8 to March 14.

About 100 participants heard panelists from Howard University, American University, and the University of Maryland. Ashley Walker, a business major at Howard University, quoted a Bible verse about men and women being God's Temple and said it's that simple. "You cannot let any and everything up in your Temple," she added.
I'm abstinent really for other people, my siblings, and ultimately the community, says Yun-a Johnson, an American University freshman. Abstinence isn't just an individual issue, she explains. The choice you make affects others.
"I believe abstinence is important because condoms may protect against [some of] the physical consequences of having sex, but what about the emotional and spiritual, and mental aspects," said Angela Minto, a senior at Howard University.
Read Media Reports:
Accuracy In Media Report
Now Public
The Hilltop-Howard University
The District Chronicles
Servants without Borders to hold Youth Forum & Benefit Event April 19th

Servants without borders & the Philadelphia Community Baptist Church will hold a free event,
"Infected, Affected, Effective: HIV/AIDS Prevention Starts With You"
on April 19th at 5 pm at the Washingotn Family Church National Cathedral, 1610 Columbia Rd. NW, Washington, DC 20009.
All it takes is "One". You can be the Change that has come....
If you believe in The Power of One and can give to the cause, please click on the link below and make a donation (every $1.33 counts). Then forward this email to at least 10 people you know would be advocates for change. Prayerfully they will pass it on and together we will give a new meaning to the phrase "Change Has Come". Please join Servants Without Borders and the Philadelphia Community Baptist Church in the fight against the spread of HIV/AIDS. Together yes we can eradicate HIV/AIDS in America and across the globe. Donate Now by clicking the Link Below:
All proceeds will assist with making the Ultra Teen Choice HIV/AIDS prevention programming available in more communities.
ULTRA Teen Choice youth testify before City Council youth panel
Angel Peters and Tierrra Glymph, members of the ULTRA Teen Choice Service Club and School Without Walls High School Juniors, testified before the monthly City Council Youth panel chaired by DC City Council Chair Vincent Gray. Both youth advocated for the importance of their right to choose to participate in a program that supports them in staying sexually abstinent.
Significantly, both Council Chair Gray and Ward 7 Councilmember Yvette Alexander asked if ULTRA Teen Choice taught about 'other methods of prevention', implying that somehow Tierra and Angel were deprived of lifesaving information, when in reality they have been deprived of a program that can support them in a lifesaving activity, sexual abstinence. In response to that line of questioning, ULTRA Teen Choice co-founder Richard Urban wrote to both councilmembers asking them to clarify whether or not they understand what abstinence centered programs like ULTRA Teen Choice do. As of yet, neither councilmember has replied.
You can contact Chairman Gray at:
vgray@dccouncil.us
Tel: 202-724-8032
And Councilmember Yvette Alexander at: yalexander@dccouncil.us
Tel: 202-724-8068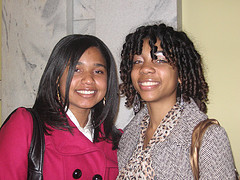 Tierra (L) and Angel