May is the month of the co-op!
The United Nations declared 2012 the Year of the Co-Operative, so Roots decided to bring this attention to the local level and organized to have the City of Worcester proclaim MAY 2012 as WORCESTER'S MONTH OF THE CO-OP.
Excerpt from the Mayoral Proclamation: "WHEREAS: The cooperative movement is alive and strong in the City of Worcester, MA, including worker cooperatives, a consumer food cooperative, housing cooperatives, artisan producer cooperatives, a time-banking cooperative, financial cooperatives (credit unions), and other membership-run cooperatives; and
WHEREAS: The City of Worcester recognizes of the contribution of cooperatives to urban economic development with regards to unemployment and underemploymen."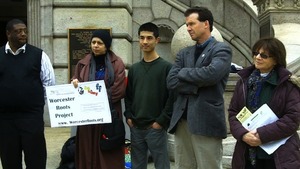 Find Month of the Co-op Press Conference TV coverage at Minute 4:00 in the clip below (or linked here):
Hop on the Co-op Caravan
Get on your Bike or in a vehicle - go on the tour of Worcester area cooperatives, learn about all the goings-on that support our solidarity economy. Come on a fun-filled caravan to learn about all the products, services and initiatives we can become part of and support that strengthens our community and stimulates economic development.

Sunday, May 20th, 2012, 4pm
at Stone Soup Community Center, 4 King Street, Worcester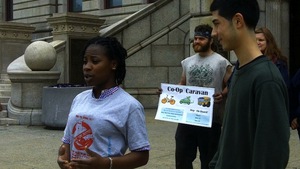 Co-Op Caravan Day 1 was a BLAST – and a very educational one at that. Seven folks on bicycles and seven folks in a minivan wound their way through Main South on Sunday May 6 visiting examples of Worcester's solidarity economy.



First stop was Woo-Daddy Waffles where owner Zali spoke of creating a space where community can come together.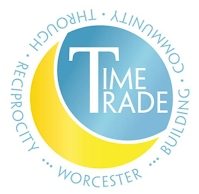 Aria from Worcester's Time Trade spoke next since Woo-Daddy accepts "time credits" to help pay for brunch. http://sites.google.com/site/timetradeworcester.
The next stop was a house where Worcester Roots' youth-led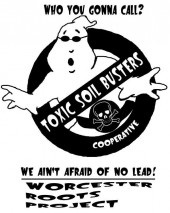 cooperativeToxic Soil Busters had done lead remediation and had built raised beds for healthy gardening (www.worcesterroots.org/projects-and-programs/toxic-soil-busters-co-op)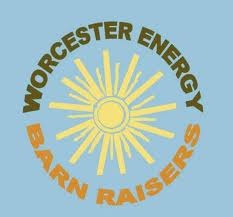 and where Worcester Energy Barnraisers (WEB) had done work as well.

Next leg of the caravan headed down the street and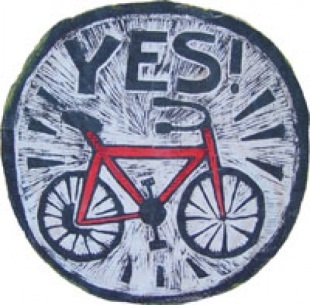 around the corner to Worcester Earn-A-Bike (worcesterearnabike.org).
We then headed back to "the shop" home of Empower Energy Co-op (www.empowercoop.com) who was holding their MayDay HeyDay festivities and expo.
Caravan riders were excited to learn about Worcester's cooperative ventures and green and solidarity initiatives that support Worcester's local economy and supports strong, empowered communities.
Events and Collaborations...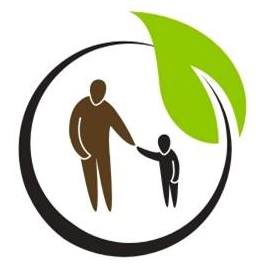 Solidarity Economy Conference: Worcester SAGE (Solidarity And Green Economy) Alliance (formerly Worcester Green Jobs Coalition) has begun to organize the 2nd annual Green Solidarity Economy Conference – SAVE THE DATE: Sat. September 22nd 2012. Join us for the next conference planning meeting at 5:30pm on Thursday, May 10th at 5 Pleasant Street 3rd floor, Worcester. Or come to the next Worcester SAGE Alliance general meeting on Thursday, May 24th at 5:30pm at 41 Freeland Street 1st floor, Worcester.
Community-Labor Coalition: Worcester Roots Project is part of a new effort to form a Community-Labor Coalition, with the first task to pass a Responsible Employers Ordinance and will continue the fight for local jobs, pre-apprenticeship programs and equity in hiring of women and people of color. We made an first public appearance at the May Day (International Workers Day) rally at City Hall on May 1st (read T&G coverage HERE).
New England EJ Summit: We are also helping host the New England Environmental Justice Summit on Saturday, June 9th, 2012 at Clark University's Higgins University Center, 950 Main St, Worcester. It's a free event and we encourage anyone working on environmental justice issues to register by May 18th at: http://newenglandejsummit.eventbrite.com.
Green and Healthy Homes Coalition: Roots remains active in the Worcester Green and Healthy Homes Coalition, which has recently secured a $2.5 million HUD grant to continue lead abatement and education/outreach work. Meanwhile, the coalition explores other healthy homes issues such as asthma.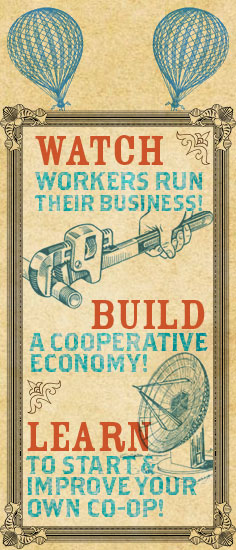 National Co-op Conference: United Federation of Worker Cooperatives Conference in Boston June 22-24th - Toxic Soil Busters will be presenting, sign up by May 18th!
Co-op Power
Roots is initiating discussions around the formation of a Local Organizing Council to be part of Co-op Power, which will provide important support and invaluable technical assistance in our mission to strengthen Worcester's solidarity and green energy economy by helping to form community-owned business and sustainable energy projects. The next meeting is Tuesday, June 5th, 4:00pm at Marsh Institue, 16 Claremont St, Worcester - get in touch if you're interested.
We've Got the Power Community Organizing Training a success!
The 2nd Annual "We've Got The Power" Training had a great seven week run with thirty participants showing up consistently for workshops on power-mapping, house-parties, door-knocking, facilitating effective meetings and other community organizing skills. The group, who ranged in age from 16 to over 60, spanned a wide range of experiences and ethnicities. "The best part of training," said one participant, "was getting to know everyone."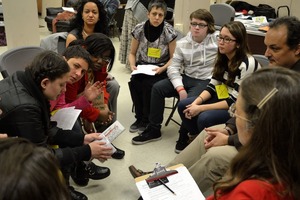 The evaluations named weeks 5 and 6 on oppression as especially meaningful sessions. The presentations, discussion and the small group activities exploring systemic and internalized racism, sexism, classism, heterosexism, ageism, prejudices against transgendered folks and immigration status were powerful (the list of presenters is
here
). On the final night Certificates of Completion were distributed and we had a special guest from Brazil, Daniel Tygel, who spoke on the solidarity economy in Brazil. He also related it to the changes we want to make in our own communities to benefit all the people and the cooperative movement that is growing in Worcester (see separate article).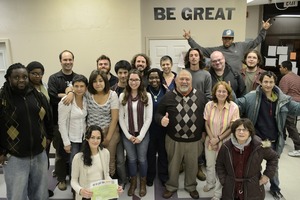 A BIG THANK YOU to our co-sponsors and the individuals from these organizations that facilitated different parts of the training
Worcester Lead Paint Abatement Program / Worcester Green and Healthy Homes Coalition
Community Builders at Plumley Village
Stone Soup
Neighbor to Neighbor
EPOCA
Occupy Worcester
Worcester Anti-Foreclosure Team
Co-op Power
Southeast Asian Coalition of Central Mass
All this is possible, only with your help!
PLEASE CONSIDER...
Making a personally meaningful, tax-deductible donation online or send a check to Worcester Roots Project, 5 Pleasant Street, Worcester, MA 01609
Your donation and monetary support allow us to provide staff time, technical assistance and training to Worcester youth working for economic justice and safe, sustainable communities.




Thank you for your support!


Worcester Roots members and supporters
Amelia Peabody Foundation
UMass Memorial Community Benefits
Haymarket People's Fund
Cardinal Brook Trust
Greater Worcester Community Foundation
South High Community Service Learning Council

Make a tax-deductible donation online today.


Want to know more about what your donation supports? WATCH THIS 3.5 MINUTE ENTERTAINING VIDEO!



Forward this message to a friend | 5 Pleasant St #3, Worcester, MA 01609 | (508) 343-0035 | http://WorcesterRoots.org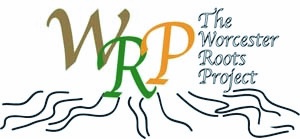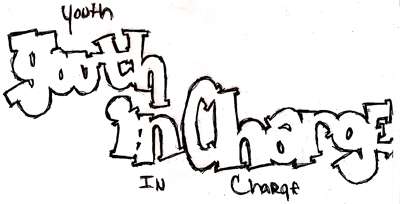 Featured Funder:
Amelia Peabody Foundation

Thank you for your support of the Future Focus Media project!

Research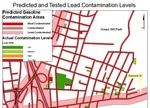 Roots Wish List
Wish list:
Electric kettle (hot pot)
Office supplies (scissors, pens, tape, markers, paper, envelopes, etc.)
White board
Gardening tools (shovels, trowels, rakes, etc.)
Video equipment (memory for macs, HD cameras, memory cards, mini DV tapes, mics, lights)
Picnic tables
Vacuum cleaner
Large planters
Landscaping equipment (String trimmer, ez-loader, trailer, wheel barrows etc.)
Pressure treated lumber (4x4's especially)
Bricks, blocks, pavers, stepping stones
Forward this message to a friend |
5 Pleasant St #3, Worcester, MA 01609 |

(508) 343-0035

|
http://WorcesterRoots.org