Coop Conversion Training!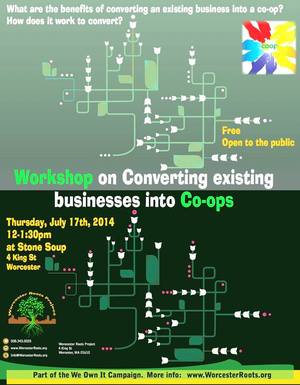 What are the benefits of converting an existing business into a co-op?
How does it work to convert?
Join us
at 12:00pm - 1:30pm
at the Stone Soup Community Center (4 King st, Worcester MA)
Speakers:
1. Kevin Harrington
, local activist and entrepreneur considering converting his
robotics company
to a worker co-op.
2. Carolyn Edsell-Vetter,
A Yard & A Half Landscaping Cooperative, Inc. (a co-op conversion from Boston)
http://www.ayardandahalf.com
Third Roots General Assembly
Worcester Roots is holding its 3rd General Membership Assembly on Wednesday July 9 at 5 PM at the Stone Soup Community Center (4 King St).
On the agenda will be the benefits of membership, the We Own it Campaign, and the future efforts of Roots in environmental justice and building the Solidarity Economy!
Come by, hang out, and eat food!
Wednesday July 9
5 PM
4 King st, Worcester MA
Eastern Conference for Workplace Democracy Comes to Worcester!
The Eastern Conference for Workplace Democracy is coming to Worcester in 2015!
This conference meets biannually to help grow the cooperative movement and promote workplace democracy and worker ownership. We are excited to be selected as the host of next year's conference! A real opportunity to grow the regional movement and showcase the local solidarity economy!
Toxic Soil Busters Finish Barclay St Site
!
Toxic Soil Busters have finished their remediation site on Barclay st.
Now the neighborhood kids can roam free without fear of lead soil!
Check out the photos!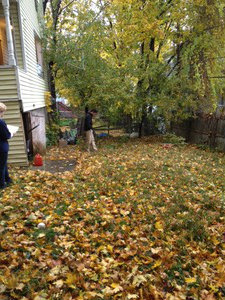 Before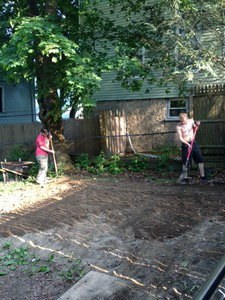 During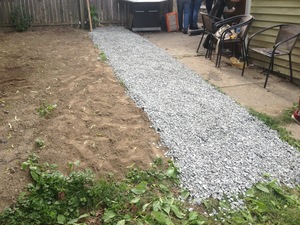 After
The Diggers Landscaping Cooperative
The Diggers are a worker cooperative that is being incubated by Worcester Roots. We specialize in permaculture design and installation.
Call us for clean up, maintenance , carpentry, installations, stone work, and anything in between!
(774) 314-7344!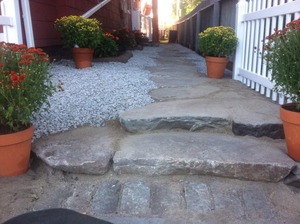 Newly finished stone walkway!
All this is possible, only with your help!
Donate Here!


Forward this message to a friend | 4 King st, Worcester, MA 01610 | (508) 343-0035 | http://WorcesterRoots.org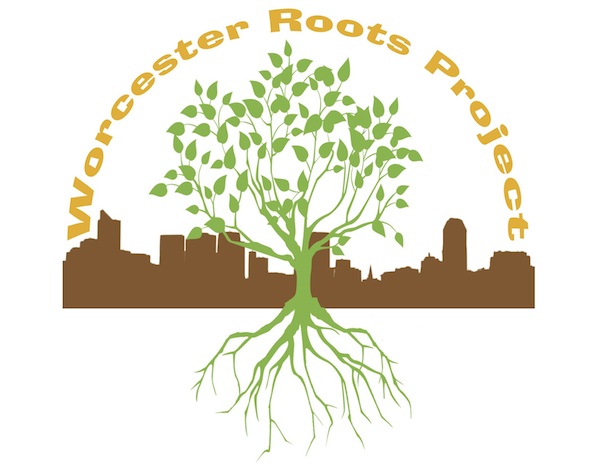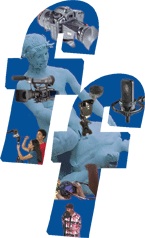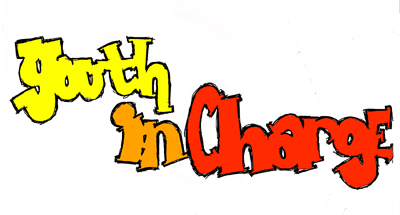 Address:
4 King St.
Worcester, MA 01610

---

Wish list:

Electric kettle (hot pot)
Office supplies (scissors, pens, tape, markers, paper, envelopes, etc.)
White board
Gardening tools (shovels, trowels, rakes, etc.)
Video equipment (memory for macs, HD cameras, memory cards, mini DV tapes, mics, lights)
Picnic tables
Large planters
Landscaping equipment (String trimmer, ez-loader, trailer, wheel barrows etc.)
Lumber (4x4's especially)
Bricks, blocks, pavers, stepping stones