Youth Organize a Networking Banquet!
Worcester Roots Project youth is teaming up with Youth Empowerment and Activism to host a Networking Banquet
at the YWCA, Salem Square, Worcester,
on Saturday, August 22, 2015
beginning at 5pm.

This is an easy, fun and delicious way to get involved in your community, not to mention a terrific opportunity to increase the diversity of your social networks in the city, starting with conversations over dinner, getting to know these amazing young people and the range of professionals who support their work. Come be inspired by these incredible youth and the thoughtful work they are doing to fight the effects of institutional racism. Tickets are $12 for adults, $6 for youth. To learn more and get your tickets today, contact Melinda Duah at Melinda@worcesterroots.org or 774-204-3583. Tickets also available at the door.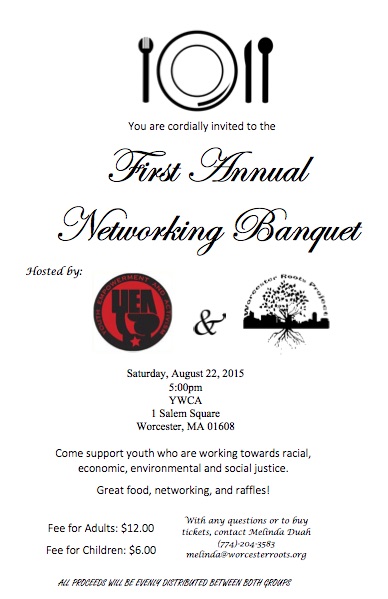 Co-op Movie Nights
!
Join Worcester Roots for film screenings and discussions about co-ops and the solidarity economy on Wednesday evenings in August, 6-8pm, at Stone Soup,

This upcoming Wednesday we will be screening SHIFT CHANGE (http://shiftchange.org/) with a discussion to follow. Refreshments will be provided.

SHIFT CHANGE is a documentary film by Melissa Young and Mark Dworkin. It tells the little known stories of employee owned businesses that compete successfully in today's economy while providing secure, dignified jobs in democratic workplaces. Shift Change highlights worker-owned enterprises in North America and in Mondragon, Spain. The film premiered in 2012 declared by the U.N. as the "International Year of the Cooperative."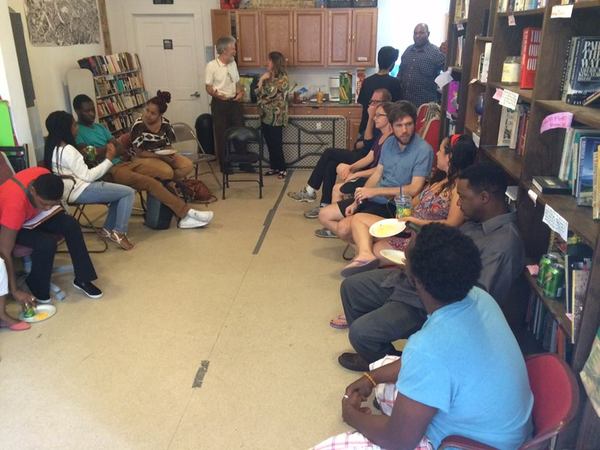 Check out the trailer: https://www.facebook.com/shiftchangemovie/videos/vb.357553017598125/3648961104911/?type=2&theater

For the next Wednesday evenings in August Worcester Roots will be screening these other short films:

The Take, about occupied factories in Argentina (8/19/15)

Can We Do it Ourselves? about economic democracy (8/26/15)Trailer: https://www.youtube.com/watch?v=PL5Xae13FMo
Fall Co-op Academy Interest Form
Have a cooperative business idea? Join us for the in-depth training from October through early December 2015 covering topics such as making membership meaningful, financial statements, marketing, and legal entities.
Fill out the interest form for the Fall 2015 Worcester Co-op Academy here.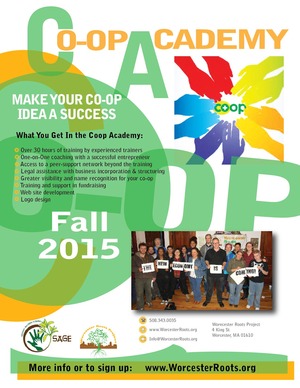 What past participants said:
"Informative and fun."

"Co-op Academy is a great opportunity for newly founded and start-up co-operatives to get support and network with other cooperatives to build stronger individual cooperatives and a cooperative movement."

"The Worcester Co-op Academy has reinvigorated my commitment to the Diggers Landscaping Co-op and given me confidence that we can close the gap between our internal capacity and what we need to know and do to become a legal entity."
Become a Roots Member!

In addition to being able to have a say in campaigns and the direction of the organization, members participate in trips and conferences. Membership benefits also include 10% discounts at several local co-ops.
Fundraising Show
Worcester Roots Project is hosting another show, this time come hang with us at The Shop and listen to some great music and meet some rad people! Please donate between $5-10 so everyone one can get paid (WRP and the bands) and continue working all their awesome projects!

Wonderful music talents of:
Eye Witness: Indie/Folk Rock from West Boylston!

Ghost Guest: Worcester Folk Punk

Ryan Kayhart: Experimental from Worcester

Jon, The Archivist - Worcester Folk

More info: Labbe - Labbe@WorcesterRoots.org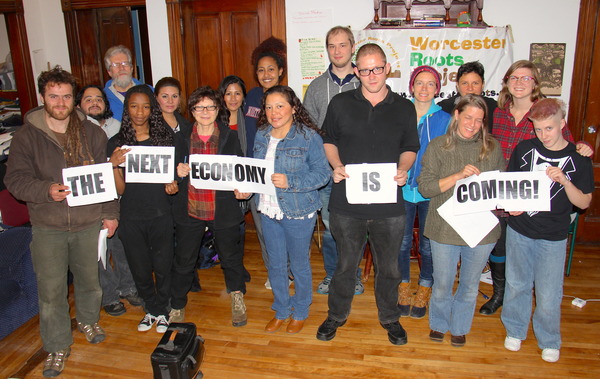 All this is possible, only with your help!
Donate Here!


Forward this message to a friend | 4 King st, Worcester, MA 01610 | (508) 343-0035 | http://WorcesterRoots.org
Nuestro Huerto is always in need of helping hands on the farm! Help harvest, prepare planting beds, seed, transplant and more while making new friends. We would love to have you come for an hour or a whole morning! Whatever works for you. All are welcome and please bring a friend!

Check out the volunteer hours out on the website www.nuestrohuerto.org. Nuestro Huerto can be reached at: NuestroHuertoWorcester@gmail.com




---

Future Focus Media and Women In Action have received funding from MassVote to register people to vote. The grant will target individuals recently released from Worcester County Correctional Facilities. FFM will produce a skit utilizing the talents of Worcester County youth to be actors, actresses, camera people, and editors. The skit will have a musical component to it. We will have todays sounds to compliment the information of registering people to vote, finding their polling stations, and then how to find information on the candidates. The skit will be aired online, local public access channels, and possible submission to the Central Mass Film Festival. The project will begin August 2015. If you are interested in being involved please contact Cedric @ cedric@futurefocusmedia.org




---

Get more frequent updates: