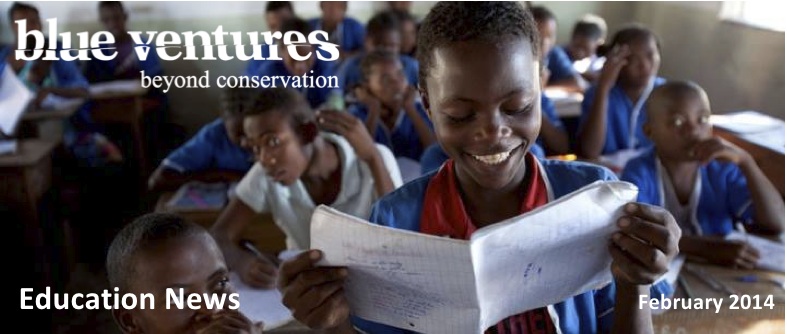 Welcome to Blue Ventures' education and school scholarships newsletter - bringing you the latest updates about our work in Velondriake, southwest Madagascar!
All-round support provided to over 200 scholars
Children in rural southwest Madagascar face many barriers to education including poverty, food insecurity, household responsibilities, lack of parental guidance, gender norms and a school system that encourages individual rote memorisation rather than critical thinking or team work.

Thanks to all of the generous donations that we have received for the 2013-2014 academic year, we are working to tackle these barriers and provide over 200 students in one of the poorest regions of Madagascar with access to a meaningful education!
During the past few months, our education team has been travelling around the Velondriake area, visiting schools, running environmental and health education sessions, and speaking with families, teachers, students and community leaders in order to broaden our understanding of their successes and needs. This has allowed us to see first-hand the issues facing each of these groups, and devise strategies to improve education for children in this region.

In addition to supporting our scholars with school fees, uniforms and stationery, we are also providing rice to primary and middle school students from outside of Andavadoaka, who are studying away from their families. These students typically have to walk or sail many hours early on Saturday mornings to get food from their families and return again late on Sunday evenings. Our monthly provisions allow these scholars to use the weekends to focus on their studies and participate in our extra-curricular activities. We are also providing
scholars at high school in Morombe with
a small monthly stipend to help with their housing and food costs.
Without your generous support, we would not be able to provide these basic necessities that are often barriers to students completing their education.
As a complement to our school scholarships programme, we are also increasing our efforts to build the capacity of local teachers, provide students with integrated extra-curricular activities with opportunities for critical thinking and team work, and empower local youth to develop the leadership skills and social confidence they need to become active members of their communities.

Many thanks for your kind support!

Warm regards,

Paul
Velondriake Education Coordinator
A new youth leadership initiative is developed in Andavadoaka

We have adapted our Connecting Classrooms initiative (originally started through a partnership with UNICEF) to support local youth to develop their communication skills, enabling them to explore new areas of knowledge through research and debate, create and carry out community surveys regarding socially and environmentally relevant topics, and improve their computer skills in order to enter data and present their findings.



This initiative aims to build a pool of local youth with well-rounded skill-sets that can be employed to contribute to integrated education, sustainable development and marine conservation in their communities. Students from our Connecting Classrooms club have been organising monthly talent shows for all community members to share songs, poems and stories, with the aim of increasing social awareness of environmental and health issues.




Teachers take on Saturday School and a French-English club is established

The education team successfully began piloting a new Saturday School curriculum in October, working closely with local teachers to devise a series of lesson plans on environmental and health topics for primary school-aged children. These complement the national curriculum, giving teachers and students more ownership over their work and studies as they relate to the environment that they live in. The sessions challenge students and teachers to work together in order to solve problems and find connections across subjects. With the leadership of local teachers, community members and former BV scholars, we look to spread this programme throughout the Velondriake area in 2014.

We have also been working with the Steph'Andava Association to establish a weekly French-English club that draws on games, theatre and public speaking in order to engage students in conservation and help to make them feel more comfortable speaking these foreign languages. It is open to all so each week students, teachers and other community members come together to share this interactive learning experience.
Youth clubs continue to expand with activities in Morombe

Velondriake's youth clubs are continuing to grow each month and increase their activites. Our high school scholars are leading Club Tsontso, now composed of around 60 in-school and out-of-school youth based in Morombe. Working alongside members of the parents' association there, they are continuing their goals of leading community development. Most recently they organised an event to clean the large market in Morombe, which was hit by a tropical storm – receiving praise from vendors, community members and public officials for their efforts.

Meanwhile, the girls' club in Andavadoaka, made up of middle school students from across the Velondriake area, has grown from 20 to 70 members during the first two months of the school year. They have been engaged in reproductive health and personal hygiene seminars, extra tutoring and homework sessions, and English and French lessons.