HAPPY HOLIDAYS FROM NWSE!
FAREWELL, FALL STUDENTS!
To those of you who only joined us for the first semester - we are sad to see you go!
We hope you had a wonderful few months in the U.S. and that you will take home many happy memories of your school, your community, and all the friends and new family members you have gained during the last few months. Please keep in touch and look out for information about joining the NWSE alumni group!
NEW BLOG POSTS
Ever wondered where America's Christmas traditions come from? Or how other cultures around the world celebrate the New Year? Learn about these traditions and more in this month's NWSE blog posts:
SUBMIT YOUR ARTWORK!
Each year, the Council on Standards for International Educational Travel, CSIET, features artwork by an exchange student in its annual book of exchange student organizations. This year's contest theme is the transformative spirit of youth exchange. The winner of the art contest will win $500!
To learn more, visit www.csiet.org.
Alice from France hanging out with her friends - and a reindeer!
NWSE students marched for world peace in the annual holiday parade in Corvallis, Oregon - with Yuri (Japan), Baiel and Daniel (Kyrgyzstan), Akmaral (Kazakhstan), Paulina (Germany), Limiao (China), Yuya (Japan), Klara (Poland), and Enerel (Mongolia)
Justine from France, her host brothers, and three wise snowmen
Give the Gift of Exchange
REFER A HOST FAMILY
Help us give the gift of student exchange to deserving young people during the 2018-19 school year! We will provide a $175 airline gift certificate for an airline of your choice for referring a family that hosts one of our students. To refer a host family, email us at host@nwse.com.
UPCOMING HOLIDAYS
Christmas (Dec. 25), observed as a national holiday in the U.S., is a Christian holiday that celebrates the birth of Jesus. It has also become a cultural holiday for many non-Christians. People celebrate by exchanging gifts and decorating their homes with lights and evergreen trees.
Kwanzaa (Dec. 26 to Jan. 1) is an African American holiday that emerged from the Black Pride movement to celebrate black identity and culture. Many celebrate it by reflecting on the achievements of the past year and planning for the next year.
New Year's Eve (Dec. 31) is a national holiday in the U.S. that marks the beginning of the new year in the Gregorian calendar. Many people attend gatherings on New Year's Eve to welcome the new year at midnight.
Martin Luther King, Jr. Day (Jan. 15) commemorates the beloved leader of nonviolent activism and civil disobedience during the Civil Rights Movement. Many choose to use this holiday to do volunteer work in their communities.
CONTRIBUTE
We always welcome your program questions and suggestions. Please email us at nwse@nwse.com or call our office at 206 527 0917. Questions we include in our newsletter will be published anonymously.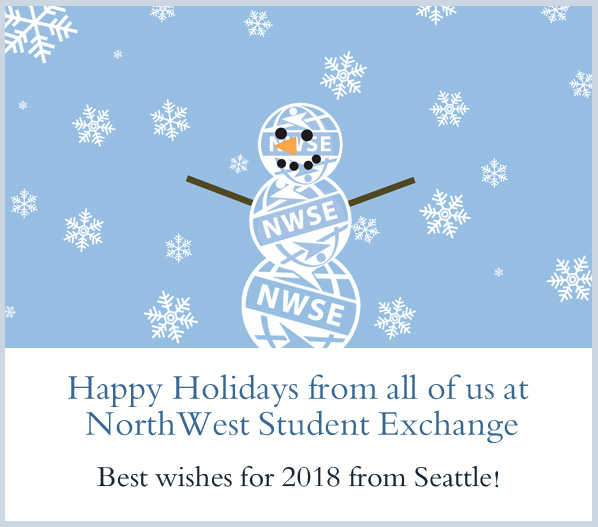 ---
NorthWest Student Exchange
4530 Union Bay Pl NE
Suite 214
Seattle, Washington 98105
US


Read the VerticalResponse marketing policy.