Governor's Budget Includes – Yet Again – Deep Cuts
The Governor's proposed budget was released last week (five days early) and the pattern of deep cuts to social services persists for yet another year—although Brown's proposal, unlike those of his predecessor, continues to include revenue as a part of his budget plan. For a full summary of the Governor's proposed 2012-13 budget, visit the California Budget Project at www.cbp.org.
While we're said to be on a trajectory towards economic recovery from the recession, the latest forecasts are more pessimistic than they were in May. The pace of recovery is much slower than anticipated, and the jobless rate in the US is actually expected to increase by 0.1% in 2012, to 9.2%. In California, there has been some job growth, but less than expected, and the state's unemployment rate is projected to remain at 12% this year. The housing crisis continues to take a toll and property tax revenues are under projections, contributing to the state's looming deficit, now totaling $4.1 billion for 2011-2012 and $5.1 billion for 2012-2013.

The current $4.2 billion in proposed cuts include:
• $946.2 million in reductions to CalWORKs, specifically to "child-only" cases and decreasing the amount of time that CalWORKS can spend in welfare-to-work activities.
• $517 million in reductions to child care assistance programs and preschool for low-income families, eliminating approximately 62,000 child care slots across the state.
• Other deep cuts to MediCal, public health and In-Home Support Services.

The other potential cuts, namely to K-14 education, are contingent on whether or not the Governor's proposed tax initiative passes at the ballot box this coming November.

Taxes and Schools

Governor Brown's proposed budget assumes that voters approve a November ballot measure that would increase the income tax on high-income Californians and temporarily increase the state's sales tax by 0.5%. The higher income tax would apply to married taxpayers earning $500,000 or more; it includes an increase of 1% on married taxpayers earning between $500,000 and $600,000, a 1.5% increase on those earning between $601,000 and $1 million, and a 2% increase on those earning above $1 million. This proposal is estimated to raise $6.9 billion in revenue for the current and next fiscal years (2011-12 and 2012-13), if passed by the voters. In the Governor's proposal, these funds are earmarked for public education; if revenue is not raised, then deep and tragic cuts to education will go into effect.

If the revenue measure does not pass, a mid-year cut of $5.39 billion will be triggered, $4.8 billion of which targets K-12 schools. This includes the state not repaying the $2.2 billion it owes the public education system for the past years of deferred payments. It also includes an actual reduction of $2.6 billion, which according to Governor Brown would "equate to shortening the school year by more than three weeks." His proposal also includes a consolidation of categorical funding and the creation of a weighted student formula to guide how funding is allocated to schools.

There are several, arguably more progressive, alternative proposals to Governor Brown's proposed tax initiative that, for example, do not include the more regressive sales tax increase. We'll keep you posted with more information about these proposals in the coming weeks and months!

How Does the Budget Impact Me?

We are offering two opportunities to hear directly from insiders about the budget picture for community services and schools. Join us (and meet our new Executive Director, Neva Walker, if you haven't already…)!

City Budget Briefing
Thursday, January 12th, 1:00-3:00pm
Children's Council of San Francisco: 445 Church Street, Room 120
Come hear from City Controller Ben Rosenfield, Mayor's Budget Director Kate Howard, and Coleman staff about the current budget landscape for the City and community services. Please RSVP to Christina Canaveral at ccanaveral@colemanadvocates.org.

SFUSD Budget Briefing
Thursday, January 19th, 10:00-12:00pm
SFUSD: 555 Franklin Street, Room TBD
Come hear from Deputy Superintendent Myong Leigh and Coleman staff about the current budget landscape for San Francisco public schools. Please RSVP to Pecolia Manigo at pmanigo@colemanadvocates.org.
In This Issue: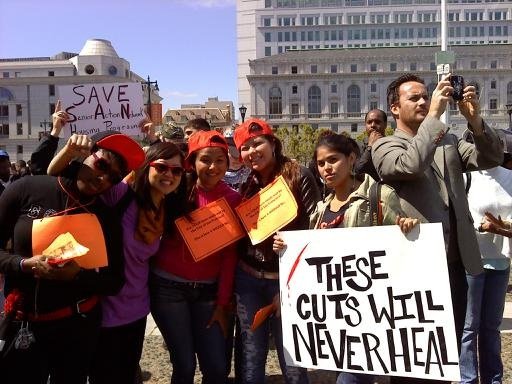 YMAC youth at a rally to stop local budget cuts.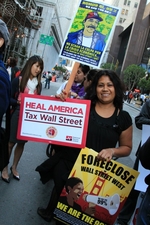 Karen, former parent leader and current Coleman staff, representing at a rally to tax the 1%!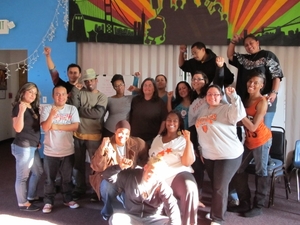 SMAC leaders from City College after a workshop on wealth inequity in the U.S.