Mayor Launches Summer Jobs Program for SF Youth!
Mayor Lee announced the launch of San Francisco Summer Jobs+, the local response to President Barack Obama's national call to action to create pathways to employment for youth this summer. The goal of the San Francisco Summer Jobs+ program is to partner with San Francisco businesses, nonprofits and government agencies to create 5,000 jobs and paid internships for City youth, with a focus on low-income and disconnected young people.

We are thrilled that the mayor is prioritizing solutions to the problem of youth unemployment

*

and, especially, that he has made an explicit commitment to targeting low-income and disconnected young people with his youth jobs program! That being said, we do think it is critical to ensure that outreach is done in all corners of San Francisco and that this new program specifically prioritizes the young people up to 24 years old, from communities with the highest unemployment rates and the greatest barriers to employment, who need additional supports before and during summer employment.

The City and County of San Francisco has committed to create at least 2,500 jobs and internships within existing Department budgets this summer through programs funded by the Department of Children, Youth & Their Families. The Mayor has called on the private sector to create the additional 2,500 jobs.
While we are very excited about the launch of this initiative, Coleman will continue to advocate for the Mayor to prioritize fundraising for existing youth employment programs over courting private businesses for youth jobs.

We believe that if the jobs initiative is to effectively reach, employ, and retain low-income and disconnected youth (e.g. youth in public housing, with juvenile records, in foster care, and immigrant youth) the primary agenda of the initiative should be to build the capacity of existing city youth jobs programs with proven track records of success with the target youth population. We do support strategies to get young people into private sector jobs in San Francisco; and the challenge with a short-term initiative is that it takes time and resources to train and support both disconnected youth as well as their supervisors in private companies, for a successful partnership.

We want to express our STRONG support for the Youth Commission-sponsored resolution (that the Board of Supervisors Budget and Finance Committee approved Wednesday) calling on Mayor Lee to raise $2.25 million from private companies to support city departments' youth jobs programs. It's estimated that a summer job for a youth costs about $2,500 and the proposed fundraising could generate 900 additional jobs!

We will continue to work with youth advocates and existing youth jobs programs to make the case to Mayor Lee that this is the most strategic, solutions-oriented approach to addressing youth
unemployment among low-income and disconnected yout
h in San Francisco.

To read a more detailed description of our workforce policy and budget recommendations, or for more information about our jobs campaign and the issues of family flight, economic inequality, unemployment, and worker exploitation underlying our efforts, visit our website.

For more info about our jobs campaign or to get involved, please contact Christina at ccanaveral@colemanadvocates.org.

* Youth unemployment far outpaces the rate for the general population. Statewide, the not-seasonally adjusted unemployment rate for youth ages 16 to 19 is more than triple the general employment rate at 35.3 percent.
---
Donate to – and join us at – PMAC's Silent Auction!

The PMAC (Parents Making a Change) Silent Auction is right around the corner!

When: Saturday April 28th from 5pm to 8pm

Where: SEIU 1021's space at 100 Kansas Street in Portrero Hill.

PMAC parent leaders at Cleveland Elementary School are holding the event to raise funds for staff technical support for the computer lab that they won last year as part of their parent-led school site "technology campaign". Before Cleveland parents won their campaign to purchase and implement a 28 laptop computer lab, Cleveland was one of the only schools in the district where students didn't have any access to computers, and so were going on to middle school without crucial computer proficiency.

It's not too late to donate! Anything you have to offer that you can imagine someone enjoying or finding useful…we'll take it! Donation examples include free professional services or gift certificates for businesses you are connected to. Or you might consider donating your airline miles or use of a vacation home you have access to. All donations are tax deductible and each business donation will be prominently advertised.

To make a gift donation or to get on the e-vite list for the event, contact Kathy at

kalmendares@colemanadvocates.org.
In This Issue: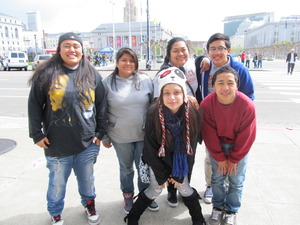 New School: YMAC youth leaders at Coleman's "Our Jobs, Our Future Rally" last month.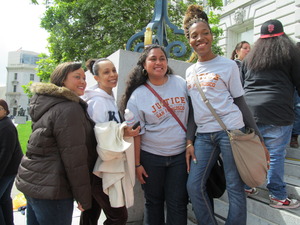 Newest School: SMAC (Coleman's newest program) Leaders from City College at
"Our Jobs, Our Future"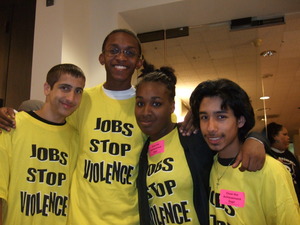 Old School: YMAC youth leaders advocating
for youth jobs in 2008