Join us at City Hall next Wednesday to Demand Job Opportunities for our Communities!
SF youth and families need REAL opportunities to obtain living wage jobs in order to survive economically in this city. Join Coleman Advocates at City Hall for a rally and action to demand increased city investments in proven strategies to address the most urgent barriers to employment for low-income communities of color in San Francisco. Tell the Mayor and Board of Supervisors that it's time to INVEST IN OUR SUCCESS.

Where: City Hall, San Francisco, on the Polk Street steps

When: Wednesday, March 28, 2012 (during Spring Break) at 11:30am

What: Rally on the steps of city hall; followed by youth, parents and community members walking City Hall handing in "job applications" with our workforce development recommendations for the city!

During his fall campaign, Mayor Ed Lee released a 17-point jobs roadmap plan that outlined his vision to create employment opportunities in San Francisco. Unfortunately, the Mayor's jobs plan does not address the employment challenges of those most in need of support - our city's low-income families of color. Coleman staff, members, and allies have spent the last year engaged in intensive community conversations and research, and we have consulted with a broad range of workforce development experts across the country. Our short-term campaign demands reflect what we have learned about obstacles to employment for low-income young people and parents, and the solutions to address them:
• Increase funding for culturally competent job-readiness programs, vocational ESL, and pathways to actual jobs for working class communities of color, particularly for under-served SF neighborhoods.

• Expand job opportunities for youth and transitional aged youth facing the most barriers to employment.

• Expand worker rights education and advocacy and increase accountability for employers.

• Protect funding for the childcare subsidies that working parents need.

• Uphold local hiring in the construction trades and the America's Cup Event.
Questions about Wednesday's action? please contact Christina at ccanaveral@colemanadvocates.org.

For more information about our jobs campaign and the issues of family flight, economic inequality, unemployment, and worker exploitation underlying our efforts, visit our website.

SMAC (Students Making a Change) Leaders Fight to Close the Achievement Gap at City College

Coleman's community college student organizing program, on a shoe-string budget, and in less than two years since its formation, has established itself as a powerful voice for low-income students of color at City College of San Francisco. SMAC advocacy has been central to multiple education equity policy reforms on campus, including English and Math accelerated course implementation, priority registration of SFUSD graduates, improvements to financial aid counseling and application processes, dramatically expanded resources for civic-engagement work-study positions, establishment of a Filipino Retention Program, and the development of a landmark Resource Center for AB540 (undocumented) immigrant students.

Currently, SMAC student leaders are actively engaged in a campaign to reform CCSF placement testing policies so that students have more options for placing into Math and English. Using standard placement test scores as a sole measure of placement (CCSF's current policy) disproportionately prevents students of color from reaching their academic goals.
SMAC has initiated a petition drive to demonstrate broad student support for this reform, and student leaders have already collected more than 500 signatures. Leaders also made their case, and shared their personal stories and challenges related to placement testing, at a recent CCSF Board of Trustees meeting. Students cited multiple studies that have demonstrated the many serious problems with these placement tests:
• The placement test does not accurately determine students' preparedness for required curriculum
• A low
placement score does not mean students require remediation; Using only those scores leads to underestimating students' capacity.
• High school
GPA and transcripts, for example, would help improve accuracy for placing students.
• Using high
school GPA reduces severe errors in placement test results by half.
SMAC is calling on the CCSF Board of Trustees to significantly reduce funding for Placement testing. CCSF spends an estimated $3 million per year for a test whose validity has been said by researchers to be as reliable as, "…[putting] a chart on the wall and [having] monkeys throw darts at it."

Additional SMAC recommendations, related to placement testing, include:
Support the Bridge to Success Pilot Program
This program will implement alternatives to the placement test for incoming SFUSD students
Support Placement Test Results as an Advisory Tool
Use test results as an advisory tool – not mandate – for placement into math and English courses
Implement a Permanent Multiple Measures Assessment
Develop placement alternatives and adopt and implement a permanent multiple measure system
To get more information about SMAC, contact Lena Carew at lenacarew@gmail.com.

And we are asking current and former City College students to support SMAC's efforts by signing their petition! (click here)

Coleman Parent Leader Honored by the Board of Supervisors

As part of San Francisco's Women's History Month Celebration on the 16th of this month, long-time Coleman leader Maritza DiCiccio was presented with a Certificate of Honor by the Board of Supervisors for her community leadership. Supervisor Avalos praised Maritza for her tremendous contributions as the Community Engagement Coordinator at Hillcrest Elementary School, as a tireless and committed parent advocate and organizer, as a Census Outreach Coordinator with Coleman, and as an official spokesperson for Coleman Action Fund's progressive revenue campaigns. All of us at Coleman are so proud of Maritza and we can't think of anyone more deserving of such a commendation from the city!

Coleman Calls for Community Engagement in the Hiring for Deputy Superintendant Carranza's Replacement.

As you've probably heard by now, Deputy Superintendant Richard Carranza has been appointed to replace Superintendent Garcia in July. We look forward to working with Mr. Carranza in this new role! As Deputy Superintendent of Instruction, Innovation and Social Justice for the San Francisco Unified School District, Mr. Carranza has been leading the implementation of the district's equity focused strategic plan. Given that this position is the central leadership role related to Coleman's agenda to close the SFUSD achievement gap, it is absolutely essential that the hiring process be open, transparent, and involve substantive community input. Coleman looks forward to actively participating in this community engagement effort.

Sign Coleman's Campaign Supporter Card!

Please take 30 seconds right now to support Coleman's youth and parent leaders on the front lines of this struggle by signing on to Coleman's Campaign for quality jobs and quality education for SF youth and families. Coleman members are out in their schools and neighborhoods, getting the word out about our campaign and signing people up as campaign supporters. Add your voice and send a message – loud and clear – to the school district and city that ALL youth and families have a right to a secure economic future in our city. Stand with Coleman members by signing up as a Campaign Supporter today!
In This Issue:
•
City
Hall Jobs Action Wednesday 3/28
• City College Student Leaders Fight to Close the Achievement Gap
• Coleman Parent Leader Honored by Board of Supes
• Call for Community Engagement in Deputy Superintendent Hire
• Sign Coleman Campaign Supporter Card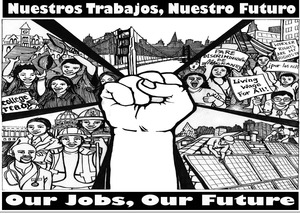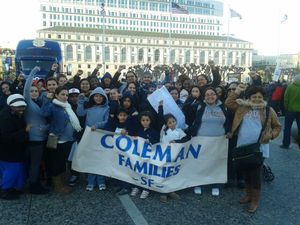 SMAC, PMAC, and YMAC leaders at March 1st "Occupy Education" Action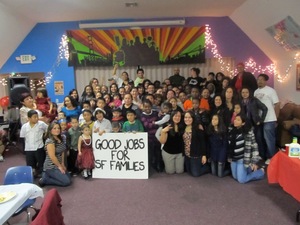 Coleman families, December 2011.