SMAC Wins Historic Shift in Placement Options for Students at City College!

Last night, the City College Board of Trustees voted unanimously to support a proposal that would allow students more choice in placement in non-college level courses. Specifically, the proposal would allow students, after taking the test, to meet with a counselor and choose to place themselves in an English course one level higher than the level tested at, and students would also be able place a level higher in a Math course based on a set of criteria.

Studies have shown that students are more likely to be successful when they have ownership over their education and are academically challenged, and that students are less likely to successfully transfer or even complete their Associate's Degree if they are placed at the bottom of a lengthy course sequence. Students of color, in particular African American, Latino and Pacific Islander students, have been the most negatively impacted by the placement tests at City College; too many students end up, because of placement tests, at the bottom of a lengthy course sequence which could take years to finish. Many other community colleges across the state of California do not use placement tests as the sole measurement of student ability and instead include multiple student assessments to determine placement. And a key study from Columbia University has proven that placement tests have very little predictability for assessing a student's ability to be successful in a particular course. This policy shift, needless to say, has been a long time coming!

Coleman is grateful for the diverse faculty support that SMAC's placement test reform efforts have received. And we recognize and appreciate that both the CCSF Math and English departments have come a long way in supporting the reform proposal. While SMAC and our allies, including representatives from the Mayor's Office and City of San Francisco, SFUSD, and Bridge to Success, were pushing for immediate implementation of the new placement test policy, in the end, a compromise was struck to implement reforms no later than Spring 2013.

More than anything, we want to shine a much-deserved spotlight on the dedication, courage, and brilliance of the SMAC student leaders who spearheaded the campaign to change the antiquated, biased, and ineffective placement test policies at CCSF.

To truly honor these young leaders, and their experiences leading this effort, we feel obligated to also shed light on the shocking disrespect shown to them by key faculty, particularly those in the English department. While students were testifying at last night's hearing, there were teachers in the audience who actually told them to "sit down", in an effort to undermine their voices and their experiences. While the students consistently maintained their dignity and composure, verbal harassment from faculty drove more than one student into the halls to shed quiet tears.

Coleman has been organizing and building student and parent leaders for decades in schools across San Francisco, and never have we witnessed this level of disrespect and shameful behavior, and from the very teachers whose classes these students attend. It was a heartbreaking reminder of the institutionalized racism and pervasive low expectations that exist for students of color at City College.

On the brighter side, we want to express our utmost gratitude to Chancellor Don Griffin, without whose leadership we would not have achieved this education equity victory. Chancellor Griffin announced his retirement at the Board meeting last night and we wish him all the best in his healing and his future endeavors.

And finally, to Trustee Steve Ngo, who championed this policy and pushed hard for early implementation, and to the entire Board of Trustees who unanimously voted for the proposal, we are deeply grateful for your leadership and commitment to closing the achievement gap and improving outcomes for students at CCSF.

For more information about SMAC and Coleman's City College work, please contact Chelsea Boilard at cboilard@colemanadvocates.org.
In This Issue: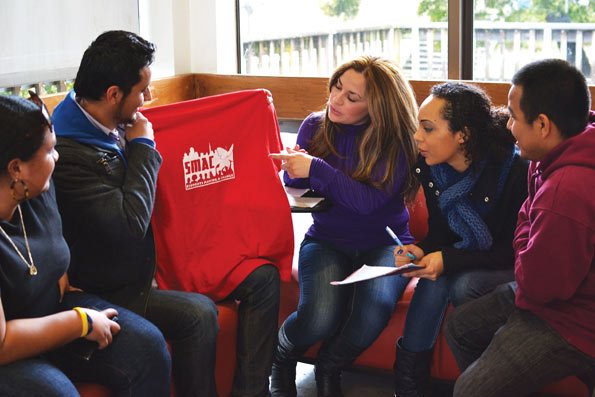 SMAC Leaders featured in a picture in City College's "The Guardsman" newspaper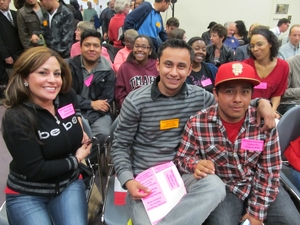 SMAC Leaders and Members getting ready for the placement test vote, with stickers reading "Multiple Placement Options for Students NOW!"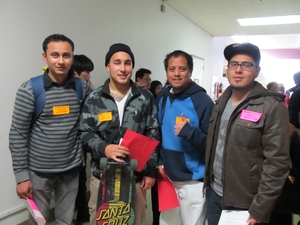 City College students in support of SMAC's placement test proposal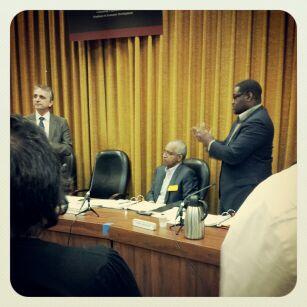 Chancellor Don Griffin (seated) wearing one of SMAC's stickers!