Please disregard the previous Advocate Alert; an incorrect version was accidently emailed. See below for final version.



A Historic Vote for Low-Performing Southeast Schools

On Tuesday night, the San Francisco Board of Education took a momentous stand for equity, by voting to protect schools in the Bayview and Mission Superintendent's Zones from layoffs. With this vote, the District is upholding its promise – and commitment to change – to the historically underserved parents and students in the city's persistently low-achieving and high-turnover schools. Coleman Advocates wants to acknowledge how challenging these kinds of decisions are in the face of an ongoing SFUSD budget crisis, and we want to recognize Superintendent Carlos Garcia and the Board of Education for their integrity and leadership. We also want to make clear that we do not support layoffs overall and we believe that it is critical to keep teachers in the classroom. We hope to support the District and the United Educators of San Francisco in identifying other solutions to the budget crisis, besides layoffs, that address the needs of underserved Black and Brown students AND teachers.

Public Education: Divestment, Layoffs, and Historic Inequity

California's shameful legacy of disinvestment in public education continues in 2012. Governor Brown, by including in his budget proposal drastic trigger cuts to K-12 education if his tax initiatives aren't passed by the voters in November, is gambling with our children's futures. His proposal builds on decades of skewed budget priorities and divisive politics that have contributed to the large and persistent achievement gap within the state's public education system. Year after year, the California education budget is slashed and we are left to deal with the aftermath at the local level: teacher layoffs, administrator layoffs, underfunded schools and unstable learning environments for our children.

In San Francisco, the reforms needed to follow through on SFUSD's commitment to close the achievement and opportunity gap are being curtailed by the continued state disinvestment and the tough choices our Board of Education must make to just to sustain the current system. In the meantime, though November is months away, the Board of Education is faced with balancing a budget.

As a core strategy in the Superintendent's Two Year Action Plan, SFUSD has approved layoff notices to administrators, teachers, paraprofessionals and other classified staff, as well as sweeping several funds into the General Fund. This week, SFUSD's Board of Education approved pink slips to go out to over 200 teachers and over 100 paraprofessionals. Though pink slips have been sent out several years in a row, the District has managed to avoid layoffs The instability of annual pink slips, however, even when they don't come to fruition, creates a toxic work and learning environment for our teachers and our students, and does not help us move towards closing the achievement gap, producing high quality schools or building a high quality public education system in San Francisco.

Standing Up for Equity

Coleman Advocates believes that all students have the right to learn, and the right to opportunity for college and career readiness. But as we know, some students in SFUSD have access to rich opportunities- high performing schools, stable teaching forces, and significant fundraising capacities. And too many students – primarily African American, Latino and Pacific Islander young people – are in low performing schools with unstable teaching forces, and little to no fundraising capacity. This is the reality of systemic inequity that has impacted communities of color in San Francisco, evident in our large achievement gap and opportunity gap.

So while the picture is grim and the choices painful, this moment has presented an opportunity: to stand up as a district and protect the students and the schools that have been neglected and ignored year after year. On Tuesday night, Superintendent Carlos Garcia presented a resolution to the Board of Education to exempt teachers from layoffs in the Bayview and Mission Superintendent Zone schools: Bret Harte Elementary, Bryant Elementary, Cesar Chavez Elementary, Charles Drew Elementary, Everett Middle, George Washington Carver Elementary, Buena Vista Horace Mann K-8, John Muir Elementary, John O'Connell High, Leonard Flynn Elementary, Malcolm X Elementary, Mission High, Paul Revere K-8 and Thurgood Marshall High. The Superintendent Zones, in the Bayview Hunter's Point and Mission neighborhoods, were created to invest in and protect persistently low-achieving schools that suffer from high teacher turnover, a challenge that was only exacerbated at the SIG (School Improvement Grant) schools, some of which had 50% of their teachers laid off.

Coleman Advocates stands behind our Bayview parents at Carver Elementary School in supporting the Superintendent's resolution, protecting equity and the school communities who have experienced broken promise after broken promise. We realize it was an incredibly difficult choice for the Board of Education and while, of course, we are opposed to layoffs for teachers, counselors and paraprofessionals, our first and foremost commitment is to stop the cycle of unstable learning environments for Black, Latino, and Pacific Islander students in our highest need schools.

While we hope that the District is able to find solutions to the budget deficit that avoid layoffs altogether, we do want to extend thanks to Superintendent Carlos Garcia for putting forth a resolution that prioritizes equity, and Board of Education Commissioners Sandra Lee Fewer, Rachel Norton, Hydra Mendoza, Jill Wynns and Norman Yee for their courageous leadership in supporting the resolution to protect the zone schools from layoffs. The Board of Education decision to protect Superintendent Zone teachers means that the district's promise to these Mission and Bayview school communities will be upheld.

In This Issue: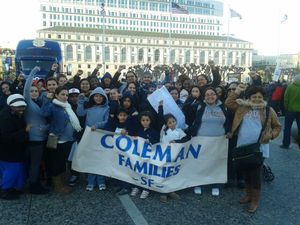 Coleman Families at the March 1st "Occupy Education" Action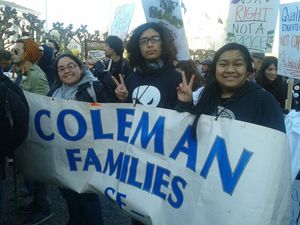 YMAC representing for Coleman Families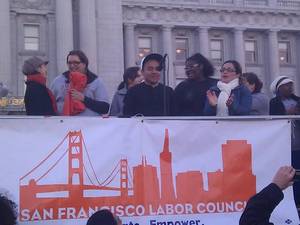 Coleman student leaders from YMAC and SMAC, speaking to the crowd about the educational conditions for SFUSD and City College students!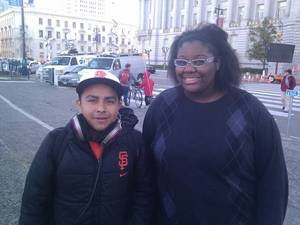 Juan, a SMAC leader at City College, and Goyette, a YMAC leader at Burton High School-- our dream team getting ready to speak at the rally!