SFUSD Budget Update
The Superintendent's budget proposal was introduced for a "first reading" at the Board of Education meeting this past Tuesday. The board will have a budget discussion on June 19th. The final "second" reading, which will require a Board vote to approve the budget, will take place on June 26th.

Below is a general overview of the budget, including the impact of the State budget and the Mayor's budget on SFUSD, and an update on Coleman Members' budget priorities. As more details on the SFUSD budget are made available, Coleman will keep you updated.

Some Key Points from Superintendent's Proposal:

At Tuesday's Budget Presentation, Deputy Superintendent Myong Leigh and Budget Director Reeta Madhavan summarized the District's plans for FY12-13 and 13-14 in a PowerPoint presentation. The Superintendent is proposing the following (among other allocations, cuts, and cost-saving strategies) for FY 12-13:
4 forced school closure days (previously known as furlough days)
Use of Prop A (a $28 million per year parcel tax passed by the voters in 2008) revenues to fund three staff development days.
Reallocation of $7.4 million in Prop H funds to the General Fund.
Contribution of Unrestricted Funds to Special Education ($53.5 million), Special Education transportation ($6.4 million), Early Education ($6.4 million) and Cafeteria Funds ($2.2 million)
Implementation of a flexibility option for Tier 3 state categorical programs (restricted programs that receive earmarked state funding); Allocation of $16.5 million of Tier 3 funds to the General Fund. In order to un-restrict Tier 3 funds, the district is required to hold a special hearing about how specifically funds will be reallocated. Coleman will closely monitor this process, with a focus on determining how reallocations to the general fund and related cuts to Tier 3 programs will impact highest need students and schools in SFUSD.
Average Daily Attendance (ADA) Funding, also known as per pupil funding, is projected to remain somewhat stable, contingent on passage of the Governor's initiative on the November ballot. The exceptions to this projected stability are programs that have received direct federal or state cuts. More information on these exceptions can be found in the official SFUSD summary of the Governor's proposal (see link below).
Details on all of the above and other components of the Superintendent's Budget Proposal can be found HERE.

And click here for the official SFUSD summary of the Governor's Budget Proposal.

CREDIT RECOVERY: Coleman's Top Budget Priority for FY 12-13
After two years of supporting and pushing the district to ensure that the necessary student supports are in place for the first graduating class required to take the A-G course sequence, Coleman members are now calling on the Board of Education to match their words with actions and dollars and truly invest in the success of students struggling to succeed with the new, higher expectations.

At the Tuesday June 19th Board of Education meeting, we expect to finally have access to SFUSD staff projections about how many students will need access to credit recovery to graduate on time in 2014, and the potential cost of offering students the ability to recover credit during a 7-period school day. It is Coleman's perspective that providing a range of accessible and effective credit recovery options related to the A-G course sequence is of the utmost importance, particularly as it relates to closing the achievement gap at SFUSD and improving outcomes for historically underachieving and underserved students.

Join us Tuesday June 19th to Demand Credit Recovery Options for Struggling Students!
Tuesday June 19th is the second reading of the SFUSD budget and our final chance to push for substantive revisions to the budget.

Come out and tell the Board of Education how much you care about all students having the opportunity to graduate college and career ready!

What: Board of Education Budget Discussion

When: Tuesday June 19th 6pm to 8pm

Where: Board of Education Room 555 Franklin St at McAllister

The Impact of the Mayor's Proposed Budget on the SFUSD Budget

Some teacher layoff notices rescinded: According to an SFUSD budget book, the 6.6 million in rainy day funds included in the Mayor's proposed budget has made it possible for the district to rescind over 100 teacher layoff notices. Over the years in which SFUSD has issued layoff notices, they have rescinded these layoffs well into August, or even later, contingent on revisions/restorations to the city and state budgets and/or changes in the district's budget and negotiations with Labor Unions, including UESF. While this first round of layoff withdrawals is great news, Coleman will continue to urge the district to rescind ALL layoff notices as quickly as possible to ensure stable teaching forces and learning environments in our schools, as the fall semester approaches.

Prop H Trigger Expected to be Pulled: Prop H – a ballot initiative Coleman helped to win in 2004 to create a city Public Enrichment Education Fund – includes a "trigger" that will be pulled for the third year in a row. Prop H invests up to $60 million a year in local city funds to SF public schools to restore core funds for sports, arts, music, libraries (SLAM), and a wide range of learning support services that our schools were forced to reduce or eliminate as a result of decades of post-Prop 13 state budget cuts. The Prop H trigger specifies that whenever there is a projected city budget deficit of $100 million or more, the city has the option to reduce the fund allocation by 25 percent. This year, the city is projected to allocate $30.9 million of the $60 million earmarked.

State-level Trigger Cuts Remain a Looming Threat
As we discussed in a previous e-alert, Governor Brown's proposed budget includes drastic trigger cuts to K-12 education if his tax initiatives aren't passed by the voters in November. The reality is that while these trigger cuts threaten to severely gut an already barebones SFUSD budget, whether the trigger is pulled or not, the district is facing a substantial budget shortfall: $83.3 million over the next two years if Governor Brown's tax proposal does pass or $119.4 million if the proposal does not pass.

California lawmakers are expected to pass a final state budget next week; SFUSD is required to submit a balanced budget to the state by June 30.
UESF Contract Negotiations Update
The district and UESF are in the midst of contract negotiations, which generally take place every two years. Unfortunately, SFUSD and UESF have not been able to come to agreement yet in negotiations. UESF members took a strike vote in May, arguing that the district has sufficient resources to offer UESF members a COLA. Mediation is currently underway through state appointed representatives, but updates are not available via the district website or UESF website. Thus far, three mediation sessions have taken place and two additional mediation sessions have been scheduled. We will keep you up to date on these negotiations as we receive new information.
Other opportunities to learn about and weigh in on the SFUSD Budget:

Final Budget Vote: On Tuesday June 26th the Board will vote to approve a final budget and will again make space for public comment. This meeting will also take place at the Board of Education Room from 6pm to 8pm. Stay tuned for more information on this meeting.

Community Forums: The SFUSD Budget Office will convene Community Budget Meetings as spaces for education and clarification about the state budget crisis impact on SFUSD, and the SFUSD budget process. If you plan to attend either meeting, please rsvp to budget@sfusd.edu. Free childcare & interpretation available upon request!

When: Monday June 18th 6-7pm
Where: Thurgood High School

When: Friday June 22 6-7pm
Where: Everett Middle School

Coleman Restorative Justice Program in the News!
Coleman's classroom based youth leadership development program at Downtown Continuation High School was highlighted in an article in last Sunday's SF Examiner about the impact of biased disciplinary practices and implementation of Restorative Practices in SFUSD. Coleman's Restorative Justice Youth Organizer, Alize Asberry, along with two youth leaders from the program were quoted in the article.


To read more about Coleman's groundbreaking work at Downtown High, download a copy of our most recent Just News for Family newsletter here.

Coleman Block Party Tomorrow!

What: Coleman Advocates Annual Block Party
A free event celebrating the accomplishments of our High School, Community College and Parent Leaders. BBQ & Food • Entertainment • Activities and Games for All Ages • Jump House • Live DJ and Dancing

When: Saturday June 16th 1:30 to 5:30pm • Bilingual (Spanish/English) Stage Program starts at 2:30pm

Where: In Front of the Coleman Community Center at 459 Vienna btwn Brazil and Persia

RSVP to Chelsea: cboilard@colemanadvocates.org or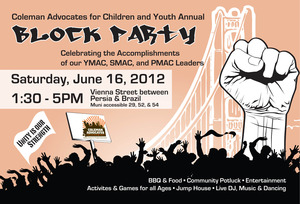 In This Issue: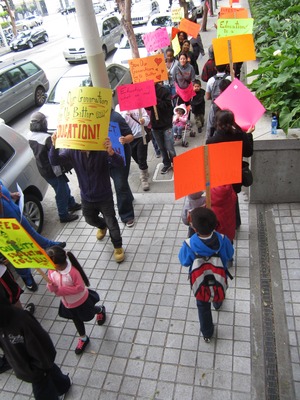 Coleman members picketing in front of SFUSD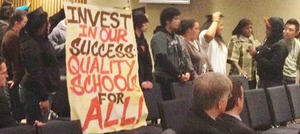 Coleman members testifying at the Board of Education Committee meeting.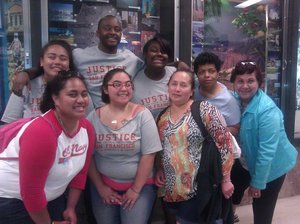 Coleman staff & members in Sacramento after a meeting with Fiona Ma's Legislative Aide.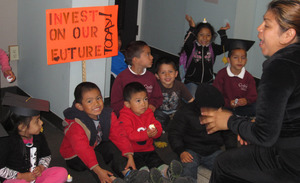 Invest in our Future!