Community Priorities Reflected in City Budget: Jobs and Neighborhood Services!
Coleman staff members were at City Hall all night last night – until after 5am this morning – monitoring the city budget "addback" process at the Board of Supervisors' Budget and Finance Committee and ensuring that the budget passed reflects our members' and community priorities. Our fearless (and sleepless) budget advocacy warriors left bleary-eyed but content that our vigilance had paid off! The proposed budget amendment passed by the Budget and Finance Committee early this morning includes:
Restoration or expansion of funding for community-based programs (totaling $3.5 million)

An extension of general fund money to continue District 10 job readiness programs (that were funded by Redevelopment and therefore being cut)

New funding for job readiness programs in District 11 (where there has been zero city investment in workforce development)

Expanded funds for citywide workers rights outreach

An additional OLSE Compliance Officer is out in the field identifying and bringing to justice exploitative employers

A larger "cost of doing business" increase for nonprofit contracts. (After more than 5 years without an increase from the city!)
This is the first year that the City was required to pass a 2-year budget; the Budget and Finance Committee's budget adjustments total $17.2 million for 2012-13 and $15.2 million for 2013-14. The above numbers reflect the investment for year 1.

Mayor Lee included in his proposed budget a 1% "cost of doing business" increase for community based organizations, and included no direct service cuts to DCYF, DPH and HSA. The Board of Supervisors, through the budget committee last night, were able to find the money and negotiate with the Mayor's Office to ensure that other community priorities were included in the budget, which will go to the full Board for a final vote in mid-July. Big thanks to Budget Committee members Jane Kim, John Avalos, Chair Carmen Chu, Scott Wiener and Malia Cohen, as well as President David Chiu, for their work—and also to all of the community advocates who stayed at City Hall until after 5am this morning to carefully monitor the budget process!

The only significant budget decision, relevant to Coleman priorities, that remains outstanding relates to the $15M state reserve fund. There are lingering questions about how this fund will be allocated, but it should include funding to backfill the devastating state cuts to childcare. Key Supervisors have also expressed interest in setting aside a percentage of this fund for the school district, to address gaps in funding related to furlough days and credit recovery opportunities for students to be successful. We'll keep you all posted on any developments along these lines!

For more information, contact Christina Canaveral at ccanaveral@colemanadvocates.org.
Coleman wins $500K increase in credit recovery opportunities!
On Tuesday, the San Francisco Unified School District Board of Education voted to approve a total of $800,000 for credit recovery for the class of 2014 and 2015. This includes an increase of $300,000 in SFUSD's budget and an additional $200,000 contribution from DCYF (Department of Children, Youth and their Families).This is $500,000 more than the original proposed budget line item, a substantive increase that will have a meaningful impact on SFUSD student outcomes—although we still have a way to go in building and investing in a comprehensive credit recovery system.

Coleman wants to thank Mayor Ed Lee and DCYF Director Maria Su for their continued investment in and prioritization of summer school and credit recovery. We also want to express our gratitude to the Board of Education for a rich budget discussion and for their encouragement of SFUSD staff to dig deep and think outside of the box to come up with effective strategies to support the district's investment in credit recovery!
Credit recovery and Coleman's Campaign for College and Career for All.
Coleman youth and parent members are celebrating the credit recovery increase as a considerable accomplishment in our multi-year Campaign For College And Career For All. Since 2009, Coleman youth and parent members have been organizing to hold SFUSD accountable to the New Graduation Policy implementation goals it set, and in particular to ensure that ALL students have the resources and support they need to succeed – and graduate college and career ready – with the new, higher expectations. From the early days of implementation, and throughout our monitoring efforts over the last three years, it has been Coleman' assessment that the dearth of student supports – including tutoring and credit recovery – is a primary obstacle to the progress of the class of 2014 towards district goals.
State budget cuts continue to threaten education equity gains
Unfortunately, massive education budget cuts at the state level have consistently undermined Coleman's advocacy to increase essential SFUSD student supports. In the current context of scarcity and the constant threat of ever more extreme state budget cuts, the Board of Education is caught between a rock and a hard place – forced to choose between funding student supports or sustaining jobs.

For the last two years, SFUSD has cut the school year by four days and has issued hundreds of layoff notices, all of which were rescinded post-confirmation of city rainy day funds and negotiations with Bargaining Units. Once again, teachers, students, parents and the community are forced to play this painful waiting game. And this year, with crucial funds contingent on the passage of the Governor's November ballot initiative, there is an added element to this anxious suspense. If the ballot initiatives do not pass, the Board of Education will be forced to figure out how to close a projected mid-year decrease of $900,000 or more. This budget ambiguity and instability makes the already incredibly difficult job of district resource allocation even more daunting.
Why Is Credit Recovery Needed?
Recent numbers from the District show that approximately 20% of the class of 2014 AND 2015 are not on track to graduate, meaning that they have failed one or more required A-G courses. That is 1 in 5 students for each of those classes who are at risk of not graduating! While more detailed data is still being compiled by SFUSD, Board Members and the Superintendent agree that a successful credit recovery program is, with a doubt, an essential piece of the student success puzzle.

For any number of reasons, students fail classes. It is an unfortunate reality of high school life, and credit recovery is an essential strategy for addressing this widespread problem. In addition to the age-old scenario of a student needing to retake a class he or she failed, we are now seeing situations where students didn't even have the option to take a required class during the school year, as a result of reductions at all high schools from a 7-class to a 6-class school day. So while district data reveals that there has been no increase in failure rates since the New Graduation Requirement was implemented, students are facing new challenges that make the need for credit recovery even more common, with a disproportionate impact on English Language Learners.
The 7-period school day as a core component of a comprehensive credit recovery strategy.

During the budget crisis, district officials moved to an online credit recovery system, offering students' licenses to take classes after school, across all high schools. For some students, this has been proved to be a viable option. For the majority, it has not. As SFUSD officials revamp the district online credit recovery system, a growing body of students (led by Coleman's Youth Making a Change) has been advocating for a 7-period school day as the most strategic option to address diverse student credit recovery needs.

While the most strategic approach, the school day extension also happens to be the most expensive strategy, with final estimates at $6 million across all 15 high schools. Given the constraints of the proposed SFUSD budget, Coleman's original credit recovery budget ask to the district was for a fraction of this: $2 million. This allocation would have made it possible to prioritize a 7th period class for students most at risk of not graduating on time.
Working with the district to make the most of limited funds

The $800,000 ultimately allocated for credit recovery is not sufficient to implement a comprehensive district-wide 7-period school day credit recovery strategy. It does, however, present an important opportunity for the district to work with Coleman to determine how many students can be served and what programs and resources will most effectively and efficiently meet the needs of our most struggling students. Coleman looks forward to strategizing with the district and coming up with the best solutions for addressing the most urgent credit recovery needs of our students, with the limited resources we have at our disposal.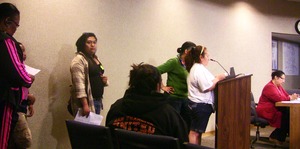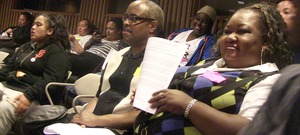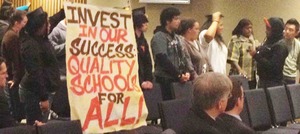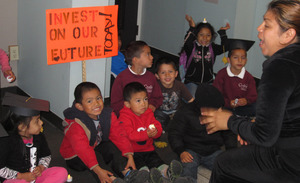 Coleman Members Advocating for Community Budget Priorites at Board of Education Meetings