What's Going On with the California Budget?

This summer, Governor Jerry Brown signed a California state budget for the current year, which included "trigger reductions" if revenue does not meet estimated projections. The budget agreement stated that either the revenue analysis from the Legislative Analyst's Office (LAO) or the Department of Finance (DOF) would be used to determine whether the triggers are pulled, leading to significant cuts. The LAO released their analysis on November 15th, stating that revenue is falling short of projections by $1.8 billion; the DOF is expected to release their report on December 15th, and whichever is higher will be used to determine whether the trigger cuts go into effect starting January 1st.

If the state triggers are pulled, that means yet another painful year of deep cuts to the programs so many California children, youth and families rely on, including:
$200 million in cuts to California State University and University of California systems

$72 million in cuts to juvenile justice system

$30 million in cuts to community colleges, plus increases in student tuition

$23 million in cuts to child care programs

$16 million in cuts to libraries
And in the worst case scenario, we can include:
$1.5 billion in cuts to K-12 education, which includes allowing districts to reduce the school year by up to 7 days

$248 million in cuts to home-to-school transportation, eliminating funding for this program completely

For more information on the current year's budget agreement and the proposed trigger cuts, visit the California Budget Project at: www.cbp.org/documents/110630_201112_Spending_Plan.pdf.

We continue to see the devastating trend of public disinvestment in resources for kids and families. In addition, Brown's recent moves to shift financial responsibility from state to local governments, inevitably translates into even greater cuts to the local safety net for low-income families. Once again, the most vulnerable and disenfranchised in our society are left bearing the brunt of the budget deficit.

Impact of the California State Budget on San Francisco Schools

The LAO's analysis is the worst case scenario at this point, since the trigger language in the budget directs the state to implement reductions based on the better estimate between the Legislative Analyst's Office and the Department of Finance. Currently, given this scenario, SFUSD is facing a projected deficit of $9.4 million for next fiscal year, translating into, yet again, tough cuts for San Francisco students.

City Budget Picture

The Mayor's budget instructions were said to be released this week, and although they aren't officially out yet, what we've heard so far is that this is a very different year. The Mayor's instructions project a $263 million deficit for next fiscal year, and departments are being instructed to make ongoing general fund reductions of 5% and contingency reductions of 2.5%. This is significantly different from the past few years, when the combined ongoing and contingency reductions have ranged from 20-30%! The Mayor's budget office is looking to raise $40-50 million from department reductions and to raise over $200 million from efficiencies and other reductions. Stay tuned for more info!

Mayor Lee has reconvened the CBO (community based organizations) Stakeholder meetings, to get an early start on the city budget process and ensure that community groups, department heads from DCYF, DPH and HSA, and elected officials are on the same page early in the year. Discussions thus far have included an evaluation of last year's process, budget principles, and a cost of living adjustment for non-profit organizations with city contracts.

For more information about our city budget work, please contact Christina Cañaveral at ccanaveral@colemanadvocates.org.

Coleman Budget Briefings

City Budget Briefing on January 12th
Please join us on Thursday, January 12th from 1-3pm for a city budget briefing featuring Kate Howard, the Mayor's new Budget Director, and Ben Rosenfield from the Controller's Office! Location will be Children's Council of SF: 445 Church Street, Room 120 (between 16th and 17th Streets). Please RSVP to Christina Cañaveral at ccanaveral@colemanadvocates.org.

SFUSD Budget Briefing on January 19th
Please join us on Thursday, January 19th, from 10am-12pm for an education budget briefing featuring SFUSD special guests! Location will be confirmed shortly. Please RSVP to Pecolia Manigo at pmanigo@colemanadvocates.org.

Progressive Taxation: Time for the 1% to Pay their Fair Share!

On January 10th, Governor Jerry Brown will release his proposed budget for next fiscal year, as required by state law— just 9 days after these staggering trigger cuts could be going into effect. We'd like to applaud his continued efforts to push for a balanced budget that includes progressive revenue. Governor Brown is expected to file an initiative for November 2012 that would increase the income tax for California residents making an income of $250,000 or more. Governor Brown's proposed initiative includes a sales tax and is in competition with several other similar proposals, a few of which target the top 1% of taxpaying households. An increased income tax for the highest income households is likely to be supported by Occupy movements across the state, as well as groups like Coleman and others who have been working for years to ensure that wealthy households and corporations are paying their fair share. To learn more about Brown's proposed initiative and the other competing proposals, please take a look at this article: http://www.sfgate.com/cgi-bin/article.cgi?f=/c/a/2011/12/02/MNIP1M73AA.DTL.

What does it mean to "Pay their Fair Share"?

According to an April 2011 California Budget Project report, measured as a share of family income, California's lowest-income families pay the most in taxes. The bottom fifth of the state's non-elderly families, with an average income of $12,600, spent 11.1 percent of their income on state and local taxes. In comparison, the wealthiest 1 percent, with an average income of $2.3 million, spent 7.8% of their income on state and local taxes. According to the Franchise Board 2009 annual report, the number of high-income "no tax" returns (i.e. taxpayers reporting incomes of $200,000 or more who paid no California income tax) quadrupled between 1997 and 2008.

During the month of October, Coleman Advocates, as part of the San Francisco Rising Alliance, identified over 6,000 English, Spanish, Chinese and Tagalog speaking voters who support millionaires and corporations paying their fair share! It was exciting to be in conversation with voters during the height of the Occupy movements at Wall Street, and at home in San Francisco and Oakland. It's clear that there is tremendous support for progressive taxes in this city and this state, and so we are hopeful and looking forward to the November 2012 election!

For more information about our progressive taxes work, please contact Chelsea Boilard at cboilard@colemanadvocates.org.
In This Issue: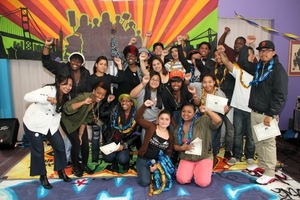 Coleman YMAC youth and alumni, June 2011.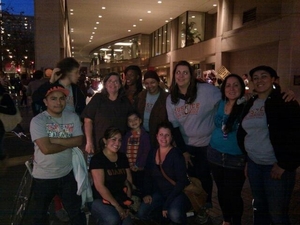 Coleman staff and SMAC members at December 2nd labor/community action.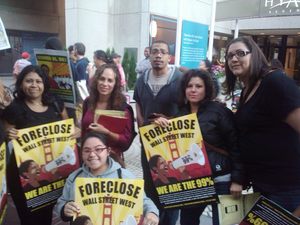 Coleman staff at the Foreclose on Wall Street West Rally on October 12th.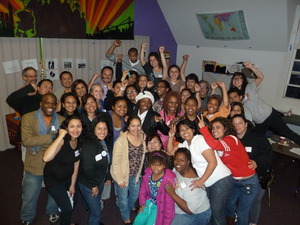 Coleman 2011 All-Agency Meeting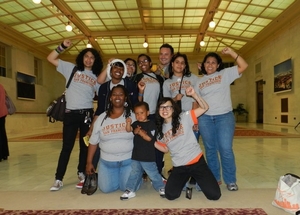 Coleman staff and members at 2011 Children's Fund event.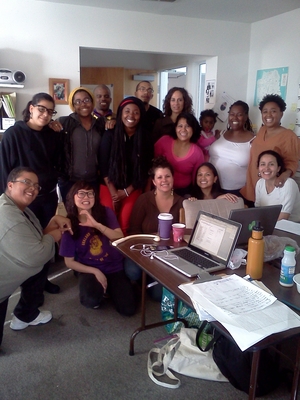 Coleman members and staff, Summer 2011.