Coleman Stands with the 99%

Coleman Advocates for Children and Youth stands in solidarity with the growing Occupy movement and with social movements around the world denouncing corporate greed and fighting for economic, racial and ecological justice.

We are particularly inspired by yesterday's historic General Strike in Oakland. Tens of thousands of young people, teachers, public service workers, and community organizations participated in mobilizations throughout the day and night, shutting down every corporate bank in downtown Oakland, as well as the Oakland Port, the 5th busiest in the country. Oakland's 99% called for regulation, taxation and accountability from big banks, and demanded increased public investment in schools, services, jobs and housing.

As long-time vocal supporters and organizers of progressive revenue and fair taxation, Coleman members have been overjoyed to witness this growing national demand for the 1% to finally pay their fair share.

Last week's military-style raid on the Occupy Oakland encampment, and the violence directed at peaceful protestors in the hours that followed, was inexcusable. When people across the Middle East occupied public squares, leaders in Washington expressed support of these efforts and warned Middle Eastern governments not to use force to clear them. When children, youth, families, and service providers occupied the steps of SF City Hall year after year to protest unfair budget cuts, we did so without fear of police repression. And yet, right across the Bay in Oakland, protesters' constitutional rights to free speech and peaceful assembly were violently disregarded, as heavily armed police beat, tear-gassed and arrested people for simply occupying public space.

Sign a Petition to Demand no Raids on Occupy SF

On Tuesday the Board of Supervisors passed a resolution, introduced by John Avalos and co-sponsored by David Campos, Jane Kim, and Eric Mar, supporting the goals of Occupy Wall Street and the right to peaceful assembly in San Francisco. In addition to putting the SF Board of Supervisors officially on the record in support of the growing Occupy movement, the resolution explicitly calls on the Interim Mayor to halt the crackdown on protesters and prevent further violence.

Following the lead of our organizational allies POWER, Causa Justa::Just Cause, and Chinese Progressive Association, Coleman Advocates is calling on Interim Mayor Ed Lee and Police Chief Greg Suhr to stand in solidarity with the Occupy movement and make a public commitment to refrain from raiding Occupy San Francisco, and to protect our right to free speech and peaceful assembly.

Join us in our call by signing a petition here.

San Francisco's Growing Inequality

While Coleman was shocked and appalled by the brutality executed by the Oakland Police Department last week, unfortunately, this kind of excessive force is not unusual in the communities where our members live. Coleman organizes and supports leadership development in schools and neighborhoods in the Southeast of San Francisco because this is where the majority of low-income youth and families of color— the most disenfranchised of the 99% — reside.

These same communities are also disproportionately impacted by unemployment, foreclosures, predatory lending and other issues central to the Occupy movement. In a recent review of "San Francisco's economic performance", the city economist found that income inequality is greater in San Francisco than it is nationally, and that it has been steadily increasing:
Over the last two years, the number of San Francisco residents waiting in line for free food from a food pantry has tripled and the number applying for food stamps has increased by more than 50 percent.


After two generations of displacing African American families, San Francisco now has the highest rate of concentrated, urban African American poverty in the state.
If discouraged, long-term unemployed workers and young adults who never officially entered the workforce are counted into the San Francisco data, the actual unemployment rate is projected to be well over 30%, and approaching 50% in the isolated, highly segregated, public housing communities.
The unemployment rate for African Americans is nearly three times the rate for white San Franciscans.
Foreclosures averaged about three per month in San Francisco during the dot-com bust. Today, more than 50 homes are foreclosed on each month, overwhelmingly concentrated in the southeast sector of the city where families of color, and families with children, are concentrated
; San Francisco has 16,355 homeowners underwater by $1.5 billion.
San Francisco is home to some of the world's wealthiest individuals and corporations, but also some of the most extreme and racialized poverty.

Coleman's Vision for Racial and Economic Justice

At Coleman, we believe that together, as the 99%, we can reverse this growing inequality and build a democratic, equitable, racially just San Francisco – a city where young people grow into adulthood in vibrant, racially diverse, safe, affordable and highly participatory communities; a city where adults can raise children with security, dignity, a sense of collective responsibility, and hope.

For these reasons and more, we proudly support the Occupy Movement and we demand no further attacks on the 99%.
Join us.
In This Issue:

• Coleman Stands with the 99%

• Sign Petition to Demand No Raids on Occupy SF

• SF's Growing Inequality

• Coleman's Vision for Racial and Economic Justice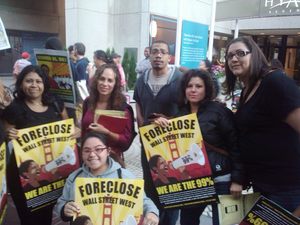 Coleman staff at the Foreclose on Wall Street West Rally on October 12th.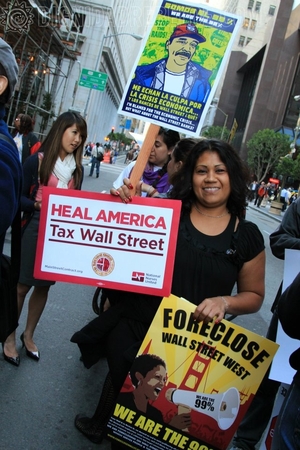 Karen Ramirez, Coleman staff and former parent leader, representing for the 99%!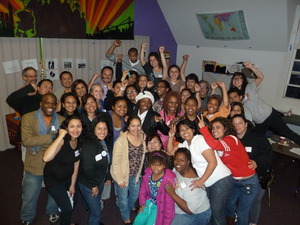 Coleman 2011 All-Agency Meeting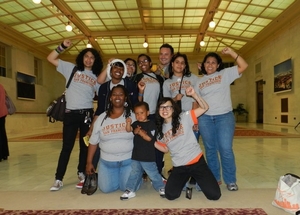 Coleman staff and members at 2011 Children's Fund event.