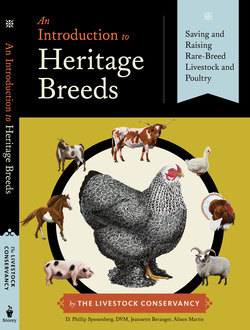 The Livestock Conservancy is excited to announce the release of the brand-new book: An Introduction to Heritage Breeds in partnership with Storey Publishing.

Heritage breeds matter, and they are often a better choice than conventional breeds for small farms and backyards. This eloquent, inviting, visual guide explains why conserving heritage breeds is important and shows you how you can raise these breeds yourself, helping to preserve them and benefiting from them at the same time.

Written by three experts from the Livestock Conservancy, this book includes chickens, turkeys, ducks, geese, rabbits, pigs, sheep, goats, cattle, donkeys, and horses, detailing each breed's specific needs and characteristics so that you can select the one that's right for you. Whichever breed you choose, you'll find thorough, comprehensive information on how to raise it successfully.

Click here for more information and to purchase a copy for friends, family, and yourself!
---
Heritage Breeds Farming Workshop for Veterans June 6-7, Warrenton, VA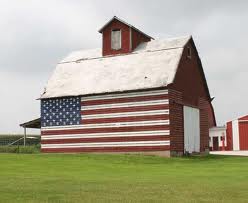 Join Virginia Cooperative Extension, The Livestock Conservancy, and the Farmer Veteran Coalition for a two-day intensive workshop that will help transform today's veterans into tomorrow's farmers!
Friday: Full-day classroom with local farmers
Saturday: Heritage farm visits
Learn
• Which farming enterprise is right for you
• How to choose and raise Heritage poultry
• How to farm with Heritage sheep
• Select, raise, and market Heritage cattle and hogs.
• AND: Heritage Breed Farm Marketing
"Our goal is to help returning veterans and retired service members succeed financially in heritage breed, sustainable agriculture by providing them with the knowledge and skills they need." –Eric Hallman, Executive Director

Reservations for this workshop are on a first-come-first-serve basis. Priority will be given to service men and women. After May 1st, The Livestock Conservancy will accept registrations from the general public.

Click here to register and for more information.
---
Important News for Swine Growers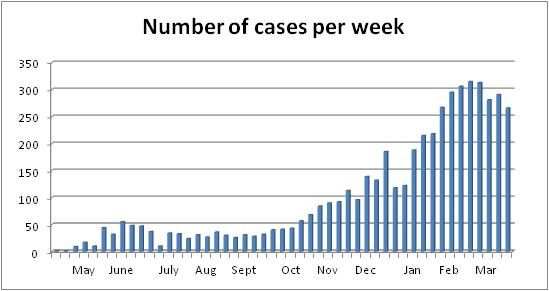 A devastating new disease is affecting swine herds across the United States and has hit the Midwest states especially hard. 30 states had been affected at the time of writing with more than 250 cases being reported per week. Porcine Epidemic Diarrhea (PED) is a viral disease that can cause extremely high mortality in young pigs. The disease spreads in the feces of infected pigs, and at this time there is no vaccine in the United States. Such a disease could be devastating to heritage breeds, so if you raise pigs we urge you to consider the following:
Biosecurity is the only means to prevent PED. For more information and a sample biosecurity plan, click here.

Practice decontamination procedures such as cleaning footwear and washing out trailers used to transport infected or potentially infected animals.

Observe your herd, and if you see signs of illness, contact a veterinarian.
Is your bloodline represented in multiple locations? Now might be the time to think about ways to make sure that the genetics you've worked so hard to develop will continue in the breed in the event of a disaster.

The PEDv collection page provides a one-stop solution for staying updated on the latest news about this deadly disease. This useful resource can help producers reduce the impact of the disease or reduce the risk of it spreading, which is beneficial for the entire industry.
---
Ford Motor Company Awards Grant to The Livestock Conservancy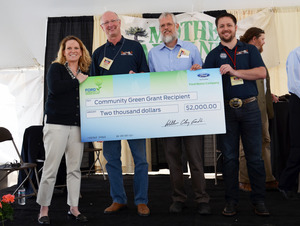 The Livestock Conservancy was presented a $2,000 Community Green Grant from Ford Motor Company at the Mother Earth News Fair on April 13. Mother Earth News nominated the Conservancy and worked with Ford to select recepients who gave back to building a healthier and more sustainable world.

James Duft, Programming & Operations Director of the Mother Earth News Fair commented "Ford is committed to sustainability and would like to donate $2,000 to your organization for being a forward-thinking organization that is not only improving the environment we live in, but the quality of life in our communities." Stephanie Janczak, Ford representative commented on the importance of The Livestock Conservancy's work protecting heritage breeds and visited the Conservancy's booth at the fair to learn more about the organization.

Shown at the presentation, from left: Stephanie Janczak, Manager of Global EVSE Technology and Deployment; Eric Hallman, Livestock Conservancy Executive Director; Phil Sponenberg, Livestock Conservancy Technical Advisor; & Ryan Walker, Livestock Conservancy Marketing & Communications Manager.
---
★

= Livestock Conservancy Participation


★★
= Livestock Conservancy Hosted Event
April 25-27 - The Florida Cracker Horse Association Spring Gathering will be held at Tillis Hill State Recreation Area. Call 352-796-5650 or 352-344-4238 to make your reservations.
May 3-4 - The Maryland Sheep & Wool Festival will be held at the Howard County Fairgrounds in West Friendship, MD. Visit www.sheepandwool.org for more information.
★ May 18 - The Garfield Farm Museum's 28th Annual Rare Breeds Show will take place in Campton Hills, IL from 11am-4pm. Breeders from around the Midwest will display rare and historic types of livestock. Individual breeders may offer livestock and poultry for sale. Member participation by The Livestock Conservancy. For more information, contact the museum at info@garfieldfarm.org or visit www.garfieldfarm.org.
★ May 31-June 1 – The Mother Earth News Fair will be held in Puyallup, WA. This fun-filled, family-oriented sustainable lifestyle event features dozens of practical, hands-on demonstrations and workshops on everything from beekeeping to using solar electricity. Visit http://www.motherearthnews.com/fair for more information.
★★ June 6-7 - From Service to Stewardship workshop for veterans will be held in Warrenton, VA. Join Virginia Cooperative Extension, The Livestock Conservancy, and the Farmer Veteran Coalition for a two-day intensive workshop that will help transform today's veterans into tomorrow's farmers. Visit http://www.livestockconservancy.org/index.php/news/internal/veterans-workshop for more information.
★★ SAVE THE DATE! The Livestock Conservancy's 2014 National Conference will be held in Austin, TX November 14-15. Click here for more information.
Click here for the full Calendar of Events!

Featured Book:
An Introduction to Heritage Breeds
"Encyclopedic knowledge, unparalleled experience, and true wisdom underpin this guide. Only the Livestock Conservancy could dare write such a book, and succeed so brilliantly."
-Cary Fowler Ph.D, Special Advisor and former Executive Director, Global Crop Diversity Trust
$19.95 - Buy Now!
---
Membership Levels:
Student $25
Basic $45
Sustaining $100
Group $100
Corporate $250
Life $1,500

Basic Membership includes:
Quarterly full-color, print newsletter

The Livestock Conservancy e-News

Network with breeders with your print copy of the Rare Breeds Breeders and Products Directory (also online)
List your rare breeds and rare breed products in the Directory

Free online classifieds postings

Technical support for your rare breeds enterprise

Discounts on conference registrations and publications

Use of The Livestock Conservancy member logo

Support for rare breed conservation!
Click Here to Become a Member!
---
Conservation Priority List:
---
Our Sponsors:

---
Get Social With Us!
The Livestock Conservancy™