Caswell Center: Getting Closer!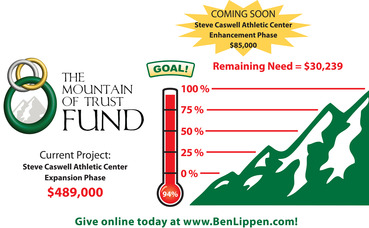 Last week, one family felt led to make a "matching donation." That means if Ben Lippen can raise $10,000 by
April 1
, this family will MATCH IT with their gift of $10,000! Over the past week,
we have received $4,650 as a response to this match offer
! Please prayerfully consider how you can participate in helping to finish the Caswell Center. Remember that with this match offer, a gift of $25 becomes $50, a gift of $125 becomes $250, and a gift of $1,000 becomes $2,000!
You can
give online
or contact Bonnie Spacek at bonnie.spacek@benlippen.com or 807-4114.
Click here
to see photos of the Caswell Center over the past year.
---
McVicker Named Instructional Technology Director
At the end of the school year, David McVicker will leave his current post as assistant elementary principal and physics teacher in the high school to assume the newly created position of director of instructional technology.
In his new role, Mr. McVicker will facilitate the effective use of technology in all classrooms including the iPad 1-to-1 initiative, training and evaluating faculty technology implementation, serving as the liaison with the corporate IT team, coordinating the Ben Lippen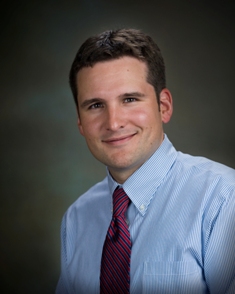 Academic Technology Team (BLATT), and staying abreast of new and emerging trends in K-12 technology.
"As we prepare students for the road ahead, technology is a vital tool in their education," McVicker said. "That technology will help them develop what we call the four 'Cs' of Christian Scholarship: critical thinking, creativity, communication, and collaboration."
Headmaster Mickey Bowdon says that means the teachers themselves must be fully trained in the latest technology.
"Technology in the hands of trained Christian educators can be a powerful and effective instructional tool," Bowdon said. "That is why we believe it is imperative to create a position dedicated to training and supporting our faculty."
Mr. McVicker joined Ben Lippen in 2008 after serving for five years as head of school at Heritage Christian Academy in Lexington. He earned a Bachelor of Science degree in Teaching (Physical Sciences) from Clemson University, and a Master of Education degree in Educational Leadership from Covenant College.
Mr. McVicker and wife Bridget have two children; Mary Woods is in kindergarten and Hardy will begin Pre-K in the fall.
---
Preparing Students for The Road Ahead

The student of the 21st century has many challenges ahead of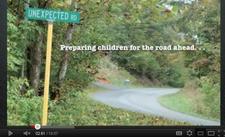 them.
Click here
to learn what Ben Lippen's leadership has discovered over months of research and the conclusions reached to help your student navigate the road ahead.
---
The Road Ahead Q&A

Do you want to learn more about preparing your student for the road ahead? Do you have questions about The Road Ahead video?
Join Headmaster Mickey Bowdon, principals Gerald Porter, Jay Sikkema, Helen Boen, and director of instructional technology David McVicker for an upcoming question and answer forum.
Thursday,
March 29
, 2012
8:15 a.m. or 7:00 p.m.
LGI Building (next to the gymnasium)
---
Cedar Creek Classic Early Bird Registration

Register before
March 31
to receive the early bird discount of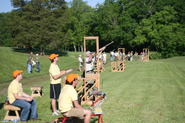 $125/adult and $50/youth ages 12-17. This event is one of two annual fundraisers for Ben Lippen School and all proceeds go towards financial aid.
Registration includes unlimited rounds of sporting clays, commemorative gift, lunch by Outback Steakhouse and a chance to win awards and door prizes.
Register today at
www.CedarCreekClassic.com
.
---
Daughter of Chick-fil-A Founder Coming to Campus
Trudy Cathy White, daughter of S. Truett Cathy the founder of Chick-fil-A, is speaking at both elementary chapels on Thursday,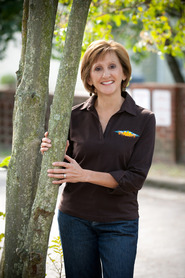 March 22
.
In her bio, Mrs. White states: "First and foremost, I am a wife, a mother and a grandmother. Outside of my relationship with Christ, those are the most important things you need to know about me." In addition to her commitment to family, Trudy has been married to her husband, John, for 33 years and together they seek opportunities to invest in others. Most notably, John and Trudy are co-founders of IMPACT 360—a gap year program designed to equip young adults to be Christ-centered servant leaders. Trudy also serves as the Girl's Director of WinShape Camps, a summer camp program started by her mom and dad in 1984.
Meet Trudy Cathy White on March 22
8:00 a.m. Drop In and Meet Trudy Cathy White (SAR)
8:30 a.m. SAR Chapel
2:00 p.m. MR Chapel
2:30 p.m. Drop In and Meet Trudy Cathy White (MR)
Light refreshments, compliments of Chick-fil-A, will be served plus you will receive a 50 percent off WinShape Camp for Girls registration.
Click here
to read Trudy's bio and to watch a short video.
---
Save the Date: Evening of Thanksgiving

Please make plans to join us for the 2012 Evening of Thanksgiving worship event as we celebrate all that God has done this year.
Thursday,
May 3
6:30-8:00 p.m.
BLS - St. Andrews Road Campus
More information will be coming soon!
---
Moms In Touch
Moms In Touch
are moms who meet together to pray for our students, families, faculty and staff. Please join us every week or whenever you can.
Moms In Touch for high school, middle school, and MR elementary meets every Wednesday from 8:15-9:15 a.m.
Moms In Touch for SAR elementary campus meets every Friday from 8:15 - 9:15 a.m.
---
Attention 2011-2012 Scholarship and Selected Student Aid Recipients
Please submit a thank you note to the donor(s) who made it possible for you to receive your scholarship. This is the second of two thank you notes required for scholarships received for this school year (2011-2012). Notes should be addressed "To Whom It Concerns" and be personal and sincere.
Please send your notes to the attention of Faye Weigle in the Office of Development by Friday,
March 30
.
---
Campus Wear Consignment Sale Report
The spring campus wear consignment sale was a great success! This sale included 28 consignors, over $1,600 in sales, 60 percent of items sold and an average price of more than eight dollars per item. Thank you to everyone who volunteered and to those who consigned. This sale was a success because of you! Thank you also to those who donated unsold items to help build the inventory available to families in need.

---
Lost and Found
Many items are lost each week around Ben Lippen campuses. If you are missing an item, please check with your campus office.

---
Tutoring Available
Math tutoring is available for all levels. Contact Dr. Joran Clements at 429-0696. Tutoring is also available for other subjects.

---
Camp Invention is Returning to Ben Lippen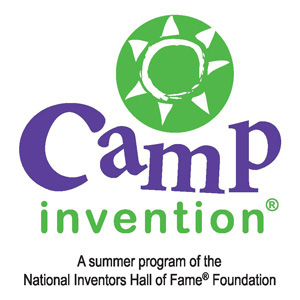 Many students enjoyed the week of fun and learning during Camp Invention hosted at Ben Lippen last summer.
Camp Invention will be held at Ben Lippen from
June 11-15
, 2012. There is a special rate for returning campers and for early registration.
For more information, call Joran Clements at 429-0696.
Click here
to register.
---

Invitation Day

This past Monday was Ben Lippen's annual Junior/Senior Invitation Day. It was a special time for the Junior class to present invitations to the Senior class for the
April 20
Junior/Senior Banquet.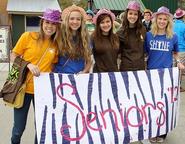 A helicopter from the Richland County Sheriff's Department made an appearance on the football field and then students spent the day at Riverbanks Zoo where they participated in a scavenger hunt and had lunch delivered from a Hardee's truck.
Rene White, who serves as co-chair of Junior/Senior, says the day was a great success and a lot of fun. She credits a wonderful team of volunteers for making it such an incredible day for the students.
Click here
to see more photos from Invitation Day.
---
A Special Thank You

Ben Lippen would like to thank Steve and Donna Hallman for their help and generosity with Invitation Day 2012. The Hallman's have two students at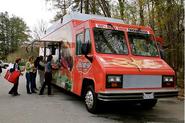 BLS and Steve is a manager for area Hardee's restaurants. He was able to work within our budget to bring a big Hardee's truck and serve hamburgers, grilled chicken sandwiches chicken fingers, fries and drinks for 250 people.
Thank you Hallman family and thank you Hardee's!
---
Scholarship Competition for Rising Juniors and Seniors
Rising juniors and seniors wishing to compete for the $2,000 Whiting-Leitner Merit Scholarship must submit their resume and 1,000 word essay by 5 p.m. on Monday,
March 19
. They will be receiving a copy of the scholarship competition guidelines in their English classes this week. A copy of the scholarship competition is also being emailed to parents. If additional information is needed, please contact Mrs. Dixon in the Guidance Department.
---

Announcements
Seventh Grade Service Project:
The seventh grade service project will be at the warehouse for Operation Mobilization (OM) in Florence. Mrs. Strickland's homeroom will go this Friday,
March 16
. Mr. Spence's and Mrs. Mack's homerooms will go next Friday,
March 23
.
Upcoming Seventh Grade Field Trip:
Seventh graders will be going on a field trip to the International Fair (at the State Fairgrounds) and Riverbanks Zoo on Friday,
March 30
. Permission slips will be handed out soon.
Reminder to Eighth Grade Parents:
The photos of your eighth grade student (one baby and one current) to be used in an end-of-the-year class DVD are due to Mrs. Cochrane by
tomorrow
.
Exciting Opportunity for Eighth Grade Students:
See "High School News" for an exciting leadership opportunity for eighth grade students.
Middle School Drama Production:
The Middle School's production of
Charlotte's Web
will be held on Monday,
March 26
in Hoke Auditorium at CIU.
10-11:30 a.m. - Elementary School students (second-fifth grade) 1:30-3 p.m. - Middle School students
Parents are invited to attend!
---
Helicopter at BLS

The Richland County Sheriff's Department landed one of their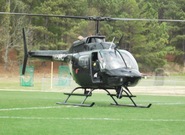 helicopters on the BLS football field on Monday. They presented a brief program for our middle school students, sharing details about the helicopter itself and how it is used in their profession to protect the citizens of our county and state. Students were permitted to get a close up look at the helicopter following the program.
Click here
to see more photos.
---
Read Across America 2012
Miss McLeod and her sixth grade Language Arts class celebrated Read Across
America with a week full of fun! They welcomed special guests from the community, read stories, and ended the week with a better understanding of Dr. Seuss and the importance of reading. One of the special guests during the week was Ben Hoover from WIS-TV
(see photo)
.
---
Celebrating Pi Day
Mrs. Cummings' eighth grade algebra class celebrat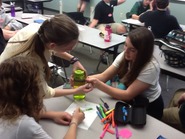 ed Pi Day by measuring the relationship between the diameter and circumference of various circular objects. They also ate "Pi" as a reward!
---
Eighth Grade Annual Yorktown Field Trip
On March 8 and 9, the Ben Lippen eighth grade students visited the Yorktown which is berthed at Patriot's Point, Charleston, South Carolina. This was the ninth year that middle school has taken eighth graders to spend the night on the World War II aircraft carrier.
Before boarding the Yorktown on Thursday, the students took a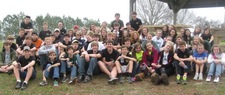 ferry boat to Fort Sumter where they learned about the history of the beginning of the Civil War in South Carolina. The students slept in the crew berthing compartments on the Yorktown and got to experience what it was like for the sailors.
After morning devotions led by Mr. Gates, they left the Yorktown and traveled Palmetto Island County Park where the students got a chance to stretch their legs and enjoy a delicious pizza lunch before returning to Ben Lippen.
Click here
to see more photos of the field trip.
---
Middle School Robotics Team
The members of the BLMS Robotics Team competed at the SC State Championships in February. They came away knowing they performed well against the best designers, builders and programmers in the state. In only their second year, this team was able to:
Come in second place (moving up from 14th) at our regional competition in the robot rounds.
Place fourth overall at Regionals (judges scored us highly in all four judging areas: team work, robot competition, robot design, research project presentation).
Have our highest scores at the State Championships.
Be chosen as finalists for one of the

Team Work

awards at the state level, just missing one of the top three awards.
Outscore 186 of 216 SC teams in the robot competition.
Congratulations to these hard-working students!
---

Math Olympic Winners
Congratulations to the following students for placing in our elementary Math Olympics. Great job!
Third Grade: Computation
First Place – Jackson McCrudden (SAR)
Second Place – Kendall Bearden (MR)
Third Place – David Beyers (SAR)
Third Grade: Reasoning
First Place – Hannah Leneschmidt (SAR)
Second Place - Grayden Davis (MR)
Third Place – Samuel Phoenix (SAR)
Fourth Grade: Computation
First Place – Caroline Ulsaker (SAR)
Second Place – Geoffrey Young (SAR)
Third Place – Matthew Failoni (MR)
Fourth Grade: Reasoning
First Place – Alden Gibbs (MR)
Second Place – Sierra Brownell (MR)
Third Place – Wade Davis (MR)
Fifth Grade: Computation
First Place - Suhwan Lee (MR)
Second Place – Emma Beyer (SAR)
Third Place – Drew Porter (MR)
Fifth Grade: Reasoning
First Place – Henry Bolin (SAR)
Second Place – Robert Chambers (MR)
Third Place – Benjamin Satcher (MR)
---
Monticello Road News
International Week:
Students had a wonderful opportunity to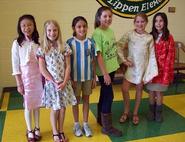 learn about many other cultures and countries.
Click here
to see more photos from International Week at Monticello Road.


Absences:
If your child is sick, please remember to call or email your child's teacher or the office to let us know he/she will not be coming to school. Students will be marked as unexcused unless we receive notification about their absence. Thank you for your help in this matter.
MR Class Pictures:
Class pictures will be on Monday,
March 19
beginning at 9:30 a.m.
This is a change
from the March 22 date. Campus wear is required for class pictures.
Talent Night:
You are invited to attend the Talent Show next Friday night,
March 23
, at the MR Campus in the multi-purpose building beginning at 6:30 p.m. Admission is $1.00 and all proceeds will go towards the fifth grade legacy project. There will be opportunity to purchase pizza, drinks and desserts. We hope to see you there!
---
St. Andrews Road News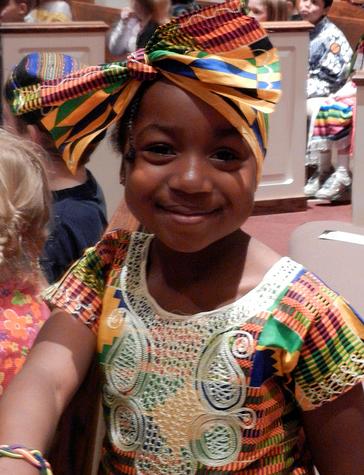 International Week:
What a wonderful week the students had learning about other countries and cultures. Please
click here
for more pictures.
SAR Class Pictures:
Please note that class pictures have been rescheduled for next Wednesday,
March 20
. Campus wear is required on this day.
Second Grade:
Mrs. L's second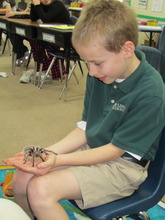 grade students have been reading
Charlotte's Web
and learning about spiders in class. The students have also been researching spiders, eating spider snacks and writing poems about spiders. The Ferren's brought their "friendly" tarantula to school for a visit which was a special treat. The students will end this unit with a Reader's Theater in class.
Click here
for more pictures.
---

Middle School Track
Last Thursday, the Middle School track team competed in a meet at Chapin Middle School. We are excited to share some of the results:
Jordan Mack and Kylie Walker finished first in their heats in the 100 hurdles
Meredith Mills and Trey Schmoyer both placed in the high jump
Abby Gilliam placed in the long jump
Sarah Stevens and Kylie Walker placed in the mile
Way to go Junior Falcons!!
---
Functional and Safe Sports Training Seminar

The athletic department will host a free seminar called "Functional and Safe Sports Training" for fifth-eleventh grade boys and girls on Saturday,
March 24
at 9 a.m. in the Ben Lippen gym.
The seminar will be conducted by
Athletics Arena
, the top training facility in South Carolina. It is open to all parents, athletes and prospective athletes.
---
Strength and Speed Workouts
Strength and speed workouts for sixth-eleventh grade boys are held on Mondays, Wednesdays, and Fridays from 3:30-4:45 p.m. in the gym.
---