January 16

No School
- Martin Luther King, Jr. Day
January 18

Spring Sports Tryouts Begin


January 26

Admissions Open House


January 30-February 2

High School Winterim


February 3

No School - Mid-Winter Break
---

Monday, January 9

Fish Sandwiches, Baked Ziti, Mixed Vegetables, French Fries


Tuesday, January 10

Chicken Patty Sandwiches, Mexican Lasagna, Peas & Carrots, Potato Chips


Wednesday, January 11

Hot Dogs & Chili, Chicken & Dumplings, Pinto Beans, Potato Chips


Thursday, January 12

BBQ Pork Sandwiches, Chili Frito Pie, Green Beans, French Fries


Friday, January 13

Pepperoni Pizza, Sausage Jambalaya, Winter Mix, Potato Chips
---

Abiding Life Advance Conference

Make a Difference with Don Sunshine Ministries
Phil Wickham in Concert
The Art of Marriage Conference
Do you have a resource you would like to share?
Email
---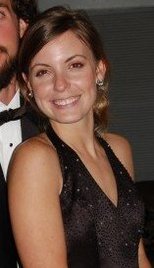 Brynley (Weigle) Farr - class of 2003


ByFarr
completes projects with creativity and speed, treating clients honestly and staying under budget.
ByFarr owner Brynley Farr is a native sandlapper raised in rural South Carolina. As a child she was obsessed with creating- blank paper became books, shoe boxes became robots and pantyhose eggs became snow globes. In her teenage years she moved to the capital city, dedicated herself to art and soon found her passion for graphic design.
Brynley loves the process of art and design, most of her work begins as a coffee stained sketch and comes to life through pixels, pen tablets and ink.
Her work is diverse- carving prints from old bookshelves, purse patterns, Fred Thompson's presidential campaign, managing marketing for two sports complexes, teaching graphic design, wandering Rome and drawing treasure maps. Her favorite project is always the next one.
After hours, she collects antiques and junk, grows vegetables, works on her own art and spends time on the water with her husband.
---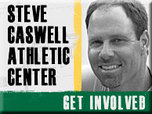 We still need $71,000 to complete Priority #1 - a 3,264 square foot addition to the west end of the gymnasium. Click here to find out how you can help.
---


Elementary
Monticello Road Campus
7401 Monticello Road
Columbia, SC 29203
FAX: (803) 807-4333

Elementary
St. Andrews Road Campus
500 St. Andrews Road
Columbia, SC 29210
FAX: (803) 807-4399

Middle & High Schools
7401 Monticello Road
Columbia, SC 29203
FAX: (803) 807-4399
---
January 5, 2012



Coming Soon: Ben Lippen School Bazaar
The Partnering for Excellence Council is currently making plans for the first-ever Ben Lippen School Bazaar. This event will be held on Saturday,
March 10
, 2012 from 9 a.m. to 2 p.m. at Ben Lippen School, St. Andrews Road campus.
Proposals for booth ideas will be accepted soon, so we wanted to give groups an opportunity to develop their ideas and answer some questions that you may have. Please take a moment to review the attached
Frequently Asked Questions
for more details.
We are excited about the opportunity for our school groups to raise funds for their individual interests. Please look for more details coming soon! If you have immediate questions, please email Rett Kendall (rettkendall@gmail.com) or Sherry Shoup (eshoup@bellsouth.net).
---
Have You Installed Fencing?

The Ben Lippen Booster Club is looking to hire someone who can assist with two fencing needs. If you have experience installing chain link fencing, please call Ken Walker at 513-8846.
---
Now Accepting Sibling Applications

We are now accepting applications for siblings of current Ben Lippen students.
Click here
for the application for the 2012-2013 school year and be sure to submit it
as soon as possible
.
---
Tutoring Available

Math tutoring is available for all levels. Contact Dr. Joran Clements at 429-0696. Tutoring is available for other subjects, also.

---
Art of Marriage Conference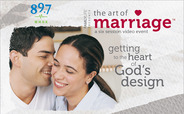 Hey parents! It's not too early to be thinking about Valentine's Day! Sign up today for
89.7 WMHK
's
Art of Marriage Conference
at
Columbia International University
.
February 10-11
, 2012
Friday 7-9 p.m. & Saturday 9-4 p.m.
CIU's Hoke Auditorium
Cost: $49 per couple
Cost includes conference, books for the couple, and lunch sponsored by CIU.
Click here
to register by February 8.
---
Resource Conference for Youth Pastors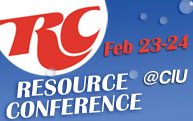 Invite your youth pastor to come get refreshed and spend the weekend with youth mobilizer and author Stuart Hall at the Resource Conference at
Columbia International University
!
When?
February 23-24
Who's invited?
Youth workers of any kind! Whether you are a youth pastor or volunteer youth worker...we want YOU at this event!
How much does it cost?
$25 and you can
sign up here
!
What's in it for me?
Outback dinner, Chick-fil-A lunch, three main-stage sessions with Stuart Hall, worship by Grace Marie Ward, two breakout sessions led by CIU faculty and area youth pastors, and resources galore from local vendors!
Don't miss this opportunity to hear Stuart Hall, fellowship with other youth workers, and come away resourced for youth ministry!
Click here to register by February 20 or here for more information.
---
Camp Invention is Returning to Ben Lippen in June 2012

Many students enjoyed the week of fun and learning during Camp Invention hosted at Ben Lippen last summer.
Camp Invention will be held at Ben Lippen from
June 11-15
, 2012. There is a special rate for returning campers and for early registration.
For more information, call Joran Clements at 429-0696.
Click here
to register.
---


Eighth Grade Students Go Roller Skating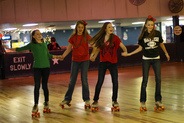 The eighth grade class enjoyed a fun morning of roller skating before beginning Christmas break.
Click here
to see photos of their class outing.
---

Special Thanks

The faculty and staff wish to thank everyone for the many ways you showed your love to us this Christmas. We are so appreciative of your kindness and thoughtfulness.
---
Chapel
Our chapel speaker for
January 12
will be Mr. Gerald Porter, Ben Lippen High School principal. Please feel free to join us at 8:30 a.m. at the SAR campus and 9:30 a.m. at the MR campus.
---
Elementary Marshmallow Roast

All elementary families are invited to roast marshmallows and make s'mores at the CIU Pointe (
behind the Pine View Apartments
) on Friday,
January 27
before the varsity boys' basketball game against Hammond. Join your friends and make some new ones from 5:30-7 p.m.!
---
Father/Daughter Banquet

All third through fifth grade dads are invited to bring their daughters to the Father/Daughter Banquet on
February 9
. Mark your calendar, and look for more details coming next week.
---
Milk Jugs Needed

Our first grade classes will be building their igloo soon and are in need of milk jugs. If you have any gallon-sized milk jugs with lids that you are willing to save, please bring them in well-rinsed. Thanks!
---
Monticello Road News
Box Tops for Education:
Please remember to save your box tops and send them in with your child. There will be a prize for the class with the most box tops collected. The next deadline is the end of February.
Daddy Drop Off:
After dropping off your child on Friday,
January 20
, come enjoy a cup of coffee and a snack as we start the day off right together in prayer. We will begin at 8 a.m.
---
St. Andrews Road News
Moms in Touch:
Moms in Touch will meet
every Friday
from 8:15-9:15 a.m. in the conference room by the SAR school office. Additionally, Moms in Touch will meet the
first Monday
evening of each month from 7-8 p.m.


Daddy Drop Off:
After dropping off your child on Tuesday,
January 10
, come enjoy a cup of coffee and a snack as we start the day off right together in prayer. We will begin at 8 a.m.


Third-Fifth Grade Mother/Son Luncheon:
Please mark your calendars for our annual Mother/Son Luncheon. It will be held at noon on Friday,
February 10
. More information about this event will be sent home with your son.
---

Ben Lippen Athletes Recognized by High School Sports Report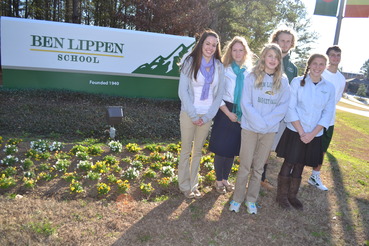 The goal of High School Sports Report (HSSR) is to recognize the achievements of young athletes. This goal is accomplished as HSSR honors outstanding student-athletes at the end of each season.
The following Ben Lippen fall sports athletes have been recognized by HSSR: Kaitlin Cook, volleyball; Tuck Benefield and Tyler Renew, football; Laura Ann Dixon, Katie Shoemaker, and Kylie Walker, swimming.
Congratulations on an outstanding season!
---
Food Drive for Denny Terrace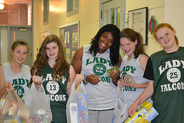 As a Christmas giving project, the Middle School boys' and girls' basketball teams donated non-perishable food items to the elderly in the Denny Terrace community.
---
Softball Conditioning

Softball
conditioning
will be held Monday-Thursday,
January 9-12
from 3:40-5 p.m.
Tryouts
for the JV and varsity softball teams will be Wednesday and Thursday,
January 18 and 19
from 3:40-5 p.m. Please sign up in the gym.
Remember that you must have a current physical on file with the athletic department as well as two signed forms (see links in next announcement) in order to begin conditioning.
---
Interested in Trying Out for a Spring Sport?

Sign up sheets for
baseball, golf, softball, soccer, tennis, and track and field
are now posted in the gym.
If you are interested in trying out for a spring sport, please sign up on the lists in the gym as soon as possible. In order to try out, you
must
sign up (even if you are involved with winter sports!).
Tryouts for spring sports will begin Wednesday,
January 18
. Details regarding tryout times and locations to follow.
Reminder: Anyone trying out for a spring sport must have three items completed and on file with the athletic department before tryouts begin:
Note: If an athlete has participated in a fall or winter sport, then the physical and two SCISA forms should be on file with the athletic department. Forms need only be signed one time per school year by parents, and current physicals are good for the entire 2011-2012 school year.
Please contact Christy Lambert in the athletic department at 807-4197 with questions.
---